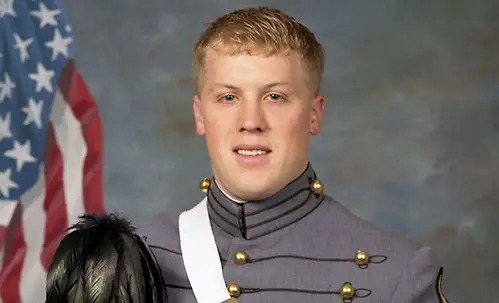 For most college hockey coaches, a bad day is when something doesn't go right at practice. A line doesn't skate properly. Passing isn't crisp. Shots are off target. Frustration, maybe by a player or maybe by a coach, bubbles to the top.
For Army West Point's Brian Riley, a bad day as a coach is what happened 10 years ago.
1st Lt. Derek Hines, a 2003 West Point graduate, was conducting security operations in Baylough, Afghanistan, on Sept. 1, 2005, when his unit came under small-arms fire. Wounded by insurgents, Hines continued to fight but was killed in action.
"I had just exchanged emails with [Derek] on Aug. 27," Riley said. "Three days later, I was in the locker room taking care of some things, and I felt my phone go off. I ignored it but it kept going off, so I took it out and saw it was a teammate of his. So I answered the phone, and his teammate asked me if I heard about Derek. So I said, 'Well, yeah, I was just emailing with him a couple of days ago.' Then I was told that Derek was killed. I remember sitting down and just feeling like the whole weight of the building had collapsed on me."
A native of Newburyport, Mass., Hines played four years for the Black Knights, scoring 12 goals in 110 games after graduating from St. John's Preparatory School in Danvers, Mass.
"When I went and saw him, the first thing I noticed was that he wasn't very big," Riley said. "But the next thing I noticed is that he moved pretty good. And after watching him, I saw that he played much bigger than his size, he had a big heart, and he was a great teammate.
"I remember leaving and thinking that, hockey aside, this was a West Point kind of kid."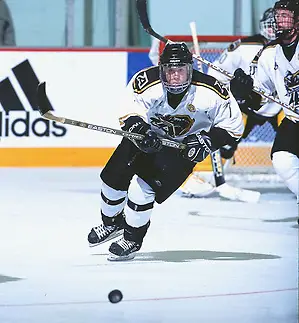 Following Hines' death, his family established the 1st Lt. Derek Hines Soldiers Assistance Fund. By providing financial assistance for Massachusetts-based soldiers and their families, it benefits those who incurred serious or life-altering injuries during active-duty service.
It's the ultimate tribute to the way he lived and ensures his memory continues positively impacting his home community.
Since 2007, the American Hockey Coaches Association has presented the Derek Hines Unsung Hero Award to honor the "consummate team player and team builder."
"When guys come to West Point," Riley said, "they actually don't know much about military life unless they had a family member who served or attended [the academy]. They're excited to play Division I hockey, and they're excited to receive one of the best educations.
"But hockey is the ultimate team sport, and the Army is the ultimate team. You know you have others guys' backs, and you know they have yours. That bond forms almost immediately, and these young men form friendships for life. They always have each other's back no matter what the situation.
"I remember seeing the amount of people who came out to his funeral," Riley continued, "and seeing all of those people that a young man who was 25 years old touched. I knew he was a difference-maker in life."
It's that brotherhood and those values that withstand the test of time. Seven years after Hines' death, Riley was thrust into a similar situation when the phone rang again with the same line of bad news.
Maj. Thomas Kennedy, a 2000 graduate of the Army hockey program and former player representative liaison to the academy superintendent, was killed in action in 2012, the victim of a suicide bomb attack.
"Most of Atlantic Hockey knew Tom because he was our officer representative," Riley said, "and he was supposed to join us later that year when we played at Air Force after a short deployment. But I remember one day on vacation looking at my phone and seeing missed calls from a number of different people, and I knew right away something was wrong. When I reached one of the guys who called me, I remember feeling that same kind of feeling, just sitting down and feeling so terrible."
Like with Hines before him, the Academy has sought to remember both of its fallen brothers.
"West Point is such a family, and whenever there's something like this, it's amazing to watch people come together," Riley said. "There's a lot of people in the community who didn't necessarily know [Derek or Tom], but it's still one of our own. I know personally I enjoy talking about the men they were so make sure their legacy lives on and make sure we know about these men."
That bond brings together the select fraternity of athletes at the military institution. While competing in sports, they're also preparing for a purpose much larger than any game or practice.
Their day-to-day interactions and principles make their college experience unique, with alumni impacting them in ways other student-athletes could never imagine.
"As a kid, I used to wonder why my dad [former Army head coach Jack Riley] stayed at West Point," Riley said. "He was a successful coach and had won the 1960 gold medal, so I used to wonder why he didn't go up to a place like Boston for a larger college job. But now that I sit in his chair, I know why he stayed.
"The opportunity to coach these young men makes this the best and most rewarding job I could have. And in some small way, I feel like we are preparing these boys to be leaders at West Point. That's such an amazing experience and something I'm very fortunate to be a part of."