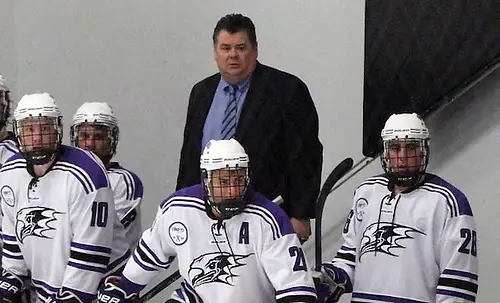 Niagara coach Dave Burkholder has received a contract extension through the 2018-19 season.
Burkholder, who is entering his 15th season as head coach, has been a part of the Purple Eagles program since its inception 19 seasons ago and has led Niagara to three NCAA tournament appearances (2004, 2008, 2013). He has also been named the conference (CHA and Atlantic Hockey) coach of the year three times.
"Coach Burkholder has built a prolific profile during his tenure on Monteagle Ridge and has his team poised for contention once again," said Niagara director of athletics Simon Gray in a statement.
"I would like to thank Father Maher, his senior staff members, Simon Gray and Steve Butler for their ongoing support and confidence in me running our hockey program now and into the future," Burkholder added. "This is our 20th season at Dwyer Arena and it has been a wonderful ride for me and my family. Also to all the student-athletes that have worn the Niagara jersey and all staff members, past and present, it is because of you that I continue my journey with Niagara University hockey."