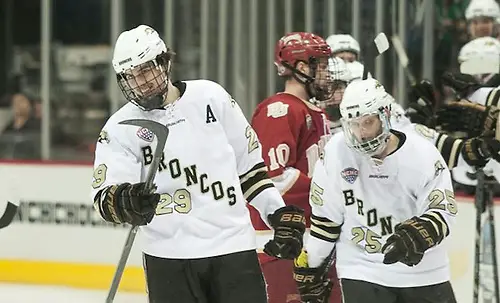 MINNEAPOLIS — Last season, 10 of the NCHC's 96 conference games finished in a shootout. In 2013-14, the season total was nine.
The NCHC is out this season to decide games before they get to a shootout, and, from the sound of things at the league's media day Thursday, players and coaches are on board with the idea of 3-on-3 overtimes.
If a conference game is tied after the NCAA-mandated five-minute overtime, it will go into calculations for the Ratings Percentage Index and PairWise Rankings as a tie.
But instead of going directly to a shootout to decide which team gets the extra point, the teams will play a 3-on-3 sudden death period for a maximum of five minutes. If the second overtime goes scoreless as well, there will be a sudden-death shootout until a winner is decided.
The team that wins in either the 3-on-3 overtime or the shootout gets two points; the other team gets one point. Games won in the first 65 minutes are worth three points for the winner.
"I do like the concept of 3-on-3," North Dakota coach Brad Berry said. "It's more of a way to end a game on a team-related note. I'm in favor of it. I think it'll bring some action and excitement to the fans."
The NCAA in July added the option of 3-on-3 overtimes as an experimental rule for conferences to use if the five-minute overtime doesn't produce a winner.
"I like it. It brings it back to open ice," said St. Cloud State defenseman Ethan Prow. "It's more open hockey."
NCHC commissioner Josh Fenton was at the NCHC coaches' meeting in April when the format was presented, and on Thursday he had nothing but high praise for the big change.
"I love it. I think it's exciting," Fenton said. "I think it's good for the game. We have to find ways to make sure that what happens across the country is consistent. We're excited about it and we think it's going to be a good thing for our conference."