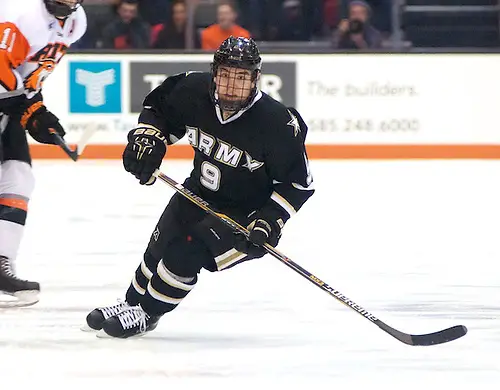 Based on the way Atlantic Hockey consistently is packed and jammed, it's easy to overlook some teams as being contenders. When asked to look for an emerging power team, observers tend to look at teams from the west or a team with a high-powered offense.
They seldom look at a team nobody could ever see coming.
A year after bringing in a much-hyped freshman class, Army West Point remains a program somewhat overlooked by the rest of the league. The Black Knights haven't won a playoff series since 2008, and they haven't won 10 games since 2011. But that doesn't mean anyone should be counting them out as a dark horse candidate to emerge in the tightly wound Atlantic Hockey race.
"It's been really exciting," coach Brian Riley said. "Last year we brought in that big freshman class, and from our standpoint, [it] gave us a breath of fresh air. There were growing pains but it's an exciting time for us."
Those growing pains included a scoring offense averaging two goals per game. But despite being the 11th-rated offense in the league, Army West Point remains a team perfectly capable of beating anyone on any given night.
Where the Black Knights lost 3-0 to Robert Morris, they beat Canisius by the same score. Where they lost 2-0 and 7-5 to Mercyhurst, they took three points with a 5-4 overtime victory and 0-0 tie against Holy Cross. They split the season series with Bentley (1-1-2) and beat the eventual champion RIT 4-2.
They did this behind a youth movement spearheaded by Tyler Pham. Last year's Atlantic Hockey rookie of the year is back after leading the Black Knights with 29 points. He's joined by co-leading goal scorer CJ Reuschlein and Brendan McGuire (nine and eight goals, respectively) to form a nucleus supported by the team's strength: teamwork.
"It was a year ago that we started to rebuild the program," said Riley. "We brought in a large freshman class, now sophomores, looking to improve on last season."
Part of that youth movement included handing the netminding reins to sophomore Parker Gahagen. Gahagen played in 16 games as a freshman but emerged as the team's top goalie last season. Playing in 25 games, he improved his save percentage and GAA while winning six starts.
He is joined by Cole Bruns, who made 12 appearances in his freshman season with a couple of wins on his record.
"Parker's had two solid years for us," said Riley. "With Parker and Cole Bruns, we have two solid goalies.
"[Gahagen] puts in a lot of time to become a better goalie, and I think he has the potential to be a top goalie. For him, one of the things we need is better consistency back-to-back. He can win some big games for us on a Friday night, but we want him to put those in on Friday and Saturday and the next Friday and Saturday. We want a more consistent level night-to-night from him."
For a team growing from youth, it'll be tested immediately. Army West Point opens up the season at home at Tate Rink, but it will battle with the preseason top-ranked team in the nation, Boston College. From there, it's series against Mercyhurst, Bentley, RIT, Robert Morris and Canisius — the last three league champions and two perennial league powers — along with a nonconference tilt at Connecticut.
But that UConn game is the only nonconference game on the road. Army West Point will play the bulk of its games at home, having drawn Hockey East opponents Merrimack and Massachusetts around the Christmas holidays.
Besides its trip to Storrs, Army's only other nonconference road game is its annual exhibition with the Royal Military College in Kingston, Ontario.
Last season
8-22-4, 8-16-4 (ninth) in Atlantic Hockey. Lost to Sacred Heart in the Atlantic Hockey first round.
Names to know
Tyler Pham was last year's AHC rookie of the year, and he headlines a plethora of talent. In addition to Reuschlein and McGuire, the Black Knights bring back Conor Andrle, Joe Kozlak, Clint Carlisle, Nick DeCenzo, Joe Shecter, Blake Box, Luke Jenkins and so many more. Don't forget about Parker Gahagen in net, either.
Three questions
1. Is Army still a year away? The Black Knights continued to get younger this offseason, bringing in nine more freshmen to their roster. They'll start the year with only six seniors compared to 17 players who are either in their first or second year. While they're loading up on young talent, it's OK to wonder if they're still going to experience growing pains.
2. Can they get more consistent? Army averaged 3.14 goals allowed per game but allowed two or fewer goals in 12 games (including the 8-0 exhibition win over Royal Military College). Like Riley said, consistency is king.
3. Can they survive the season-opening gauntlet? Army's first 12 games are against teams that went a combined 111-99-36. It includes two NCAA tournament teams (BC and RIT), all four teams that went to the AHC's final weekend (RIT, Mercyhurst, Canisius and Robert Morris), and one team that won 17 games and was within seconds of making it to Rochester (Bentley). The only sub-.500 team in the lot was UConn. If the Black Knights can survive that test, however, they won't play a team that finished in the top five of the league again until February.
Crystal ball
After a couple of really tough seasons, Army is definitely turning things around. The Black Knights are capable of taking it to anyone on any given night, and it's likely they will pick up a few eye-popping victories throughout the season. They'll become more consistent, but with a team so young, they may find themselves on the outside looking in at home ice in the playoffs because they open with such a tough schedule. That should be just fine, and don't overlook them as being a team capable of rattling some cages come postseason time.