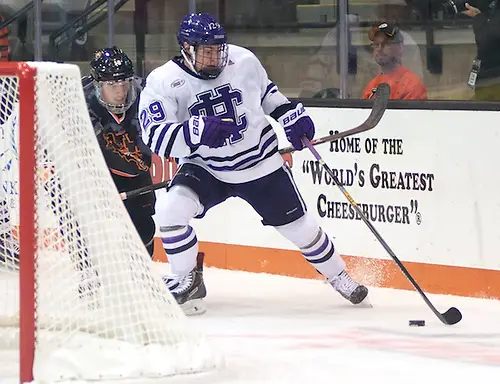 At times it can feel like the narrative of a new coach is often the same. In the first season, the coach gets acclimated to the university, learns the inner workings of his roster and introduces his style of play to players who have to learn something for the first time regardless of experience.
For the second season, the continuity helps a coach begin the process of putting together "his team," something Holy Cross coach David Berard begins as his sophomore season gets underway.
"I'm excited to start my second year," he said. "What a difference a year makes. The feel for our team, the feel the team has for our coaches. [Knowing more about] the inner workings of the school. Having my own class to recruit.
Continuing the trend of continuity, Holy Cross has the added benefit of returning more than 20 skaters for 2015-16. Although the Crusaders lose one of Atlantic Hockey's all-time greatest goalies in Matt Ginn, they bring back virtually every piece on offense and the majority of pieces on defense.
"Last year at that opening meeting, it was like talking to 28 rookies," said Berard. "No one knew me. No one knew how we would play. Every day was something different. Now there's 21 guys back and it makes it a completely different situation. You don't have to cover the same ground. Now we can expand on it and grow it."
There is still the looming issue of replacing Ginn, who departed holding roughly 10 school records. The all-time leader in career saves, save percentage, saves in a single season (which he set twice) and career games, he was one of the greatest goalies to ever lace up skates in Atlantic Hockey.
"You can't replace Matt Ginn," said Berard. "It's impossible when you look at his cumulative work and experience. He was our all-time best goalie. We're not going to put that pressure on the goalies we have now. That's not fair to them. Paul Berrafato was able to play [eight] games last year when Ginn was hurt. Coming in, it's a different scenario than last year. Now he's competing for a starting spot."
In addition to the sophomore Berrafato, Holy Cross has a freshman, Tommy Nixon, on the roster this year.
"I'm comfortable putting any of them in a game," said Berard. "We don't know yet if it's going to be three guys or one guy who steps up. [Defensively], we had really good numbers. We set a school record for lowest goals against. Players are even more comfortable with that system and we have six of eight [defensemen] back."
Holy Cross once again is ambitious with its nonconference schedule after playing regional teams over the past few seasons. The Crusaders open the season with a home-and-home series against ECAC Hockey powerhouse Quinnipiac and will have road trips to Rhode Island to take on both Brown and the defending national champion Providence Friars. Later in the year, they'll entertain Princeton and head to Dartmouth.
Last season
14-18-5, 12-11-5 (tied for sixth) in Atlantic Hockey. Lost to Niagara in the Atlantic Hockey first round.
Names to know
Three 20-point scorers are back, with junior Mike Barrett being joined by sophomores TJ Moore and Scott Pooley. Matt Vidal and Brett Lubanski are also back to give upperclass experience. On the blue line, Jake Bolton is arguably one of the best in the league, and the senior is joined by fellow fourth-year players Joe McNamara and Karl Beckman.
Three questions
1. How much of last year's success was based on Matt Ginn? As good as the defense played, people will always want to attribute a good portion of the success to one of the best goalies in AHC history. Therefore, it's up to the team to reestablish itself.
2. Can Holy Cross generate better offense? Averaging only 2.27 goals per game ranked the Crusaders ninth in the league, 43rd in the nation. With a deep roster, averaging a little bit more on offense can swing the tide on a record of 5-11-5 in games decided by one goal or fewer.
3. Are the Crusaders simply a sleeping giant? Holy Cross finished under .500 overall but rebounded in league play to finish one game over the middle mark. It has finished under .500 in AHC play only once in the past five years.
Crystal ball
Holy Cross seems to be one of those programs that can absorb a couple of down years and move through transition times without a problem. Although Matt Ginn is gone, last year was still transitioning from its highly successful era from the beginning of the decade. With David Berard starting to sculpt this team in his image, expect it to remain a strong team, one that will give plenty of opponents fits and starts.