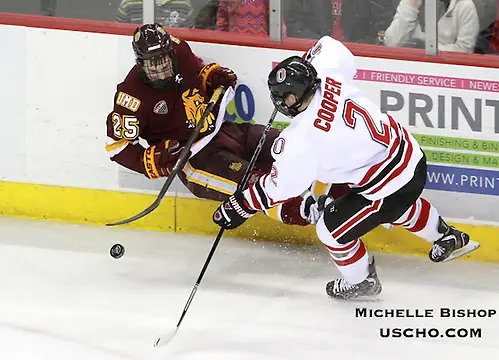 There are plenty of reasons for Omaha coach Dean Blais to feel optimistic heading into the new season.
His Mavericks are fresh off their first Frozen Four appearance last season, they have their highest preseason national ranking at No. 10, and they will open their new Baxter Arena later this month.
One wonders, then, if this for UNO is as stress-free as a start to a season gets. Blais' answer to that question? No, not really.
Omaha's biggest problem heading into this season is three-headed. Gone from last year's team are starting goaltender Ryan Massa (.939 save percentage, 1.65 GAA), forward Dominic Zombo and defenseman Brian O'Rourke.
The latter two combined for only 18 points last season, but they provided needed senior leadership on a team that opened its 2014-15 campaign with 11 freshmen.
"I'd say it's more stress-free if we had our starting goaltender [from last season] back and we hadn't lost Zombo and O'Rourke, and that puts us down one great thing going into this year," Blais said.
Up front, Omaha should be solid. Jake Guentzel (14 goals, 25 assists), Austin Ortega (20 G, 17 A) and Jake Randolph (5 G, 21) are all back and will be expected to lead the Mavericks' attacking corps as they did last season.
The biggest question for the Mavericks involves UNO's goaltending. Junior Kirk Thompson finished last season with a 5-5 record from 12 appearances behind Massa, and he'll need to step up if Omaha is to remain ascendant.
"Goaltending is everything, and if you have it then you have a chance, but if you don't there's probably no chance no matter how good you are, and that's where we're sitting," Blais said. "That's pretty much the way the game is played now."
Last season
20-13-6, 12-8-4-3 (third) in the NCHC. Lost to St. Cloud State in the NCHC playoff quarterfinals. Lost to Providence in the national semifinals.
Names to know
Guentzel, Ortega and Randolph have the potential to terrorize opponents as they did last season. Senior defenseman and co-captain Brian Cooper (5 G, 11 A) will lead a group of blueliners that will be relied upon to help Thompson out.
Three questions
1. With a historically up-and-down goaltender taking over the No. 1 spot, will Thompson step up and fill Massa's skates well?
2. What does Omaha do for an encore? The Mavericks made it to the Frozen Four last season, but after they lost at home in the first round of the NCHC playoffs, they'll want to prove they weren't a flash in the pan.
3. Can UNO turn Baxter Arena into a fortress? A solid home record would be a great help in a conference that sent six member teams to last year's NCAA tournament.
Crystal ball
Omaha won't have much trouble scoring this season, but the Mavericks will go where Thompson takes them. The junior netminder will be better this season, but a Frozen Four trip is a big ask for any team.