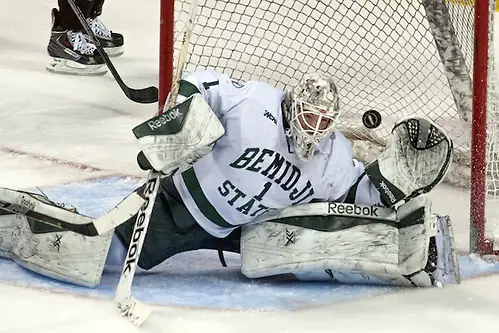 A season after earning home ice in the WCHA playoffs for the first time in school history, Bemidji State didn't lose much. But three of those losses will be a big deal for the Beavers to replace.
"We lost two forwards and three defenseman," Beavers coach Tom Serratore said. "But those three defensemen ate up a lot of minutes for us."
Serratore was referring to Matt Prapavessis, Sam Windle and Sam Rendle, a three-headed defensive monster that made Bemidji State goaltender — and WCHA rookie of the year — Michael Bitzer's job a lot easier.
Prapavessis was the team's leading scorer from the blue line, with 24 points, and was a two-year captain and power-play whiz. Windle and Rendle were more unheralded, mostly because they didn't score many points but were the main penalty killers and shutdown stoppers.
Just three defenders return for the Beavers — senior captain Graeme McCormack and junior Ruslan Pedan and sophomore Brett Beauvais. The rest of the team's blueliners are new — four freshmen and a redshirt sophomore.
"They're going to have to play critical minutes," Serratore said of the younger defensemen. "Prapavessis, Windle and Rendle ate up a lot of critical minutes for us last year. … There's no question, just by sheer numbers alone, we're going to have to have some inexperienced defensemen play some vital roles for us."
The Beavers hope to make up for their lack of defensive experience with strong play in the nets — Bitzer finished with a 1.80 GAA and was unbeaten for seven straight games during the Beavers' stretch run in February — and up front.
Seniors Cory Ward and Markus Gerbrandt and juniors Brendan Harms, Nate Arentz and Charlie O'Connor will look to lead one of the deepest forward groups the Beavers have had in years. Nobody had more than 24 points last season (Prapavessis) but the scoring was spread evenly.
"We didn't have a lot of high scorers, but we had a lot of guys in double figures, and we had a relatively young team last year," Serratore said. "You're saying, who's going to turn the corner? Who's going to generate more offense? But right now everything is on paper and you don't have a crystal ball."
Last season
16-17-5, 12-11-5 (fourth) in the WCHA. Lost to Ferris State in the first round of the WCHA playoffs.
Names to know
Bitzer (14-11-3, 1.80 GAA, .929 save percentage) was the WCHA's rookie of the year as a freshman and a nominee for the Mike Richter Award. And up front, the Beavers' forwards are deep and experienced, with seven of the top eight scorers returning — including juniors Harms (10-11–21) and Arentz (9-11–20) and sophomore Gerry Fitzgerald (7-12–19).
Three questions
1. Will Bemidji State's blue line group be able to overcome the loss of core players Prapavessis, Windle and Rendle?
2. Can Bitzer replicate his outstanding performance from his freshman year — especially with the Beavers' aforementioned defensive losses?
3. Can the Beavers finally get over the hump and get back to the WCHA Final Five? Bemidji State hasn't been there since a Cinderella run to the semifinals in 2011.
Crystal ball
The forward group is one of the deepest the Beavers have had in years, and this team shouldn't have trouble scoring goals. The question will be the defense, but even if the young D corps struggles, some expect the Beavers to be in the mix for home ice in the playoffs. Having a high-quality goaltender like Bitzer will do that for you. A return to the Final Five is certainly not out of the question — nor is an NCAA tournament berth.