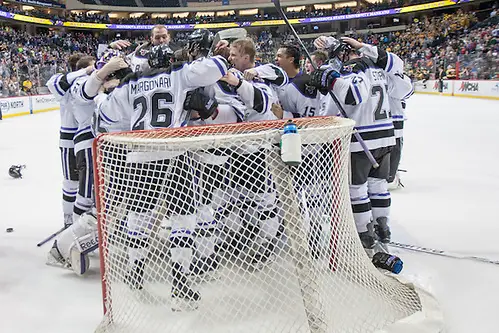 Trying to figure out something that's going to motivate the teams in the WCHA this season? Look no further than how their seasons came to an end last March.
Whether it was heartbreak at the national tournament, triple overtime in the conference playoffs or by a matter of percentage points in the PairWise Rankings, 2014-15 came to an abrupt ending for several of the league's teams, and it's safe to say those finishes won't soon be forgotten.
"I'm motivated," said Bowling Green coach Chris Bergeron, whose team missed out on the NCAA tournament by the slimmest of margins.
It's a new season, of course, a chance to write a new story and create a new legacy, as Minnesota State coach Mike Hastings said.
"Every year is an opportunity to redefine what you're going to be as a team," Hastings said.
The Mavericks, who were No. 1 in the country when the national tournament began, were upset by Rochester Institute of Technology in the first round of the NCAAs, falling on a controversial goal that was originally waved off before being award upon replay.
Michigan Tech, in the NCAA tournament for the first time since 1981, was 37 seconds away from beating St. Cloud State, only to give up a late game-tying goal and lose in overtime.
"One of the biggest things we found out about our team was how disappointed [the players] were about last year, even though it was our best season since '77 at Michigan Tech," Huskies coach Mel Pearson said, "how disappointed we were to be one point shy of first place, to unfortunately lose in the [Final Five championship] and to lose a tough game to St. Cloud State in the NCAA tournament.
"I think these guys know there's a lot of unfinished business."
Those teams weren't alone:
• Bemidji State was swept at home in the first round of the league playoffs, getting eliminated in triple overtime by Ferris State.
• Ferris State fell in the semifinals of the Final Five, losing for the eighth time in a row to nemesis Minnesota State.
• Alabama-Huntsville also lost a triple-overtime game en route to getting swept in the first round at Michigan Tech.
For the league's Alaska teams, there was no postseason. Alaska-Anchorage, a Final Five team in 2013-14, fell to the bottom of the standings, while Alaska, which finished fourth in the conference, was not allowed in the postseason due to an NCAA sanction.
The end didn't come fast for Northern Michigan, which had loads of potential wiped out by injury. Lake Superior State struggled to gain its footing in coach Damon Whitten's first season.
The league will look different this season. No Matt Leitner, Tanner Kero or Blake Pietila. No Zach Palmquist, Colton Parayko or Matt Prapavessis. No CJ Motte or Stephon Williams.
But there remain plenty of good players who may have chips on their shoulders from last spring, whether you're talking about Tyler Morley, Bryce Gervais or Brandon Hawkins; Casey Nelson, Shane Hanna or Brock Maschmeyer; Jamie Phillips or Carmine Guerriero.
The college hockey world has noticed, ranking Minnesota State sixth, Michigan Tech 15th and Bowling Green 16th in the preseason USCHO.com Division I Men's Poll and giving votes to Ferris State, Bemidji State and Alaska.
It's time to write that next chapter.
Here's a look around the WCHA in alphabetical order:
The Chargers look to continue steady improvement in third year under coach Mike Corbett. Read more
The Nanooks are ready to return to postseason play. Read more
After taking two steps back, the Seawolves hope to take a step forward. Read more
The Beavers are deep but will try to overcome some big losses on defense. Read more
The Falcons continue to climb coach Chris Bergeron's ladder of success. Read more
Welcome to the post-CJ Motte era, Bulldogs. Read more
The Lakers are more experienced this season in an attempt to return to past glory. Read more
After a milestone season, the Huskies are stacked and ready to accomplish more. Read more
Despite big losses, the Mavericks are still stocked. Read more
A more-healthy Wildcats team will try to rebound after an injury-plagued season. Read more