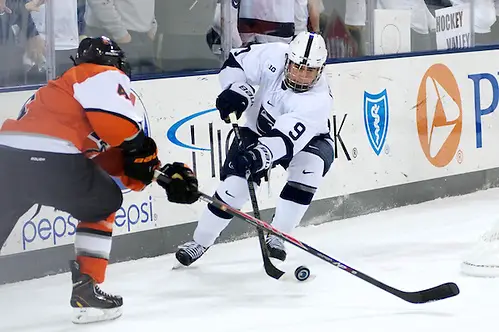 After its most successful campaign in the program's short history, expectations at Penn State are sky high.
"We're coming off of a very exciting season for us," coach Guy Gadowsky said. "Now the challenge is to build upon that."
Gadowsky likened the program to a freshman player that found early success and said that obtaining prolonged success will be difficult. The bench boss also spoke highly of his "leadership group" multiple times during his time on the Big Ten's preseason media call.
"I feel like we have the largest leadership group that we've ever had and that's going to only benefit us," he said.
Talk of competing for a Big Ten title and making the NCAA tournament for the first time in program history is already floating around Happy Valley, which is pretty impressive considering that the team is entering its third year in the Big Ten and fourth year of varsity status.
Gadowsky, however, said he isn't worried about the talk going to his players' heads.
"You can't forget where you came from," he said. "This leadership group is more concerned about getting back to our roots, maybe focusing more on the foundation and not getting caught up in the results, and I really like that."
One thing that should help the Nittany Lions along the way is a distinct home-ice advantage. Penn State went 13-2-3 at Pegula Ice Arena last season. It will play eight of its first 10 contests at home this season.
"I can't tell you how much fun it is to compete in that arena. The atmosphere is phenomenal," Gadowsky said. "Not only is it fun, it's very motivating."
Last season
18-15-4, 10-9-1 (fifth) in the Big Ten. Lost to Ohio State in the first round of the Big Ten tournament.
Names to know
Junior forward David Goodwin is the top returning scorer for the Nittany Lions. He lit the lamp 15 times last season and added 19 assists. Matthew Skoff and Eamon McAdam will both be back in goal this season after both saw time in net last season.
Three questions
1. Who will replace Casey Bailey and the 22 goals he scored last season?
2. Can someone establish himself as the No. 1 goaltender? Skoff went 7-6-2 last season, McAdam went 5-4-1 and PJ Musico went 6-5-1.
3. Can Penn State improve its play away from Pegula Ice Arena? The Nittany Lions went 4-9 in opposing teams' arenas last season and were 1-4-1 at neutral-site venues.
Crystal ball
Leadership group aside, I don't know whether the Nittany Lions have the experience to compete for a conference title. They may be able to take a run at a first-round bye in the postseason tournament.