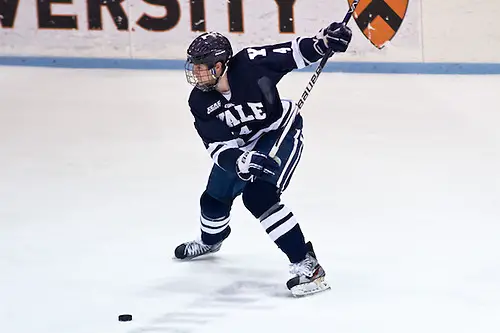 While their Ivy rivals Harvard likely will be carried by one of the league's best offenses, Yale looks to once again rely on shutdown defense and goaltending this year.
The Bulldogs ranked first in the nation in goals allowed at 1.64 per game last season and 42nd in goals scored, a stark contrast from their powerhouse teams in the early part of the decade.
Even though Yale graduated defensemen Tommy Fallen and Matt Killian, that first ranking could remain the same, thanks in part to junior goalie Alex Lyon and senior defenseman Rob O'Gara, arguably two of the best at their positions in ECAC Hockey, if not the entire country.
"To me, [Lyon is] the total package. He's got a work ethic that is unmatched, he's got great mental focus and concentration," Yale coach Keith Allain said. "He wants to be as good as he can be and I think his teammates feed off of that."
As for O'Gara, Allain said the Boston Bruins draft pick can be physical when needed and play virtually any role that Yale needs him to.
The Bulldogs should score more this year, as graduated senior Trent Ruffolo's six goals represent the only significant loss among the forwards. In fact, Yale returns just under 90 percent of its point scoring from last season, second in the nation behind Omaha.
Junior John Hayden, a Chicago draft pick, has the size necessary to be an offensive force and could be poised for a breakout year. Classmates Frankie DiChiara and Mike Doherty were Yale's top two scorers last season and should increase their production this year, while senior Stu Wilson is a solid two-way player.
"We have a deep group of seniors," Allain said. "At Yale, it's a tradition to only have one captain but we've got five guys that could legitimately be captains of this program."
Last season
18-10-5, 12-6-4 (third) in ECAC Hockey. Lost to Harvard in the ECAC quarterfinals; lost to Boston University in the opening round of the NCAA tournament.
Names to know
In addition to Lyon and O'Gara, senior Ryan Obuchowski and sophomore Nate Repensky are key parts of Yale's defensive unit. Hayden, Doherty and DiChiara are joined by junior Cody Learned and sophomore Ryan Hitchcock, who had a number of responsibilities as a freshman. Incoming freshman Joe Snively averaged more than a point per game last season for the Sioux City Musketeers in the USHL.
Three questions
1. This year's seniors are the last remaining holdovers from the 2013 national championship team. Will they bookend their careers with another title?
2. What kind of seasons will Lyon and O'Gara have? The two are among the best at their positions in the league, if not the country.
3. Will the Bulldogs be able to increase their offensive production?
Crystal ball
The Bulldogs defense is just as good as last season and the offense picks up, giving Yale a top-four spot in the ECAC standings and a second-straight NCAA tournament appearance.