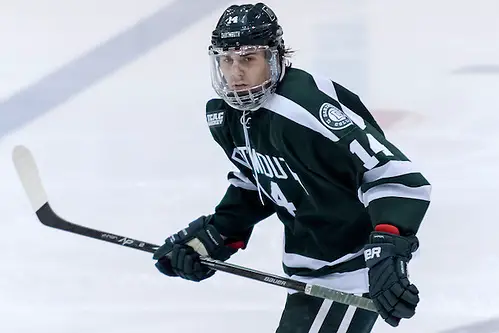 After missing out on a top-four spot by virtue of a tiebreaker last season, Dartmouth enters 2015-16 with a lot of questions.
The Big Green graduated their top three scorers in Eric Neiley, Tyler Sikura and Eric Robinson, along with defensemen Rick Pinkston and Andy Simpson. Overall, Dartmouth lost 52 of its 91 goals from last season.
"We want to be good out of the gate, but we do have some unknowns there, there's no question about it," said coach Bob Gaudet.
While the Big Green are bringing in six freshmen this season, Gaudet said some the voids could be filled by returning veterans that aren't well known around the league.
Among those players are Brett Patterson, who played defense last season out of necessity but likely will return to forward this year, and forward Grant Opperman, who Gaudet said is ready to break out. Senior captain Brad Schierhorn scored a career-high 10 goals last season, while classmate Tim O'Brien also could make an impact.
"I like the quality playing time that's available to those guys that have been champing at the bit to move up to those spots," Gaudet said.
Seniors Ryan Bullock and Geoff Ferguson are the veterans on defense, while goalie James Kruger's 1.98 GAA and .926 save percentage last season were both school records.
"My job as a coach is to find the guys, motivate the guys and to help them reach the heights that they can't do on their own," Gaudet said. "I think we are going to be a really solid team with our connection with each other. It is a really great group of guys. We have some unknowns, but there are a lot of quality players on this team."
Last season
17-12-4 12-8-2 (second) in ECAC Hockey. Lost to Colgate in the ECAC semifinals.
Names to know
Kruger should be solid again in net, while Schierhorn and Opperman will be counted upon to lead the offense. Freshman forward Kevan Kilistoff and defenseman Karan Toor come to the Big Green after having success in the BCHL.
Three questions
1. How will Dartmouth replace the production from last year's senior class?
2. The Big Green play with speed, but will it be enough to match some of the league's big guns?
3. Will the goaltending tandem of Kruger and Grant be enough to get the Big Green through some early growing pains?
Crystal ball
Dartmouth will struggle in the first half but the Big Green will put together a solid end to the season, complete with a road upset in the league playoffs.