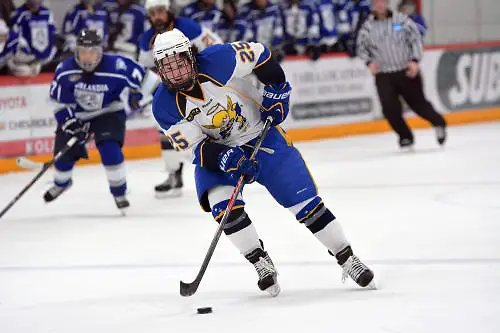 Last Year's Champion: Adrian. The Bulldogs also won the Harris Cup for the sixth time in program history.
Favorites: Adrian, St. Norbert and the Milwaukee School of Engineering are the favorites to win the conference championship.
Dark Horse: Lake Forest could be the surprise contender this year as it returns league player of the year Leo Podolsky at goaltender. The Foresters won 15 games last season.
Players to Watch: Adrian's Kyle Brothers led the nation in goals (24) and he also dished out 25 assists en route to being named the league's freshman of the year….Matthew Thompson and Blake Butzow were both on the league's all-freshman team last year…St. Norbert will be led Michael Hill, who scored 20 goals and tallied 13 assists. Cullen Bradshaw came through with 11 goals and 21 assists…Omar Mullan will pace MSOE after tallying 15 goals and 21 assists last year…Lake Forest returns two of its best offensive threats in Jack Lewis and Shawn Nelson. Lewis scored nine goals while Nelson came up with four….Dylan Nowakowski is back for St. Scholastica and is coming off a year where he punched in 12 goals and dished out 18 assists. Derek Sutliffe is also back for the Saints after tallying 11 goals and 10 assists…Ben Morgan will play a key role for Marian after coming through with two goals and 10 assists. Warren Carter is also back for the Sabres, striking for 10 goals and five assists last season…Concordia (Wis.) will be led by Braden Crone, who came up with six goals and 15 assists. Tanner Bull scored 10 goals and dished out seven assists…Lawrence will be led by Blake Roubos, who scored six goals and tallied eight assists…Darius Cole will be a key to Northland's success after scoring 14 goals and dishing out 10 assists last year…Andrew Brownlee started 16 games in goal for Finlandia and should be improved after winning only two games last year.
Notes: Adrian won 24 games last year. The Bulldogs will have depth at the goaltender position with four on the roster. Dillon Kelley has the most experience as he won two games and played just over 120 minutes…St. Norbert returns three of its top four scorers and goaltender Tony Kujava is also back as the Green Knights take aim at a conference title…Every player that scored a goal last year returns for MSOE. The Engineers also return goaltender Nick Kohn, who won 13 games and racked up 534 saves. Jerad Tafoya should be one of the team's biggest scoring threats after striking for 11 goals and nine assists…Lake Forest returns 11 players who scored at least one goal and should be in a position to contend for the title…St. Scholastica has eight seniors on the roster and that experience should pay off for the Saints. Included in that group is goaltender Tyler Bruggeman, who won nine games last season. Marian will look to build on its success last year with Mike Gudmandson back at goaltender. He won eight games last year…Concordia will take aim at a winning season after going 8-19 last season. Anthony Pickering will help the Falcons' cause as he scored nine goals and racked up eight assists a year ago…Lawrence returns its top four scorers and that is good news for a team that won just seven games last year. They also have experience in goal with Mattias Soderqvist returning…Northland's top eight players are all back as are its three goaltenders, including Jesse DiLillo, who won three games for the Lumberjacks…Finlandia managed just 44 goals while giving up 105 and will look to Derek Challier and Thomas Clayton to help turn things around for a team that won only five games. Clayton scored four goals last year.