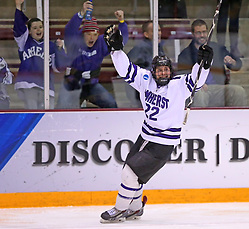 What a spring and offseason for the hockey teams of NESCAC.
First, Trinity shakes off a quarterfinal loss in the conference tournament to go on a four-game run as an at-large entrant in the NCAA tournament and wins its first-ever national title.
Secondly, Middlebury and D-III coaching legend Bill Beaney announces his retirement from coaching at the school where he had won over 500 games and eight national championships.
The summer also brought the hiring of Patrick Norton at Tufts and the fall brings news of the 2015-16 season being the last behind the bench for Bowdoin's renowned Terry Meagher.
Lots of new and different in the conference, but one thing that won't change will be the competitive level of play among the 10 teams that finally started their formal practices on Nov. 1.
The Favorites
Last year's conference champion, Amherst, made it to the Frozen Four only to be trumped by Trinity. Both teams appear to be poised to make a run at both titles again this season.
Trinity lost a key group of seniors, but returns the conference player of the year in Ryan Cole, as well as goaltender Nathaniel Heilbron in pursuit of the NESCAC title that has eluded the Bantams over the past two seasons despite finishing at the top of the regular-season standings.
"I thought failure has been a pretty good motivator for the team, but success appears to be even better," said Trinity coach Matt Greason. "The kids have had fun and really have worked hard in the offseason. We have some unfinished business in trying to win our conference championship and I own coaching and preparing us better for that tournament, but right now, the focus is getting ready for Tufts in two weeks. Pat Norton is a really good coach, so they will be ready to play."
Amherst, too, will need to find some players to fill some big spots due to graduations, but returns last year's freshman phenom David White looking to build on an outstanding offensive season. Dave Cunningham returns in goal for the Lord Jeffs, who are looking to build more consistency in their game.
"Last year, we might have overachieved a little," Amherst coach Jack Arena said. "We had a very difficult nonconference schedule last year and again this year. We don't schedule that for at-large bid reasons – we schedule those games in challenging environments so we are ready for the NESCAC conference tournament. If you can play on the road against a quality team like Utica, you will be ready to face Bowdoin in Maine."
The Dark Horse
"There are just so many good teams out there," noted Williams coach Bill Kangas. "The margin between all of these teams is razor-thin across all the conferences and especially in ours. We all start on Nov. 1 and all 10 coaches are talking to their players about what it is going to take to climb to the top in this conference. Just look at last year where Trinity, who ends up winning the national championship, gets knocked out of the NESCAC tourney in the quarterfinals by Tufts."
The Ephs have been in the conference final four group for a few years now, but haven't broken through for the title yet. Senior Noah Klagg will be looked to fill the shoes of the graduated Sean Dougherty in goal, while Dave Italiano and Tyler Young will be looked to for more scoring in the upcoming season. Williams has had some great leadership and chemistry over the past seasons and they don't hurt themselves with mistakes and penalties – good ingredients for success.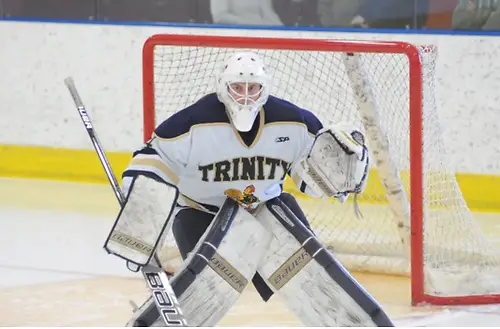 Players to Watch
Amherst: David White – forward; Dave Cunningham – goalie
Bowdoin: Mitch Barrington – defense; Peter Cronin – Goalie
Colby: Devin Albert – forward; EJ Rauseo – forward
Connecticut College: Craig Liaufaud – defense
Hamilton: Robbie Murden – forward
Middlebury: Neil Sinclair – coach; Ronald Fishman – defense
Trinity: Ryan Cole – forward; Nathaniel Heilbron – goalie
Tufts: Patrick Norton – coach; Sean Kavanaugh – defense
Wesleyan: James Kline – forward
Williams: David Italiano – forward; Tyler Young – forward
USCHO.com Predicted Finish
1. Trinity
2. Amherst
3. Williams
4. Bowdoin
5. Middlebury
6. Tufts
7. Connecticut College
8. Colby
9. Hamilton
10. Wesleyan
Always the last conference to enter the fray, NESCAC swings into play in mid-November with limited playing time before the semester break, so finding the right combinations early in the season can pay dividends with early points in one of the nation's most competitive conference.