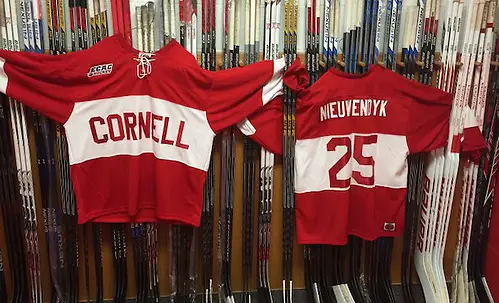 For Cornell, a two-game, home-and-home sweep of Niagara last weekend was more than just a successful way to kick off the season. In fact, starting the year off with two wins was probably the least important aspect of Saturday's home opener at Lynah Rink.
As the team stepped out onto the ice, the Big Red wore jerseys unfamiliar to the Cornell faithful. The names on the back were just as puzzling, though recognizable.
On Thursday, Cornell announced that its men's hockey team would wear special jerseys during their home opener on Saturday — classic red and white with white lettering. But the names of each player would not represent the athlete inside the jersey, but a Cornell alum who had made that Cornell jersey number famous.
The jerseys will be auctioned off at a later date, with the proceeds going toward a mission trip to the Dominican Republic led by Cornell coach Mike Schafer, current players and members of the Ithaca community.
"It's a unique project because it gives the players a sense of upholding tradition by researching all of the previous players to wear their numbers," Schafer said in a news release. "Plus we'll auction off the jerseys and it will help perform a community service when we return to the Dominican Republic this summer."
Current NHLers Matt Moulson, Ben Scrivens, Colin Greening, Brian Campbell and Blake Gallagher were all honored with nameplates on the back of jerseys worn by Ryan Bliss, Ryan Coon, Trevor Yates, Beau Starrett and Patrick McCarron, respectively.
In the past, Cornell's trips to the Dominican Republic in 2009, 2012 and 2014 have helped build a multi-purpose building used for adult and child instruction, community gatherings, church services and hurricane refuge through The Portal de Belen Foundation.
The Big Red scored twice in the first period and twice in the second ahead of a 4-0 victory on Saturday to complete the sweep against Niagara on opening weekend. Junior goaltender Mitch Gillam made 19 saves for the second shutout of his collegiate career.
On two different echelons
Last weekend's conference set between Harvard and Dartmouth solidified one thing: Both teams are exactly where we thought they'd be.
Here comes Harvard, ranked seventh in the USCHO.com Division I Men's Poll — this big, powerful offense with the talent and the experience and the skill to be one of the most prolific groups in the nation. The Crimson beat up on Dartmouth with 12 goals over two games, including a 7-0 shellacking on Saturday night.
"It's certainly nice having No. 19 [Jimmy Vesey] out there when he can make some stuff out of nothing," Harvard coach Ted Donato said after Sunday's 5-2 win over the Big Green. "He made a tremendous hand-eye play on his goal down there."
Understatement of the year. Vesey had two goals and three assists in his team's first two games, and while it's too early to crown him with anything other than helping his team win, it's hard to ignore just how immensely talented he is. By the end of the season, we might be singing a different tune.
This sets us up nicely for the game of the week between No. 7 Harvard and No. 12 Yale. The Bulldogs beat Princeton and Massachusetts last weekend to win the Capital City Classic in Trenton, N.J.
RPI is back on track
Union coach Rick Bennett called his team's 5-1 loss to struggling Rensselaer last Friday the worst loss in his 11 years with the program, as Nate Owen pointed out earlier this week. Pick your favorite adjective for "awful" and you'll probably come close to describing what Friday's loss was like.
It was ugly. And Saturday's rematch, a 3-2 loss, was no better.
"I don't want to forget about this game. Not one bit," Bennett said after Friday night's loss. "I hope it hurts."
Worse that it came against a team that had lost its last three games after finding a way to beat then-No. 1 Boston College on Oct. 11. For the Engineers, a scuffling Union team is just what they needed to get back into the win column.
Riley Bourbonnais continued to impress, adding a goal and an assist against Union. RPI will have a chance to make a statement on the road this weekend against two ranked ECAC teams in No. 17 Clarkson and No. 15 St. Lawrence.
Brey backstops Saints
Powered by freshman goaltender Arthur Brey and more experienced netminder Kyle Hayton, St. Lawrence went 1-0-1 last against Penn State.
Brey made 50 saves in his first career start, a 2-2 tie on Thursday, including three saves on three shots in an exhibition shootout. Hayton made 38 saves in a 4-2 win on Friday.
St. Lawrence has some encouraging road ahead of it, with games against the struggling Union Dutchmen and hungry RPI coming up this weekend.