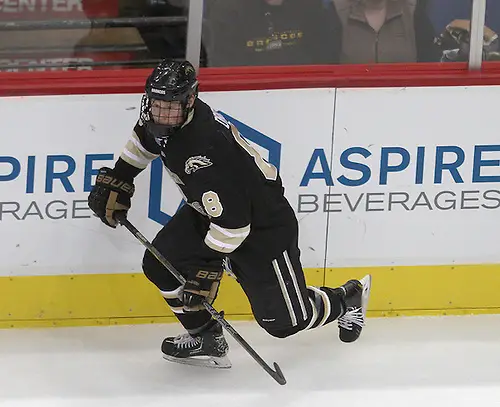 After a rough trip east two weeks ago, Western Michigan required a pick-me-up last weekend when the Broncos welcomed then-No. 2 Omaha to Kalamazoo.
On paper, that didn't seem extremely likely. UNO began the season on fire by winning each of its first six games and, when the Mavericks visited Lawson Ice Arena last weekend, they were carrying their highest ranking in program history.
The Broncos took UNO down from its lofty heights with a pair of victories. After toughing out a 4-2 win over UNO on Friday, Western pummeled the Mavericks 6-1 in Saturday's rematch.
The series sweep was exactly what the doctor ordered for a WMU team that suffered a pair of losses Oct. 23-24 against nonconference foe Clarkson in Potsdam, N.Y. The Golden Knights controlled large parts of both games of that set and outscored Western by a combined 10-4.
"One of the factors in our play on the weekend [against Omaha] was the weekend before at Clarkson," Western Michigan coach Andy Murray said this week. "Our team was disappointed with our effort and we compliment Clarkson on being a great team and playing very well and beating us twice, but we certainly weren't happy with our performance."
The Broncos' showings against Omaha were much closer to what Murray expects from his team. On Friday, a game that was locked at 2-2 midway through the second period was busted open first by an eventual game-winning goal from Sheldon Dries and an Aaron Hadley insurance tally in the third period.
Saturday's rematch was nowhere near as tight. Western scored each of Game 2's first five goals — three of them in the first period — en route to a 6-1 hammering.
Dries found his way onto the score sheet again with a third-period goal, and Hadley contributed three assists to the Broncos' cause.
Omaha's national stock dropped significantly as a result of the Mavericks' losses in Kalamazoo. When this week's USCHO.com Division I Men's Poll was released on Monday, UNO found itself down six spots to No. 8.
The sweep over what had been a red-hot Omaha team provided a good end to a solid rebound week for the Broncos.
"From Monday through Thursday's practice, we had great intensity and focus," Murray said, "and that also helps to know that you have the No. 2 team in the country coming.
"You've got to be ready, and I think our level of respect for Nebraska-Omaha and our commitment during the week and our belief in playing well to have an opportunity to win drove our players."
Western (4-2-1, 2-0 NCHC) goes back on the road this weekend to take on No. 19 Miami.
RedHawks look to bounce back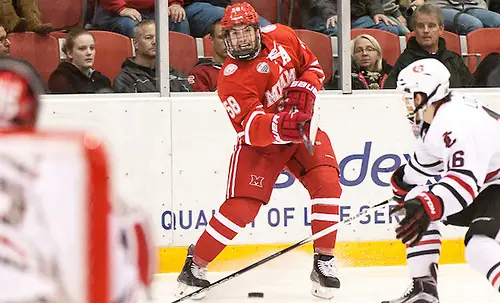 Whereas Western Michigan found the lift it needed last weekend in a home sweep over Omaha, Miami is still looking for its own breakout performance.
The RedHawks (3-4-1, 0-2) opened NCHC play last weekend with a pair of losses at then-No. 14 St. Cloud State. The Huskies used that sweep to hop four spaces to 10th in this week's USCHO.com poll.
It all started with a 3-0 loss to St. Cloud State on Friday in which Miami's offense was largely grounded. The RedHawks finished 0-for-3 on the power play and got only 15 shots through all night to Huskies goaltender Charlie Lindgren.
Lindgren was much busier on Saturday, making 33 saves. He got plenty of help in front of him, however, with three different Huskies players scoring in a 3-1 win.
Miami has lost three in a row, including a 5-3 loss at then-No. 17 St. Lawrence on Oct. 24.
The RedHawks are back at home this weekend to take on Western Michigan, but things might not get much easier for Miami against the resurgent Broncos.
"Any time you sweep in our conference, absolutely you gain confidence," Miami coach Enrico Blasi said of the Broncos after their sweep last weekend against Omaha. "After watching the games back, Western looked extremely organized, competed hard and buried their chances.
"We're going to be in a battle and we know it. We have a ton of respect for them and the way they go about their business, and we've had some pretty good battles over the past five, six years, so it's going to be a pretty big weekend and we need to be ready to go."
Getting prepared for Western will involve a good week of practice. Where that's concerned, Blasi is focused on staying the course and keeping his team bought into his system.
"I think every day is a teachable moment," he said. "Every day, you have an opportunity to grow. Every day, you have an opportunity to get better, and sometimes it's magnified when outcomes aren't what you want them to be, but the process and the way we do things remains the same.
"You have an opportunity the next time to go out and prove yourself and play well, but the process leading up to those games is the thing that we focus on, and we'll continue to do that."
Players of the week
Offensive player of the week — Aaron Hadley, Western Michigan: The Broncos junior forward had been seldom seen on the score sheet throughout his collegiate career until last weekend. Hadley exploded during Western's home sweep of Omaha with four goals and three assists, with each helper coming in the series finale.
Defensive player of the week — Will Butcher, Denver: The Colorado Avalanche prospect had a big weekend for the Pioneers in New England. Butcher, a junior, scored a game-tying goal in the third period of the Pioneers' 4-3 loss at Boston College on Friday, and he followed that up with a goal and two assists in a 5-4 overtime loss to Boston University on Saturday.
Rookie of the week — Colt Conrad, Western Michigan: The forward picked up the lone assist on the Broncos' game-winning goal on Friday. He followed that up on Saturday by scoring his first collegiate goal — the eventual game-winner — in a 6-1 rout of the Mavericks.
Goaltender of the week — Charlie Lindgren, St. Cloud State: The junior was always going to be key to the Huskies' success this season, and he hasn't disappointed thus far. He was great again last weekend, stopping 48 of the 49 shots he faced in a sweep of Miami.