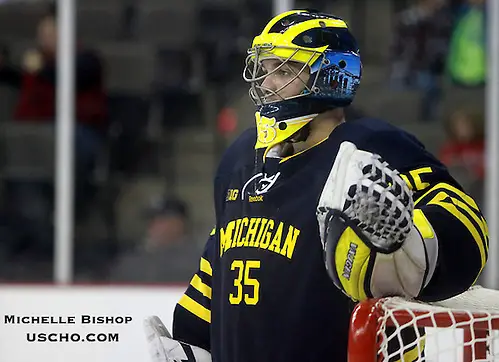 Michigan is off to a decent start record-wise this season, and its offense has been regularly lighting the lamp. But the problem has never been scoring goals.
The problem is that, like last season, too many pucks are ending up behind the Wolverines' goaltender.
"We need to prove that we're a better team defensively," coach Red Berenson said.
The Wolverines were off last weekend after they suffered their first defeat of the season, a 4-0 loss to Robert Morris on Oct. 31 that showed what happens when their offense goes cold. They will host Niagara on Friday.
Berenson said the timing of the weekend off was both good and bad. Good because it allowed extra time to fix some problems that were showing up during the first six games and bad because the loss to the Colonials left a bad taste.
"The way we finished on Saturday, we would have liked to be able to rebound the following weekend," he said. "We had a come-from-behind victory against Robert Morris on Friday. Then Saturday afternoon we were really expecting to keep the momentum and we did not at all, and we ended up down 3-0 in the first period on Saturday and couldn't get it back."
There are a lot of things Berenson said he likes about the team: The young players are playing well, Cristoval Nieves has gotten off to a good start, considering he was forced to sit out the Robert Morris series with an injury, and he said that he likes his defensive depth.
"I like the leadership on our team; we've got a lot of guys that know that they're expected to have a bigger year this year than last year," Berenson said.
The goaltender position, whether its Zach Nagelvoort or Steve Racine, has left a lot to be desired. Both have a GAA over 3.00 and a save percentage less than 90 percent.
"Both our goalies have had moments where they've shown that they can be our starting goalie and they've both given up goals that they can't afford to give up," Berenson said. "You're not going to win any conference or you're not going to win half your games with that goals against average. It's a little bit our whole team, but we've outshot the competition to an average of 39-28 and we're just giving up too many goals against."
Berenson also criticized the team's special-teams play, which has amounted to three power-play goals scored and three power-play goals allowed. But he was also quick to point out that the season is still young.
"We've only played six games, even though it seems like we're halfway through the year," he said.
Getting Nieves back should help the Wolverines this weekend. Berenson said that his line, with wingers Justin Selman and Kyle Connor, didn't look the same without him.
"That's going to be important; he's the glue to his line, and his line hasn't done anything since he's been out of the lineup," he said. "It's important that we get him back and get another line going."
With a couple key pieces missing from last year's team, three freshmen have been impressive early during their first season. Blue-chip prospect Connor has looked the part with three goals and four assists, but two under-the-radar guys have also been solid.
Cooper Marody also has three goals and four assists and has been playing on a line with fellow freshman Brendan Warren, who has five points so far this season.
"Cooper has been a bit of a pleasant surprise," Berenson said. "He's made the adjustment quickly. So has Brendan Warren, who's playing on the line with Cooper and Tony Calderone, and they've all scored. They've probably got more goals on that line than any of our other lines, so good for them, and they're a young line."
Minnesota, Minnesota State share similar starts to their seasons
Minnesota seems to have, at the very least, started to right the ship after an 0-3 start. One team that can relate to the Gophers' struggles is their opponent this weekend, Minnesota State.
The teams will face off in a home-and-home series, with Friday's game being played in Mankato and Saturday's in Minneapolis.
The Gophers were able to muster only one goal in their first three games. The Mavericks lit the lamp only twice in their first four contests and endured a goalless stretch of nearly 214 minutes that lasted from early in the third period of their opening game against Omaha to late in the first period of game No. 5 against Bemidji State.
Both teams lost a lot of experienced players from last year's squad and both started the season with tough opponents. Minnesota faced Minnesota-Duluth during its second week and Minnesota State played the aforementioned Omaha and St. Cloud State.
Both teams also have been playing better as of late. The Gophers swept Northeastern at home and split a road series at Notre Dame last weekend. The Mavericks won four conference games in a row before splitting at Ferris State last weekend.
The series between the in-state foes, which historically leaned heavily toward the team from the Twin Cities, has been a lot closer since Mike Hastings took over at Minnesota State. The Gophers hold a 4-3 advantage over the Mavericks over the last three seasons.
Wisconsin reflects on victory over No. 1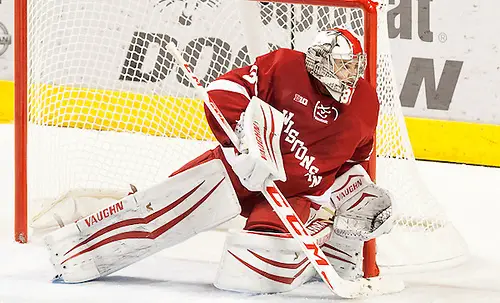 Wisconsin coach Mike Eaves usually skips the Badgers' weekly news conference when his team has the next weekend off because, well, there's not much to preview.
This week, however, Eaves showed up and wanted to talk about last weekend.
"Because of the fact that I think what transpired this past weekend was worth celebrating, and because we had a bye weekend off, we really don't get to talk about it," Eaves said. "But put it in perspective a little bit is the fact that, for a football team winning at Clemson or the basketball team winning at North Carolina, and beating the No. 1 teams in the country, it would be a really awesome thing for them, as it was for us beating North Dakota, but then having to play them the next night, that's a tough task, because they're upset."
Looking to sweep the then-No. 1 team in the nation in its own building, the Badgers were tied with North Dakota 1-1 going into the third period. UND scored two goals to pick up a 3-1 victory.
"There was a lot of disappointment in that locker room after the game," Eaves said. "Which I think is a good thing, because we were close, it hurt."
Three stars of the week
First star — Michigan State senior forward Michael Ferrantino: The Plymouth, Mich., native led the Spartans last weekend with five points. He had two assists during Michigan State's victory over New Hampshire on Friday and tallied three more helpers when the Spartans completed the sweep the next night.
Second star — Wisconsin freshman goaltender Matt Jurusik: Jurusik stopped 29 shots on Friday and helped the Badgers secure a 3-1 road victory at top-ranked North Dakota. The loss snapped UND's 12-game home unbeaten streak. He stopped 35 shots during Saturday's 3-1 loss to North Dakota.
Third star — Minnesota sophomore forward Leon Bristedt: The Swede tallied three goals last weekend when the Gophers split a road series at Notre Dame. He scored twice during Friday's loss to the Irish and tied the game at 1-1 on Saturday, a game that the Gophers won 4-1.
B1G in the poll
No. 12 Michigan is the only team from the Big Ten represented in this week's USCHO.com Division I Men's Poll. Minnesota, Penn State, Michigan State and Wisconsin all received votes.
My ballot
1. Providence
2. Boston College
3. North Dakota
4. Massachusetts-Lowell
5. Quinnipiac
6. Omaha
7. Harvard
8. Denver
9. Minnesota-Duluth
10. St. Cloud State
11. Boston University
12. Yale
13. Michigan
14. Merrimack
15. St. Lawrence
16. Bowling Green
17. Notre Dame
18. Miami
19. Clarkson
20. Minnesota State
This week's matchups
Michigan State at Boston College (Friday, Silvio O. Conte Forum)
Minnesota at/vs. Minnesota State (Friday at Verizon Wireless Center, Saturday at Mariucci Arena)
Ohio State vs. Canisius (Friday and Saturday, Value City Arena)
Penn State vs. Sacred Heart (Friday and Saturday, Pegula Ice Arena)
Michigan vs. Niagara (Friday, Yost Ice Arena)