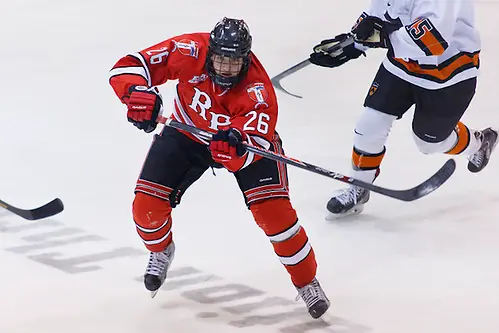 While it's easy to judge a team based on wins and losses, they don't always show a complete picture of how that team is playing.
Take Rensselaer's 3-0-1 start to conference play. It's the school's best start in league games since the 1994-95 season and comes after winning just one of its first five games, including blowing a pair of third-period leads in the Brice Alaska Gold Rush last month.
The Engineers' four-game unbeaten streak started with a sweep of rival Union and continued with a tie at Clarkson and a win St. Lawrence last weekend. It was the first three-point-plus trip to the North Country for the Engineers since the 2012-13 season.
Despite that, there hasn't been a marked difference in the way RPI has played the last two weekends.
"Were we any better [than the Alaskan games]? I don't know," Engineers coach Seth Appert said of the team's last two weekends. "We were up 2-1 on Alaska-Fairbanks and hit three crossbars that would have put us up 5-1 and then everyone would have been talking about how we beat them in their own tournament."
The Engineers had a good weekend at Clarkson and St. Lawrence despite being without their top two centers in Miloš Bubela and Evan Tironese, and goalie Jason Kasdorf, who left the game against the Golden Knights after being run into by forward Jeff DiNallo in what Appert called "a pretty dirty play." (Video of the play is available here, starting at the 2:15 mark).
DiNallo was suspended for Clarkson's ensuing game as a result of the hit, while Appert said Kasdorf and Bubela were "50-50" for this weekend and Tironese is still out. Appert added that he and his staff will make decisions for this weekend that are the best for the team in the long term.
With Kasdorf hurt, freshman Cam Hackett made his debut in relief against the Golden Knights last Friday and then picked up his first win with 37 saves at St. Lawrence the next night.
"We did a good job staying resilient through [the injuries] and even getting down in the St. Lawrence game we stayed the course," Appert said, adding that the Engineers did a good job of sticking to their game plan and not worrying about things that were out of their control.
After going 12-26-3 last season, Appert said there are certain things he's looking for his team to reestablish this year.
"We want to be a team that plays for each other, not with each other," he said. "We want to be relentless in our passion and family togetherness. I think that's just really important and I've been stressing that to some of our leaders that we just want to get back to more of the identity of our program from 2009 to 2014. We lost sight of that last year."
Even though some of those aspects can be hard to measure, Appert has a good idea of what to look for when putting together his program.
"I think some of it is not over-recruiting 15-year olds," he said, referring to the number of younger hockey players who are already making college commitments. "We want competitors first and talented players that want to be great in what they choose to do, with that lunch-pail mentality and hard-nose work ethic."
Appert knows recruiting isn't an exact science, and instilling the program's values falls on the upperclassmen. He pointed to seniors Kasdorf, Zach Schroeder and captain Chris Bradley as taking on those responsibilities.
"It's not what they say; it's in their actions and what they demand from [the other players]," Appert said.
While there's a lot of the season left, those actions have paid off so far. But after a disappointing finish last season, Appert knows his team needs to remain sharp despite the recent stretch of good results.
"If we're complacent right now, that's disappointing," he said. "We should be fighting every day to prove how much we love our program because we let our program and each other down last year."
Bobcats continue to roll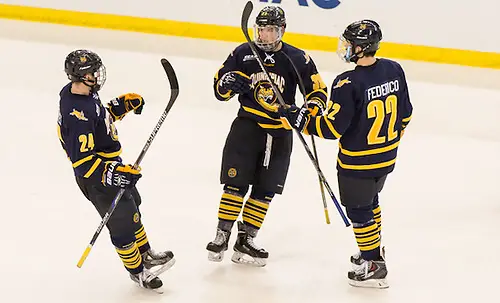 Quinnipiac has had a knack of stringing together some impressive stretches the last few years, but last Saturday's 5-4 overtime win at Cornell was the Bobcats' eighth straight win, a Division I record for the program.
The Bobcats came back from two three-goal deficits despite losing top-six forward Thomas Aldworth to a game misconduct early in the first period. Sophomore Andrew Taverner had a career night with two goals and two assists after finishing with nine points in 35 games as a freshman.
The win set up a matchup between two undefeated teams Friday night when Harvard travels to Hamden to face the Bobcats.
Northern exposure
The Canadian television channel TSN announced its full broadcast schedule for NCAA hockey on Tuesday. Four games involving ECAC Hockey teams will be broadcast on the network, including the matchup between Brown and Colgate in Belfast, Northern Ireland, on Nov. 27 as part of the Friendship Four.
The Beanpot tournament and all NCAA tournament games will be broadcast as well. Click here to see the full schedule.
Around the league
• Yale and Harvard played to a 2-2 tie last Friday night at the Bright-Landry Hockey Center. Bulldogs freshman Joe Snively scored both of his team's goals to earn the Tim Taylor Cup, which is given to the most outstanding player in the annual game at Harvard between the Crimson and the Bulldogs.
• Snively, who has four goals in four games so far, and Harvard's Ryan Donato should be right in the race with Aldworth for rookie of the year honors. Cornell freshman and Pittsburgh draft pick Anthony Angello is also off to an impressive start, with six points in his first four collegiate games. It's early, but Angello is poised to blow past last year's top scorer, the since-graduated Cole Bardreau, who finished with 22 points.
• Dartmouth forward Troy Crema (player), Harvard goalie Michael Lackey (rookie) and Yale's Alex Lyon (goalie) were named the weekly award winners by the league office. Crema had four assists Friday against Brown as Dartmouth overcame a 3-1 deficit to win 7-3. He also added a goal Saturday. The junior is a talented player, but injuries limited to 26 games over his first two collegiate seasons. Lackey had an impressive collegiate debut, stopping 54 of 58 shots to help Harvard to a 1-0-1 weekend, while Lyon stopped 62 of 66 shots for the Bulldogs.
• It's been an impressive rookie season with the Montreal Canadiens for former Princeton goalie Mike Condon. With starter Carey Price hurt, Condon has started five straight games, going 4-0-1 in that span to help Montreal to its best 16-game start in the franchise's 98-year NHL history. Condon was named the NHL's third star of the week on Monday and has a .940 save percentage and 1.57 GAA on the season. He's also been the subject of numerous articles profiling his journey from the Ivy League to the NHL.