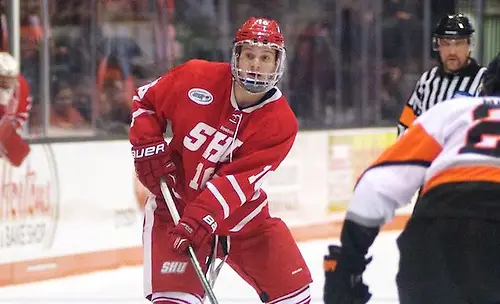 For many Atlantic Hockey programs, the start of the college hockey season is only the start of a long grind. Winning games feels great, and it helps set the tone for the weeks and months ahead, but every coach will say the same thing: Playing your best hockey needs to happen in February, not November.
Despite this, a good start in November can help a team explode out of the gate and help buoy it while it identifies gaps and opportunities for improvement. At Sacred Heart, that's exactly what's happening, with a 5-3-1 start helping jump start what the Pioneers hope will be a wave of opportunity in the wide-open league slate.
Part of the reason for the Pioneers' success, which includes a 4-2 league record and a tie for a second place with preseason favorite Robert Morris, is their recruiting. They've put together a string of good recruiting classes that have them poised to be one of the deepest, most talented rosters in the entire conference.
"The lifeline of any program starts with recruiting," said Pioneers coach CJ Marottolo. "[Assistant coaches] Joel Beal and Scott McDougall have done a great job of recruiting guys who fit into what we're trying to build as a program. We want to play a style that's fast, that's fast in transition with the puck, and they've done a great job of finding those guys. When you get two, three or four of those classes, it creates great depth."
That depth has Sacred Heart as one of the league's most prolific, underrated offenses. In their five victories this season, the Pioneers averaged more than three goals per game despite not having a leading scorer in the top 25 of Atlantic Hockey skaters.
Twelve skaters have three or more points through the team's first nine games, including Justin Danforth and Evan Jasper leading the team with seven. Three Pioneers players are tied for the team lead in goals, with defenseman Jacob Brightbill joining forwards Danforth and Coltyn Hansen with four already.
Ten different skaters have scored goals already, and two players — Zach Luczyk and Alec Butcher — are close to the team lead in points without having scored at all (both have five assists).
"We are a team where no one line is going to go out and get you every night," said Marottolo. "It's a little bit more of scoring by committee. But as a coach, being able to throw four lines out on any given night — they're all capable of playing well."
Where the Pioneers are capable of rolling out any particular line, however, they have stability in one of Atlantic Hockey's best young netminders in freshman goalie Brett Magnus. Playing every game so far this season, he ranks 13th nationally with a 1.77 GAA and 18th with a .929 save percentage. His two shutouts are already one behind the team's entire total last season.
"He gives us a chance on every single night," said Marottolo. "He's always very calm, and it starts with his approach and how he attacks practice every day with a workmanlike preparation. When the defense needs him, he's made the big save and picked the team up. It's added a layer of confidence to our entire team."
It's still early in the season, so like all teams, the longest, heaviest part of the season-long grind is still ahead of the Pioneers. That results in early excitement tempered by the need to continue working.
"We need to work on our gaps defensively and in our transition to defense," said Marottolo. "We really are going to use that as a measure as to how we hope to be in a good place. If we don't improve in those areas, it's going to create inconsistency."
How 'bout them Jackets?
Over the course of its Division I history, American International had never beaten a nationally ranked team.
All that changed last Friday when the Yellow Jackets upset 20th-ranked Robert Morris 3-2. Down 2-1 after the second period, AIC tied the game on a Johno May goal less than two minutes into the third, and Travis Douglas scored the game-winning goal with just over five minutes left.
The Colonials outshot AIC 46-25, including 15-9 in the third period alone. But Alex Murray shined, playing all 60 minutes and making 44 saves.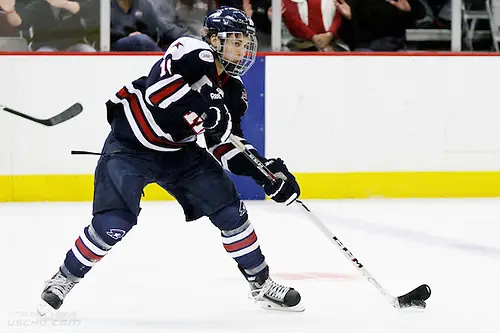 Pogo sticks and yo-yos
Saturday's Robert Morris victory over American International was as close to a must-win game as it could possibly get this early in the season. Entering the weekend at 18th in the early season PairWise Rankings, the loss to AIC dropped them to 34th. By winning on Saturday, they moved back up to 22nd.
There's still plenty of opportunity for the Colonials to break into the bubble surrounding the NCAA tournament. In addition to their league slate, they still have to play in the Three Rivers Classic, where they'll be assured of taking on at least one team on the inside looking out — either UMass-Lowell or Clarkson after the Penn State game. They also have a trip to the Ledyard Classic at Dartmouth, where they will play the host Big Green and Union in predetermined matchups.
Yes, it's only November, and yes, teams always need to be hot going into the playoffs in order to win the conference and assure themselves of a trip to the NCAA tournament. But the margin for error is going to be razor thin for the Colonials, who lead hopes for an at-large bid.
Wanted: Nonconference wins. Inquire within
In addition to Robert Morris' remaining games, Atlantic Hockey still has plenty of juicy opportunities on the table to win nonconference games. Only Mercyhurst is done with its slate, leaving 10 teams to play more than 20 remaining games.
Air Force, at 1-3 in the season, faces a couple of must-win games for Atlantic Hockey against a Colorado College team somehow winless at 0-10. This is one of those rare occasions where an AHC team needs to win to keep the league on pace against others.
AIC has an interesting late-season matchup with UMass-Lowell right before the final weekend of the regular season. For the River Hawks, it's actually sandwiched between playing a home-and-home series with Boston University and another with Boston College. In the thick of fighting for playoff seeds, their last nonconference game comes at an extremely awkward time for Lowell.
Bentley, having swept Northeastern but lost to Merrimack, has three games left against very good competition, with ECAC Hockey-leading Rensselaer coming to Ryan Arena next weekend for a single game. The Falcons then look ahead to road games at BU and New Hampshire. There's no doubt BU remembers the 4-1 loss Bentley hung on the Terriers in Agganis Arena two years ago.
Rochester Institute of Technology makes a trip east to take on Boston College at Conte Forum after Thanksgiving. That could be a great opportunity against one of college hockey's national powerhouses at a time when most students are home.
Players of the week
Let's take a look at the league's selections for its weekly honors:
Player of the week — Holy Cross' Brett Mulcahy: The sophomore scored twice as Holy Cross handed Sacred Heart a loss last Friday, and he potted the only Crusaders goal in a 3-1 loss on Saturday. Over the past five games, he's scored five goals and an assist.
Goalie of the week — American International's Alex Murray: Murray was absolutely on fire in the win over Robert Morris last week, making 44 stops on 46 saves en route to the first win over a ranked opponent by the Yellow Jackets
Defenseman of the week — RIT's Greg Amlong: Amlong earned first trip to the ice bath after the weekend by putting in a complete yeoman's effort. He blocked seven shots, giving him 17 on the season, in the Tigers' three-point weekend over Army West Point. His goal on Friday helped him earn the team lead with four.
Rookie of the week — Niagara's Joe O'Brien: O'Brien made 39 saves against Penn State as the Nittany Lions mustered only a tie after scoring a goal with three minutes left in the game. After appearing in only two other games, it also marked his first start of the season. In 128 minutes played, he has a 1.87 GAA and a .938 save percentage.