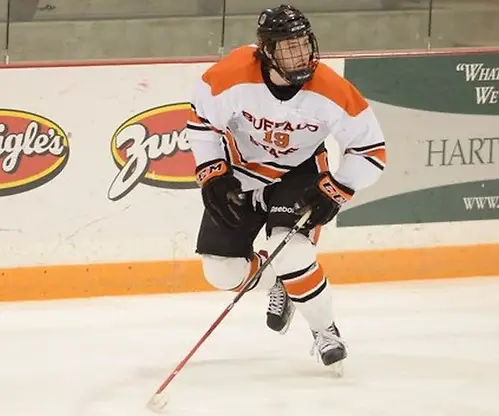 Streaks are important.
On a winning streak, you just want to keep building momentum. On a losing streak, well, something has to change and early in the season there are teams facing both sides of the streak equation looking for better hockey leading to continued or better results.
Definitely starting to both sides of the streak dilemma just three weeks into the season.
Here are some of the highlights in each East conference plus the weekend's biscuit winners.
ECAC Northeast
Endicott earned its first-ever win as a varsity program on Thursday night by beating Salve Regina on the road by a score of 7-5. The Gulls started their own win streak in conference play by beating Wentworth on Saturday by a score of 5-3 to move up in the standings.
Suffolk has stayed off the radar screen early in the season, but a pair of one-goal wins over Western New England and Curry has the Rams unbeaten on the season behind solid goaltending from Brendon Smolarek.
Nichols remained unbeaten in conference play with an 8-1 romp over WNE where 13 different players recorded points for the Bison. Tyler Beasley recorded a hat trick, including two goals in a five-goal first period for Nichols.
ECAC West
After a tough opening weekend in New England, Hobart has been on a roll in conference play starting last weekend and carried the momentum into two road wins this week. Mac Olson's hat trick led the Statesmen in their 5-3 win over Nazareth and they backed it up with another win on Saturday over Utica, 5-1. Lino Chimienti is 4-0-1 as a starter in goal for Hobart since the opening-night loss at Babson.
Elmira dropped a one-goal decision at Utica on Friday night, so Saturday's game at Nazareth was a must-win in order to avoid an 0-4 start in conference play. The Soaring Eagles broke open a 1-1 game in the third period with four goals, led by Tommy Sumi's three-point night in an important 5-2 win.
Perhaps the game of the weekend saw Neumann and Manhattanville battle it out over just under 65 minutes of hockey. Jory Mullin's third goal of the night in the final minute of play in the second period gave the Knights a 4-3 lead entering the third period. Matt Lippa tied it for the Valiants with the extra attacker on the ice and just 58 seconds remaining in regulation. Stephen Gaul then won it with just nine seconds remaining on the clock. Mullin and linemate Mike Davis combined for eight points on the night, but it wasn't enough for Neumann.
MASCAC
Salem State hosted Plymouth State in a rematch of last year's conference championship game and Andrew Wigg with Ian McGilvrey made sure the Panthers showed why they are the defending champs. Building a 5-0 lead early in the third, PSU wrapped up a 5-2 win to go 2-0-0 in conference play.
Westfield Sate took two games with wins over Fitchburg State, 3-2, and Massachusetts-Dartmouth by a 5-2 score. Jackson Leef was the storyline on Thursday night, netting a hat trick and all the team's goals in the win.
Fitchburg State salvaged a split on the weekend with a crazy game on Saturday night against Worcester State. After racing to a comfortable 4-1 lead early in the third period, the Falcons gave up three goals in just over three minutes to the Lancers to send the game into overtime. Ryan Connolly scored the game-winner for Fitchburg with just over a minute remaining in the extra session for the win.
Northeast-10
Saturday's rematch of the 2015 conference championship between St. Anselm and St. Michael's went all the Hawks way in a 6-2 win. Mark Meads and Bryan Sullivan had three points each as the Hawks broke open the game with three goals in the third period for the win.
Assumption downed Franklin Pierce 4-0 to break the ice for their first win in conference play. Goaltender Nick Commesso recorded 21 saves for his first win and first collegiate shutout.
NEHC
New conference name, but same teams at the top of the standings.
Norwich, Babson and Massachusetts-Boston all swept their games this weekend to take four points each.
Norwich is proving they can win without scoring a lot of goals as they defeated St. Anselm by a 1-0 margin before taking down New England College by a 3-1 score. Braeden Ostepchuk made 29 saves for the shutout against the Hawks.
Goalie Jamie Murray from Babson recorded two shutouts on the weekend in the Beavers' wins over Skidmore and Castleton. Murray recorded 21 saves in the 4-0 win at Skidmore and then stopped all 32 shots he faced in the 1-0 win at Castleton on Saturday.
The Beacons also recorded wins over Castleton and Skidmore by 5-1 and 3-2 scores, respectively. Albee Daley scored his first two goals of the season and Matt Lemire added three assists in the win over the Spartans.
SUNYAC
That other "P" team leads the standings thus far in the season. After another strong weekend, the Potsdam Bears are 6-0 on the season behind the strong goaltending of Brenden McMenimen and offensive production from Dylan Vander Esch. The Bears won at Cortland on Friday by a 4-2 score and backed it up with a solid 4-1 win over Oswego on Saturday.
Things are not looking good for the Lakers, who lost a two-goal lead in the third period to rival Plattsburgh before falling in overtime 5-4 to the Cardinals. Dillan Fox and Pat Egan provided the game-tying and game-winning heroics for the Cardinals, who remain a perfect 5-0 on the season following Saturday's win at Cortland.
Buffalo State won two nonconference games over Canton in decidedly different fashion. Friday's 10-1 blowout was followed up by a 5-4 overtime win that saw the Bengals' Taylor Pryce score a shorthanded goal to tie the game in the final minutes of the third period before teammate Ryan Salkeld won the game in the first minute of the extra session.
Weekend Biscuits
Mac Olson, Hobart – Scored three goals and added an assist in Friday's 5-3 win at Nazareth. Olson scored an even-strength goal just 17 seconds into the game and subsequently added a SHG and empty-net goal to complete the hat trick.
Taylor Pryce, Buffalo State – Scored a total of nine points in two games against Canton over the weekend. Friday night saw Pryce record a hat trick while adding three assists for six points in the 10-1 win. On Saturday, he added another three points to finish the weekend with five goals and four assists in the weekend sweep for the Bengals.
Jamie Murray, Babson – Stopped all 53 shots faced in two games with Skidmore and Castleton recording back-to-back shutouts for the Beavers. Through four games, Murray's GAA is 0.75 and his save percentage is .971.
WEST ROUNDUP
MIAC
St. Mary's swept Bethel in a weekend series, rolling to a 10-2 win on Friday before capping things off with a 9-1 win Saturday. In Friday's win, Jay Heinle came through with a hat trick, while Bob Kinne and Chad Cesarz each tallied two goals. The 10 goals was the most scored by St. Mary's since it struck for 11 in a game against Aurora last December … St. Thomas swept a series against Gustavus Adolphus over the weekend, winning 3-2 and 2-1 to start off conference play with a 2-0 record. The Tommies trailed 2-1 after one period, but goals by John Kirtland and Jordan Lovick gave St. Thomas the victory. Lovick scored twice in the win. The Tommies won a game for the first time since Oct. 30. Evan Erickson scored the only goal for the Gusties. It was his second of the season. Augsburg pulled off an upset of No. 12 Wisconsin-River Falls Saturday, winning 2-1 in overtime. Evan Hesse scored the game-winner 3:36 into overtime as Augsburg improved to 2-3. Nate Flynn also scored for the Auggies. Flynn leads the team in goals this season with six. Jordyn Kaufer made 24 saves in the win and ranks second in the conference with a 1.97 GAA.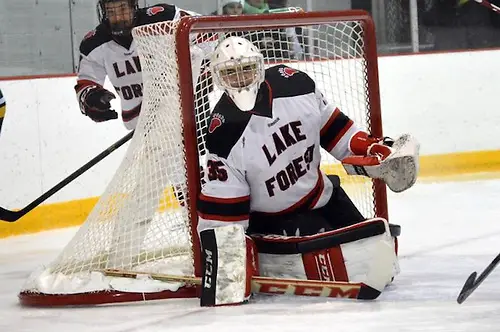 NCHA
Lake Forest pulled off a big upset Friday, stunning No. 13 St. Scholastica 4-3 in overtime. But the Saints bounced back on Saturday to roll to an 8-2 win and a split in the NCHA series. Mark Esshaki scored twice, including the game-winner, as the Foresters won for the second time this season. For Esshaki, it was the first two-goal game of his career. Leo Podolsky made 41 saves, including two in OT, as he pushed his record to 2-2. The Saints scored three goals in the opening period Saturday and never looked back. Two came off power play goals by Cole Golka and Michael Spring. Brandon Millin recorded a hat trick on a night when St. Scholastica scored its most goals in a league game since tallying nine against Northland last December, and Steven Phee scored two goals apiece. Dylan Nowakowski added a goal and four assists for the Saints, who are 2-1-1 on the season … Northland earned a split with the Milwaukee School of Engineering, winning 2-1 in overtime Saturday for their first victory of the year. Oscar Larsson scored on the power play just over two minutes into OT to secure the win. Josh Racek also scored for the Lumberjacks, who are 1-5 overall. The Raiders got goals from Jordan Guth and Michael Romund on Friday to nail down a 2-0 win over Northland. They are 3-3 on the year.
WIAC
Wisconsin-Stevens Point is still perfect after edging St. John's 3-2 on Saturday night. Eliot Grauer scored two goals to lead the second-ranked Pointers to the road victory. Stevens Point is 6-0. Jesse Gordichuk was solid in goal as he made 28 saves en route to winning his third game of the year. Grauer has scored five goals this season, ranking second on the team. The Pointers have tallied 33 goals in all while allowing only 10 … Wisconsin-Stout capped off a two-game road swing Saturday with a 4-1 win over St. Olaf. The Blue Devils, who lost 4-1 to Augsburg a night earlier, took control early as they won their second game of the season. Stout is 2-2-2 on the year … Wisconsin-Eau Claire topped Concordia (Minn.) 6-3 Saturday to remain undefeated. The No. 7 Blugolds led 3-1 after the opening period and never looked back. Adam Knochenmus came through with a hat trick to pace Eau Claire. Jay Deo started his third consecutive game in goal and improved to 2-0-1. Eau Claire is 4-0-2.