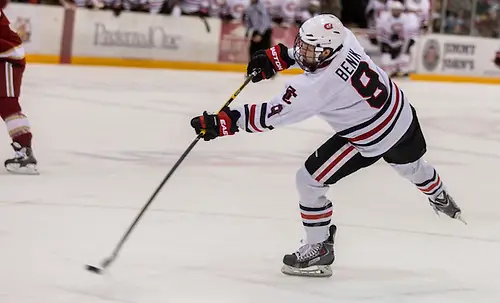 Each week during the season we look at the big events and big games around Division I men's college hockey in Tuesday Morning Quarterback.
Paula: Jim, the first thing that strikes me about the weekend's play was how close so much of it was. Not only did 17 of 37 games go into overtime, but seven more games that didn't go into OT were decided by a single goal, and two more games were decided by a single goal plus an empty-netter.
Then I'm struck by the scores in some of the lopsided victories: St. Cloud State 11-1 over Western Michigan, Penn State 8-2 over Sacred Heart, Quinnipiac 6-2 over Dartmouth, Cornell 5-1 over Colgate, just to name a few. In all, nine different teams netted six or more goals in a single game between Thursday and Sunday, and three more teams scored five in a game. Of those teams scoring five or more goals in a single game, six teams — Quinnipiac, Michigan, Penn State, Boston College, St. Cloud State and Cornell — are among the top 10 teams nationally in goals scored per game.
What I'm wondering, then, is whether this past weekend of hockey was a display of the offensive haves and have-nots. What do you make of all of this?
Jim: I do feel like this year has a good number of haves and have-nots when it comes to goal scoring. You have a number of teams that are scoring at healthy clips. In fact, seven teams are averaging four or more goals per game and another seven are within half a goal of that pace. But at the other end you also have eight teams that are scoring two goals or fewer per game, none worse than Maine, which has scored 11 goals in 11 games. I got to see the Black Bears play in person on Friday and then on television on Sunday and this club generates plenty of offensive chances.
But it proves that when a team is struggling to score, the lack of confidence that team displays is incredible. So many times, Maine was looking to score into an empty net and thus overpassing the puck. Some coaches say that psychological barriers are a bunch of malarkey, while other coaches hire team psychologists to combat mental barriers a team might suffer.
You've been around the game long enough. Do you believe there is such a thing as being talented but not confident, and can that translate to wins and losses?
Paula: Without a doubt. I've covered Michigan for the entire 21 years I've been reporting on college hockey, and that is a team that is never devoid of talent — and yet, there have been plenty of years or stretches within seasons in which the Wolverines have flat-out underachieved, and some of that stems from a lack of confidence that can snowball. When a team can't find the net — even with draft picks, even with incredibly talented offensive specialists — that team can find itself making mistakes it wouldn't otherwise make because of the head space of individual players or the whole squad itself.
I watched the Wolverines go up 5-0 on Niagara last weekend. With that five-goal lead and six minutes left in the second, I saw a talented defense let two goals in, one in the closing minutes of the period and one in the opening minutes of the third. Michigan's defense is very, very skilled — but last year, the Wolverines had this issue with allowing nearly as many goals as they scored, and it took most of the season to get that under control. I wonder how much of Michigan's statistically unimpressive defense is because of a mental state.
The other side of that, though, is chemistry. For years, I've watched Tom Anastos rebuild the Michigan State team and from the start, he's had everyone believing in his vision and goals. That has fostered an incredible chemistry on his teams, which has almost always translated into a team that plays up to the level of its ability. For the longest time, offense was the thing that the Spartans needed to add to their toolbox; with all else in place, it looks as though they've figured that out. Through the entire process, every player seems to have bought into what Anastos and his staff have been pitching, and now they're poised to reap the rewards.
Scoring begets scoring. Winning begets winning.
Jim: That pretty much says it. Though I will say that I believe that confidence — or a lack thereof — can indeed be remedied. I look at last year's national champion, Providence. That team struggled to score goals in the beginning of the year but found its touch late in the season. And at times, particularly the national tournament where the Friars averaged almost five goals per game, they looked dominant.
That goes to a larger point, however. Can a diminished scoring confidence survive if your team is still winning games? The Friars had an All-America caliber goaltender in Jon Gillies and got to December with a 7-6-2 record despite surpassing three goals just once.
Personally, I think if you are winning a majority of your games despite struggles — whether it be offense, defense, goaltending or special teams — you can turn things around. But if a team lacks confidence and wins, that can be a nearly impossible hurdle to overcome.
Paula: Yes, and good teams find ways to win … which brings me to Boston College's 6-4 win over Michigan State. BC led 2-1 after the second, a score that would surprise no one. Then the Eagles went up 4-1 before the 13-minute mark in the third, another unsurprising score.
But what happened between 12:13 and 18:56 in the third period is downright astonishing. The Spartans scored three goals in less than two minutes and on Thatcher Demko, who had allowed six goals in his nine previous games, and just three total in the previous seven games, all in a single game against Denver. Suddenly, the game was tied at 14:15 in the third.
And then it wasn't. The Eagles scored two goals 50 seconds apart with two minutes left in regulation to win 6-4. In theory and on paper, Boston College should have beaten Michigan State; in reality, a good team found a way to win a game.
Good teams find ways to win games they should win. I know that the Spartans scored more against Demko than anyone else had this season, but I guarantee they feel no moral victory because of it.
Here's my question: Did we jinx Demko last week?
Jim: Ah the jinx. Personally, I don't believe in it, even if publications like Sports Illustrated and its cover seem to state otherwise. I do believe, however, college students can get caught up in publicity. I've had coaches tell me that they try to protect their players from media. Not really because they believe they will say stupid things but because they worry media attention can go to young kids' heads.
In no way am I suggesting this happened to Demko. We know hockey is built on momentum and Michigan State capitalized on its momentum for a short period on Friday. But you reference what might be the most important story line from that game: Boston College's ability to find a way to win.
I will admit that I doubted Boston College a bit coming into this season. I worried about its play on the defensive side of the puck, which the Eagles quickly answered. Now this team has proven its ability to win in what I call "character situations." There will be challenges that BC faces throughout the season but there is no doubt when this team is in a difficult situation in March or April, it will be able to dig into the memory banks to Friday's win for experience in a difficult situation.
Thumbs up
To Arizona State for the program's first sweep of a Division I team. The Sun Devils swept Lake Superior State on the road in two 3-2 games, the Saturday contest going into overtime. Joe Lappin had two goals in Friday's contest, including the game winner 52 seconds into the third period. Ryan Stevens had a goal in each contest and Jordan Masters had the game-winning goal at 4:28 in overtime Saturday. Goaltender Ryland Pashovitz had 58 saves and a .935 save percentage in the series.
Thumbs down
To the extreme number of players who, to date, have forced the hand of the league with reckless play. Thus far, 15 separate players have received supplementary discipline by their respective leagues. Last year at this point, only five players had received supplementary suspensions. Are we the only ones disturbed by this trend?
Coming up
There's one series between top-10 teams on next weekend's schedule, along with a handful of other meetings between ranked teams.
No. 7 St. Cloud State hosts No. 4 North Dakota in an NCHC showdown Friday and Saturday.
In ECAC Hockey, No. 3 Quinnipiac hosts No. 20 Clarkson on Friday and No. 14 St. Lawrence on Saturday. No. 11 Yale hosts Cornell, new in the USCHO.com Division I Men's Poll this week at No. 18, on Friday.
In Hockey East, No. 5 UMass-Lowell hosts No. 16 Notre Dame for games Friday and Saturday. On the same days, No. 12 Michigan plays at No. 10 Boston University in a nonconference series.