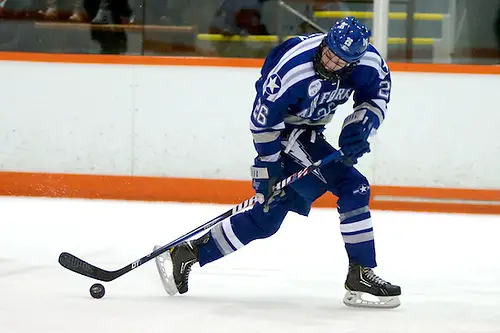 Any coach will tell you that without the right amount of team chemistry, you're not going far, especially when you get to the postseason.
Air Force coach Frank Serratore said that even though it's early, and his team is mainly comprised of freshmen and sophomores, he thinks the right ingredients are already in place.
"I really like this group," he said. "We haven't had a bad game. We haven't had a bad practice. We had a week off after Robert Morris and our practices were great, [the intensity] you'd expect to see in the Atlantic Hockey playoffs."
With 11 freshmen, eight sophomores and just seven upperclassmen, one could expect a rocky start to the season. And while the Falcons (3-6-1) have lost two games for every contest they've won so far, that elusive chemistry is already there.
"It's a combination of things," Serratore said. "A great group of kids and we've got fantastic senior leadership from Max Hartner and Ben Carey."
Despite losing its top line of Cole Gunner, Chad Demers and Scott Holm, who combined for 118 points last season, Air Force is just a goal off of its pace of last year at this juncture. Fourteen players have scored at least one goal, led by freshman Kyle Haak (four goals so far).
"[Haak] has been great for us," said Serratore. "He was the last kid we brought in. All of our rookies have the potential. We don't have a crystal ball; we don't know who's going to adjust to the college game quickly. [Haak] gets the puck on his stick around the net and shoots well.
"We're deeper than we were last year. We can roll four lines and we've got eight 'D' we can use. We've got great competition [for spots]."
Serratore said he's comfortable using a different lineup in each game, and it's paying dividends.
"There's no one on this team who in the locker room thinks that they've got enough in the bank to know they're going to, for sure, be in the lineup," he said. "And there's no one who thinks that they don't have a shot to be in the lineup every night."
It starts with Hartner, who has four points so far this season.
"Hartner is the leader of the pack," said Serratore. "He knows what it takes. He won two Anderson Cups with Green Bay [of the USHL]. He's a terrific person and terrific leader."
That's especially needed this season with such a young roster.
"Last weekend [against Holy Cross] we went with our 'young' lineup with 16 out of 20 [being] underclassmen," joked Serratore. "The next night we went with our 'old' lineup and we only had 15 underclassmen out of 20."
It may take a year or two for the Falcons to challenge again for league supremacy, or it could even happen by the time this season winds down.
"The only disease we have is youth," said Serratore. "We're absolutely going to get better. This team right now is only at 50 percent of its potential."
Family ties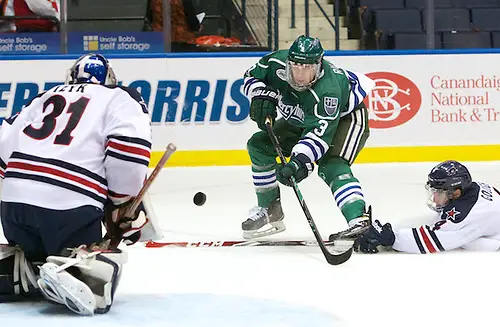 One of the freshmen at Air Force is the coach's nephew, Matt Serratore. Matt's father, Tom, is in his 15th season as head coach at Bemidji State.
Matt Serratore is one of five players in Atlantic Hockey with a father who is or has recently been a Division I head coach. There's also:
• Yale senior Stu Wilson, the son of Rochester Institute of Technology coach Wayne Wilson.
• Mercyhurst junior forward Jack Riley, the son of Army West Point coach Brian Riley.
• Mercyhurst's Brandon Gotkin, the son of Lakers coach Rick Gotkin.
• Holy Cross sophomore Scott Pooley, whose dad, Paul Pooley, is the former coach at Providence and is the associate head coach at Notre Dame.
Looking toward the future
Another team going through growing pains is Niagara, which has nine freshmen on its roster.
The Purple Eagles are still looking for their first win (0-6-2) but have ties with Robert Morris and Penn State, and took Cornell to overtime.
Last weekend, Niagara concluded its nonconference schedule with a 7-3 loss at Michigan and a 3-2 overtime loss in exhibition play against the U.S. Under-18 Team.
There were bright spots: Rookies Tanner Lomsnes and Niko Kovachis each collected his first collegiate goal. Six of the Purple Eagles' 14 goals so far have been scored by freshmen, and rookies Guillaume Therien and Joe O'Brien have shared time in net.
"You've got to find some positives somewhere," coach Dave Burkholder said after the Michigan game. "A lot of it is that that's how 12 NHL picks [on Michigan] should look. They're pretty darned good. We didn't answer for it at times, but overall, our compete level was good.
"I was real happy with a couple of our freshmen, Tanner Lomsnes and his first two points and all. I thought Sam Rennaker coming to his home state and playing in front of his family did a good job as a freshman. I thought our freshmen, for the most part, played well."
It's something to build on for Niagara, which hosts American International this weekend.
Road woes
Four Atlantic Hockey teams were on the road in nonconference play last week, and the lone bright spot was Army West Point's 2-0 win at Connecticut.
The league went 1-6 in nonleague play, dropping its overall nonconference record to 9-35-3.
Atlantic Hockey is 5-9-2 at home and 4-26-1 on the road out of conference.
Weekly awards
Player of the week — Max French, Bentley: French won the award for the second time in three weeks, all the more impressive because he's been able to play for only three weeks due to a preseason injury. French had two goals, including the game-winner, in Friday's 3-2 win at RIT, and followed up the next night with an assist on the GWG, also a 3-2 overtime victory.
Goalie of the week — Gabe Antoni, Bentley: Antoni came on in relief of starter Jayson Argue, who left Friday's game after two periods with an injury. The senior stopped all 13 shots he faced in the third period and overtime. On Saturday, Antoni got the start and made 36 saves in a 3-2 overtime win.
Rookie of the week — Kyle Haak, Air Force: Haak scored a goal each night in a weekend split with Holy Cross. He leads the team with four goals on the year.
Contributing: Paula C. Weston