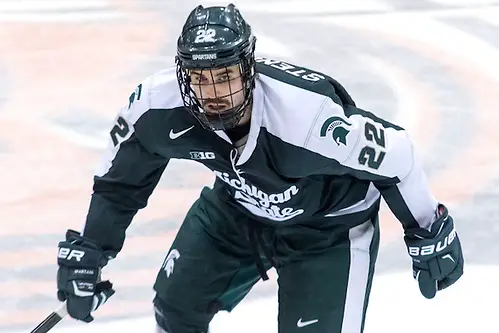 It's a cliché that every coach utters at some point in his career: We don't know where the goals will come from this year.
It's something that nearly every Big Ten coach lamented at the start of the 2015-16 season, yet two Big Ten teams are among the top five scoring offenses in the country and another program is showing dramatic improvement.
At No. 2 nationally, Michigan (4.43 goals per game) makes a repeat appearance, as the Wolverines were the top-scoring team nationally (3.86) a year ago. Penn State is third (4.40) after finishing 12th (3.22) last season.
But the team that has shown the most dramatic improvement offensively in the Big Ten this season is Michigan State. The Spartans finished the 2015-16 season 42nd in the nation, scoring 2.37 goals per game; this year, they're averaging 3.22 goals per game, 19th in the nation.
"We've known for quite some time it's been an area we've had to get better at," said coach Tom Anastos. "It's a combination of things. It's not a silver bullet. Part of it is the recruitment process the last few years, part of it is guys getting experience, part of it is more systemic, changes that we've tried.
"And part of it is a little bit of success early, and that's been a confidence boost for some guys."
Several veteran players are benefiting from both experience and early season success. Junior forward JT Stenglein (6-5–11) leads the Spartans in scoring and extended his goal-scoring streak to four consecutive games in Michigan State's 6-4 loss to Boston College last Friday. Four goals in four games amounts to one more goal than he scored in 38 games altogether in his first two seasons.
With five goals in nine games, junior Mackenzie MacEachern is on pace to surpass the 11 he scored in 35 games last season, and classmates Joe Cox (3-3–6) and Villiam Haag (2-1–3) are having their best career starts, even with modest numbers.
The four freshmen seeing time on the ice this season are also impacting Michigan State's offense. Together, forwards Mason Appleton (3-6–9), Cody Milan (1-3–4) and Brennan Sanford (2-0–2) plus defenseman Zach Osburn (2-3–5) have combined for nearly 28 percent of the Spartans' goals.
"I shouldn't say it's a little more productivity this season," said Anastos. "I should say it's a lot more."
Last weekend, the Spartans did something no one else has been able to do this season when they put four goals in a single game past Boston College goaltender Thatcher Demko, who had given up three goals in his previous seven starts with six shutouts in that stretch.
The Spartans trailed 4-1 at 12:13 in the third but scored three goals within two minutes — Stenglein at 12:53, Sanford at 12:57, Appleton at 14:15. The game was tied until BC's Miles Wood scored the game winner at 18:06 and Ryan Fitzgerald added an empty-netter for the Eagles at 18:56.
"If you're a fan, that game was entertaining," said Anastos. "We're not really satisfied in losing the game, but you use the game in experience. I give their whole team a lot of credit, not taking anything away from their goalie, but that's a really good team.
"In a lot of areas, we played pretty darned well, which is positive. It's no moral victory, but it is a measuring stick for us."
Anastos said he's happy to be able to stabilize his offense after having to juggle lines early in the season.
"We got hit pretty hard early with some injuries that didn't allow us to build some chemistry within our lines," said Anastos, "and that's been an important part in our offense. In the recent couple of weeks, we've had the opportunity to have guys play together and they're a little more comfortable with each other."
From everything to puck handling to backchecking to transitioning, the Spartans are an improved team.
"We have more of a shooter's mentality in the Grade-A scoring area than we've had," said Anastos. "And don't underestimate the power of experience."
The Spartans have two nonconference series remaining before Big Ten play begins. Each series is against a ranked opponent, and each is at home. First up is Michigan Tech this weekend, followed by North Dakota Nov. 27 and 29.
"Tech plays really hard and they're well organized," said Anastos. "We'll have to be ready."
It wasn't a slump, exactly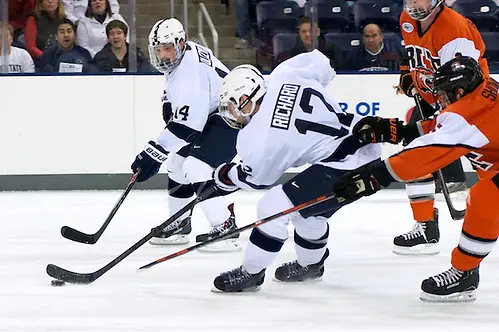 In its first five games of the season, Penn State went 4-1 and averaged 4.6 goals per game. In three games between Oct. 29 and Nov. 6, the Nittany Lions went 0-1-2 and averaged 1.67 goals per game.
Last weekend, they rebounded with a home sweep of Sacred Heart, winning 8-2 and 3-2.
Those three games preceding last weekend's series may look like a slump on paper, but Penn State coach Guy Gadowsky said that looks can be deceiving.
The Nittany Lions tied St. Lawrence 2-2 at home on Oct. 29 before losing to the Saints the following night 4-2. Nov. 6 was a single road game against Niagara that resulted in a 1-1 tie.
"With Niagara, I actually thought we played extremely well," said Gadowsky. "Sometimes you play really well and the puck doesn't go in the net."
The Nittany Lions outshot the Purple Eagles 40-22 in that contest.
"From a coaching standpoint," said Gadowsky, "you'd much rather see the chances and them not going in than no chances at all."
Against St. Lawrence, "I thought we played extremely well on Thursday, and Friday we came out and expected things to roll easily again," Gadowsky said. "Give St. Lawrence a ton of credit. They were tough to play against. We weren't able to compete at that level yet. We're certainly far better off now having played them."
The Nittany Lions were another team unsure of how the goals would be produced this season with the early departures of forwards Casey Bailey and Scott Conway, responsible for 32 goals last season. This year, Penn State's offense is seeing contributions from all of its classes, and newcomer Chase Berger (8-3–11) is tied for fifth nationally in goals per game.
Four Penn State freshmen — forwards Berger, Alec Marsh (5-5–10), Andrew Sturtz (4-4–8) and defenseman Vince Pedrie (1-3–4) — have combined for nearly 41 percent of the Nittany Lions' goal production.
"I don't know if any of us expected this type of offensive output from any of them," said Gadowsky, "but we did know what kind of character they were bringing to the team."
The chemistry this year, said Gadowsky, is great. Junior Dylan Richard (5-5–10) is off to his fastest start, and seniors Kenny Brooks (3-7–10) and Curtis Loik (3-9–12) are on pace to have career seasons.
"So far," said Gadowsky, "we've had a little bit from everybody."
This week, the Nittany Lions travel to Alaska-Anchorage to take on the Seawolves. In fact, they left for Alaska on Tuesday.
"Seems like old times," said Gadowsky, who coached in Fairbanks from 1999 to 2004.
Looking for better balance
Michigan has scored 31 goals in seven games. The Wolverines have also allowed 23 goals this season. Last Friday, Michigan beat visiting Niagara 7-3, but the Wolverines led 5-0 in that contest until 13:53 in the third.
"Three goals against at home again. Not good enough," said coach Red Berenson. "I thought [goaltender Steve] Racine was fine, but I can't say we were especially good defensively."
It's a recurring theme for the Wolverines, one that dates to last season. Berenson said that against the Purple Eagles, in part the Wolverines were "anxious and excited and trying to do too much, instead of just doing what's there."
The Wolverines are yet another Big Ten team seeing promising offensive play from freshmen. Forwards Kyle Connor (5-4–9), Cooper Marody (4-5–9) and Brendan Warren (2-6–8) lead Michigan in scoring.
This week, Michigan travels to Boston University to take on the Terriers on Friday and Saturday. "We have a tough opponent next week," said Berenson. "We've got to get our game up to another level.
"It's a game of mistakes. You're always going to make mistakes. You just don't want to make mistakes over and over again that cost you goals."
Three stars of the week
There are three different teams represented this week among the honorees.
First star — Ohio State junior forward David Gust: Gust registered a goal and four assists as the Buckeyes swept visiting Canisius 4-1 and 6-4. Gust had the primary assist on Friday's game-winning goal and a career-high three points Saturday. Gust has two goals in 10 games this season, one fewer than he scored in 25 last year. This is his first career weekly Big Ten award.
Second star — Michigan freshman forward Brendan Warren: Warren had his third three-point game in his last four contests, registering three assists in the Wolverines' 7-4 win over Niagara last Friday night, including an assist on the game-winning goal. This is his first career weekly Big Ten award.
Third star — Minnesota freshman goaltender Eric Schierhorn: Schierhorn recorded his second career shutout Friday in the Golden Gophers' 4-0 win over Minnesota State. Minnesota lost 3-2 the following night, but Schierhorn posted a 1.45 GAA and .952 save percentage in the split. Schierhorn leads all Big Ten goalies so far this season with a 2.11 GAA and .931 save percentage. This is his second career weekly Big Ten award.
My ballot
1. Providence
2. Boston College
3. Quinnipiac
4. UMass-Lowell
5. North Dakota
6. Boston University
7. Denver
8. Omaha
9. Minnesota-Duluth
10. St. Cloud State
11. Merrimack
12. Harvard
13. Michigan
14. Yale
15. St. Lawrence
16. Bowling Green
17. Notre Dame
18. Cornell
19. Michigan Tech
20. Michigan State