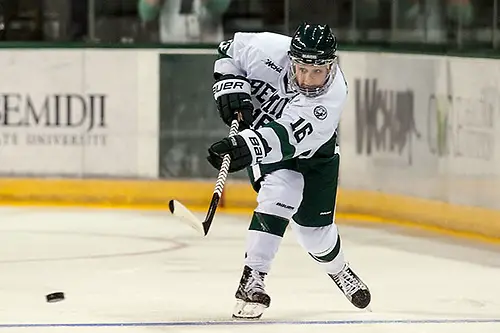 The toughest act to follow is sometimes your own. Bemidji State had a historic 2014-15 season, improving by 10 wins from the previous year and reaching the championship game of the WCHA Final Face-Off for the first time.
Another way to view it is that was the first Bemidji State team to be one win away from advancing to the national tournament. This year's squad doesn't want just a near miss.
"We're getting to the tournament," senior captain Hanna Moher said with conviction. "I mean, obviously, everyone wants to win the NCAA tournament, and that's our goal. We know we can compete with everybody."
Exhibit A last season was the Beavers getting the better of eventual national champion Minnesota, getting both a shootout win and a regulation win over the Gophers in Minneapolis, and then shutting them out in the league tournament.
"Teams actually look at us like we're somebody," sophomore defenseman Alexis Joyce said. "When we played teams last year, it was, 'Oh, it's Bemidji State, it's whatever. We'll go out and kill them, 10-0, 11-0.' We showed teams, that's not the case. We got three of five with the national champions; you can't say much more than that. We swept North Dakota, split with them overall, beat Wisconsin at their home rink with a packed arena. Those are big deficits to overcome and we did that. I think that showed a lot of teams that we are a team to start circling on your calendar.
"That's definitely a big thing that we've noticed this year. Teams aren't coming in with the mindset, 'Oh, we can play our third-string goalie or our second-string goalie. We don't have to take them as lightly.' Now, they're taking us like, 'Holy cow, these guys are good. They can do something. They're a very skilled team.' That's very exciting and nice."
People around the country are paying more attention to Bemidji State, and they're even figuring out how it is spelled.
"More teams aren't calling us Bermidji," Joyce said. "I don't know where they get the 'r' from in our name, but I heard that a lot. A lot of people legit thought that was our name, and I was like, 'No, there's no 'r' in our name; I don't know where you see that.'"
Having been to Bemidji a time or two in the dead of winter, I can understand the association of a brrr sound with the name. Outside of the region, Bemidji State's program hasn't had a lot of name recognition, even with people who now call it home.
"I was actually looking out east," Moher said. "I was looking at Princeton. I was looking at Providence for a bit, too. I was actually at Team Ontario camp, and [assistant] coach Shane Veenker found me. He just said, 'Hanna,' when I was walking by, and he said, 'I'm a Bemidji coach,' and I was like, 'Is that D-I?' I didn't know anything about the WCHA or anything at all. I grew up in the Toronto area. Shane is just like an amazing guy. He drew me in to Bemidji, and when I visited, I loved the lake, and I loved the small campus. I liked the girls when I visited. It just seemed like a right fit for me. It's like being at a cottage all year. People park on the lake in the winter and swim and boat in the summer. It's pretty cool."
Moher arrived at Bemidji State at a time when franchise goaltender Zuzana Tomcikova and Alana McElhinney, her primary backup, had just graduated, and the Beavers were having a down year.
"Even back then they said Bemidji is one of the harder teams to play, even though we were low in the standings," Moher said. "It's just Beaver hockey, I guess, which is the culture of not giving up and fighting for it. Over the years, we've become I guess a little more finesse with new incoming players and the culture of who is coming from where. I really think we've come a really long way."
One of those incoming players was Joyce, a highly-regarded player coming out of Lakeville North High School in Minnesota, but not quite high enough that she had unlimited choices of a college scholarship.
"I had quite a few options out east," Joyce said. "A little bit of Wisconsin. I think I chose Bemidji because I wanted to stay in the WCHA for sure, and I didn't have a lot of options with that, so I found Bemidji, and they were really excited about me. When they gave me an option to come play for them, it was really nice. Especially, we have a cabin like 20 minutes away. It's far enough where I can get away from the family, but still if something happens, or they want to come to my games, it's a quick little jog up the street for them."
While the area was familiar, her new coach was not.
"I was not familiar with him at all," Joyce said. "I got recruited, thought Sertich was going to be the coach. I found after I committed, after I signed everything, got an email that he resigned. Had no idea. I was a little shocked, and a little nervous to be honest, because I didn't know what was going to happen. Found out who the top four candidates were. They allowed us freshmen to question them over a telephone conference. After that, I had a pretty good idea of who I wanted to work under, and [James] Scanlan was absolutely one of them. He's a great guy. He knows what he's talking about. He truly cares. That's a big thing for me, is the coach cares. When I found out he got the job, I was ecstatic. I had heard nothing but good things. My coach back home in Lakeville North, he had known some guys that know a lot about him, so I had only heard good things."
Coach Scanlan has said repeatedly that he took over a program where the cupboard was not bare.
"I think Sertich did a good job preparing this team and making sure the talent was here," Joyce said. "It was just little changes here and there. Coach came in and made those. We started out strong and just kept going up, never looked back, and I think that was all coach Scanlan."
Scanlan got the Beavers off to a quick start in his first season, winning the first four games, and after a four-game skid evened their record, they rebounded with a 7-1-1 stretch. That strong first half fueled BSU's record-setting season.
"As the culture has changed, we are allowed to be more aggressive now," Moher said. "I had the pleasure of having coach Sertich and coach Scanlan, two years each —- this is my second with Scanlan. It's been totally different, but I think everything has changed. Now that we have such a strong team and strong players, we can really just forecheck and not allow people to have as much time."
Everything builds. Stronger players combine to form a better team that wins more games. Ultimately, some of those players are recognized for their accomplishments.
"It's really gratifying, but with team success comes the individual recognition," Scanlan said. "I've always believed that. Any one of those players will tell you that team success is the most important thing to them, but from that the individuals are going to be recognized. What Steph Anderson has done with the national program is just tremendous for our program. Certainly [goaltender] Brittni [Mowat] being a First-Team All-American, same thing. Ivana Bilic is in my eyes definitely an all-league player, but she's never been recognized as an all-league player. Part of it is the league we play in and the caliber of the defensemen, but she's just an incredible player, just does so much for us. Alexis Joyce is just kind of coming into her own now and just being a real impact player. There's a number of them. No question, if we keep having success as a team, then individuals are going to get recognized."
Joyce was named to the WCHA's All-Rookie team last season. After 16 games of the current season, she has 10 points, tying her for the team lead with senior forward Kaitlyn Tougas, who has led the Beavers in points the past two seasons. Moher, who centers the top line of Tougas and Anderson is a point back at nine in a tie for third with Bilic.
Bemidji State, new and improved as it is, still isn't prolific offensively, ranking 23rd out of 35 teams in scoring average, but it can get by with less, because backed by Mowat, the Beavers feature that ninth-best scoring defense. Even that is deceptive, as 19 of the 31 goals Bemidji State has allowed came in four losses to No. 1 Wisconsin and No. 3 Minnesota.
"You've got to give Minnesota and Wisconsin and teams like that credit; they have the pressure every time out," Scanlan said. "They have to beat, if you want to call them, the lower-tier teams in our conference. Obviously, when they play Wisconsin, they're going to be jacked up, because it's Wisconsin. Pressure is a privilege and give them all the credit, because they always seem to take care of business against everybody else."
Last year, that was a problem for the Beavers, losing a game to St. Cloud State, three of seven to Minnesota-Duluth, twice to North Dakota, and, most damaging, all four meetings with Ohio State.
"All we're focused on is this year, and I think we have a great opportunity to be a top four team," Scanlan said. "It's still going to be a battle. I look at any points you can get from Minnesota or Wisconsin are bonus points. We've got to take care of business with everybody else. So far, we've done that."
Bemidji State is 7-0-1 against the WCHA teams not named Wisconsin or Minnesota.
In years past, that was a reliable route to the NCAA tournament. The WCHA advanced three teams six times in the first eight years of an eight-team national tournament. Win most of your games against the teams below you, avoid ugly losses outside of conference, do what you can against the top two, and more often than not, you gained an NCAA invitation.
However, the last three seasons, only two WCHA teams have made the NCAAs, and that figures to be the case with increasing frequency. While the existence of a CHA automatic bid will certainly contribute to that going forward, a bigger problem for the third-place WCHA team has been that the middle tier of the league has gotten stronger and teams have difficulty separating from the pack.
So far, so good for the Beavers. However, the low-scoring games that they play don't allow much margin for error against the rest of the WCHA.
"They don't look at us like they look at Minnesota and Wisconsin," Scanlan said. "St. Cloud, we battled them two games. It was right down to the wire both games. Minnesota just absolutely poleaxes them. Why does that happen? I just think teams maybe look at us and think, 'Hey, we can beat this team,' if they play hard. The ranking thing, it's nice to see it, but it certainly doesn't mean anything. I'm sure there are people going, 'What the hell, why is Bemidji where they're at?'"
The Beavers had risen to No. 5 in the D-I Women's USCHO.com Poll before being swept by the Gophers and now sit sixth. They are likewise sixth in the early version of the PairWise Rankings. No CHA team is even a Team Under Consideration at present. Given one TUC squad will be in the NCAA field, it follows that at most the top seven spots in the PairWise will have value.
Should Bemidji State slip out of contention for an at-large spot, it is buoyed by the memory of how close it came to gaining that automatic qualifier in March.
"It's part of that process," Scanlan said. "Playing in big games like that is certainly going to help you."
That makes sense, but historically, it hasn't mattered. No team finishing third or lower in the WCHA has ever won the conference tournament, even if it had the experience of winning the tourney the previous year.
"Bottom line is, let's get home ice," Scanlan said. "Let's take that next step. Let's be a top-four team in our league at the end of the year, and then go from there. Once you get to the playoffs, anything can happen. Even if we get home ice, that doesn't guarantee you're going to get to that next round. At least you've accomplished something that this program has never done. You've clinched home ice for the playoffs. If you take care of business, you get down [to Minneapolis for the Final Face-Off], and now it's a one-game shot.
"We proved last year, that's all it takes. You get to that game, you win it. I think I told you I thought Wisconsin was the best team in the country at the end of the year last year, the way they were playing. We, unfortunately, had to play them. Will we ever be able to beat Minnesota and Wisconsin on back-to-back nights in this league? Who knows, but like I said last year, I'd love the opportunity to try it again."
So in the quest to improve on their success of last season, the Beavers have two possible routes: beat the teams that sit below them in the rankings and hope that the math keeps them entrenched high in the PairWise; or, get ready for the prospect of having to possibly defeat Wisconsin and Minnesota on back-to-back days to get the automatic bid.
"This is a process; we just want to keep getting better," Scanlan said. "We want to be playing our best hockey come February. I give this group the credit. They came here this year very focused. They felt last year wasn't a fluke. They thought we could be a good team, and that's the approach they took right from when the season ended last year. They just had that mindset. They come to play every game. That's the bottom line. They come to play every game."