The first few weeks have found some teams off to a fast start and still others finding themselves.
Now everybody is in the full swing of season play, including the defending national champions from Trinity, along with the rest of the NESCAC.
A few upsets, a few statement games and now fewer unbeatens after this past weekend in the East.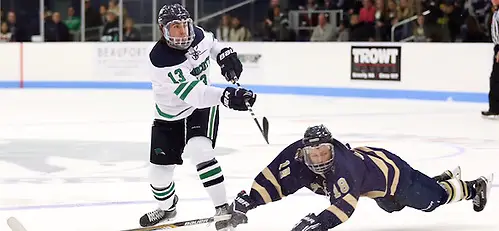 ECAC Northeast
Endicott has quickly emerged as a contender in the conference with two more conference wins this week. On Thursday, Parker Wood scored late in the third period to give the Gulls a major win over Johnson and Wales on the road by a score of 3-2. They followed that up with another conference road win at Becker by a score of 4-2 – goalie Kevin Aldridge made 70 saves in the two wins.
Nichols remained unbeaten in conference play with a 5-3 win at Becker on Wednesday followed by a hard-fought 2-1 win at Curry on Saturday. Curry had won its first game of the season over Western New England on Thursday 6-1 and gave the Bison an early two-goal lead that stood up behind the goaltending of Alex Larson.
Suffolk won its nonconference game against Stonehill, but fell from the ranks of the unbeaten on Saturday in dropping a 4-3 decision to Johnson and Wales. The Wildcats fell behind 2-1 early in the third, but rallied on goals by Matt Lanzillotti and Jonathan Ruiz before Connor Bates sealed the win with an empty-net goal.
ECAC West
Hobart and Elmira split their two game series at Elmira by 5-3 and 4-3 scores, respectively, giving the Statesmen their first loss in conference play on Saturday night. Seven different players recorded points for Elmira, who made a three-goal, first-period outburst stand up for the win.
Neumann split a pair of games with a win over Utica 5-3 before losing on Saturday to Nazareth by a score of 4-2. The Golden Flyers went 2-0-0 on the weekend adding a win over Manhattanville on Friday night by a score of 5-1. Dominik Gabaj finished the weekend with two goals and three assists to lead Nazareth in the wins.
MASCAC
Plymouth State showed it can put on an offensive show or beat you with defense in two wins this week that keep them atop the conference standings. Thursday's 9-2 over Framingham State saw Michael Economos and Josh Woody both recording hat tricks, while Tommy Dowell and Andrew Wigg recorded four assists each. On Saturday, PSU knocked off Fitchburg State by a score of 3-2 with Economos and Woody again providing goals while Gordon Caesar made 28 saves in the win.
Brandon Gillmore scored twice, including an extra-attacker goal with just 35 seconds remaining in regulation before Brandon Berkley won it in overtime for Massachusetts-Dartmouth against Salem State. Drew Michals made 31 stops to earn his first victory of the season for the Corsairs.
NE-10
Saturday's match-up between Assumption and Southern New Hampshire saw Jim Gabrione's second-period goal stand up as the only goal of the contest. The Penmen won 1-0 behind 38 saves from Ryan Slatky.
NEHC
Skidmore broke out in a big way from its winless start to the season. Anthony Bird's natural hat trick and 40 saves from Jack McDonald stunned Norwich 4-0 for the Thoroughbreds' first win of the season. On Saturday, Skidmore made it a road sweep by beating St, Michael's 5-4 in overtime behind two goals from Nic Hermany.
Massachusetts-Boston and Babson played crazy 8s on Friday notching 8-3 and 8-0 wins, respectively, over University of New England and Southern Maine. The shutout for Babson was Jamie Murray's third in a row. Both teams won again on Saturday in the reversed pairings leaving them unbeaten in conference play on the season.
NESCAC
Trinity and Williams opened their season going 2-0 on home ice with wins over Tufts and Connecticut College and Bowdoin and Colby, respectively. Amherst defeated travel partner Hamilton by a score of 3-1 with David White leading the way with a goal and an assist for the Lord Jeffs.
Wesleyan rallied from a goal down twice in a pair of 1-1 ties with Conn College and Tufts. The Cardinals launched 88 shots in the two games, but only Jay Matthews and James Kline found the back of the net.
Middlebury and new coach Neil Sinclair opened at home with a win over Colby and 4-4 tie with Bowdoin, while Hamilton won a nonconference game on Saturday over Franklin Pierce by a 4-0 score with Robbie Murden scoring twice for the Continentals.
SUNYAC
Plattsburgh won the battle of the unbeatens as the Cardinals stormed to an early 4-0 lead in the first period on their way to a 7-1 win over Potsdam. Cole Stallard had a goal in each period for a hat trick and Pat Egan added three assists for the Cardinals, who outshot Potsdam by a 44-22 margin.
Geneseo also fell from the ranks of the unbeaten, dropping a 7-4 decision to Buffalo State on Friday night. Ryan Salkeld had two goals and Brett Hope added four points to lead the Bengals to the upset win. The Knights rebounded on Saturday with a 6-3 win over Fredonia to gain a weekend split.
Buffalo State completed their weekend sweep with a 6-4 win over Brockport on Saturday night. Anthony Beaumont, with two goals, led a group of six players with two points each in the win.
Weekend Biscuits
Jack McDonald – Skidmore – The junior goaltender made 40 saves and earned his first win in Skidmore's upset of #3 ranked Norwich on Friday night at Kreitzberg Arena.
Anthony Bird – Skidmore – The junior forward provided all the scoring Skidmore needed in the upset win over Norwich with a goal in each period for a hat trick.
Brandon Gillmore – Massachusetts-Dartmouth – The senior forward had two goals, including the game-tying effort in the Corsairs 3-2 overtime win against conference rival Salem State.
WEST ROUNDUP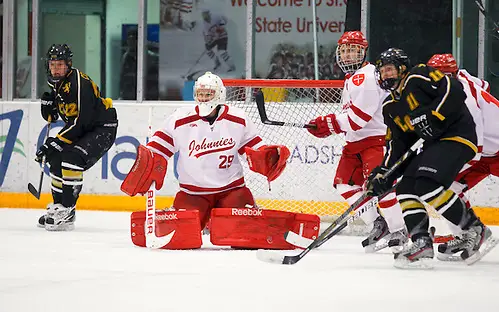 MIAC
St. John's couldn't have picked a better time to win its first two games of the season. The Johnnies stunned No. 14 Hamline win a weekend sweep. Matt Colford came through with the game-winner with 3:17 remaining to propel St. John's to a 4-3 win on Saturday. The goal was the second of the year for Colford. He also tallied his first collegiate assist on a goal by Neal Smith. Saxton Soley racked up 37 saves and earned the 40th win of his career. He is now 40-24-8 overall in his time with the Johnnies. Huba Sekesi and Tyler Dunagan also scored for the Johnnies, who are 2-4-2 overall and 2-2 in the MIAC. St. John's opened the series with a 2-1 win Thursday thanks to Dunagan scoring with 30 seconds remaining in regulation. Sekesi also scored … St. Mary's took advantage of strong play by the Heinle brothers to secure a 3-1 win over St. Olaf Saturday. Jay Heinle scored twice and Phil Heinle made 18 saves as the Cardinals improved to 4-2-2 overall and 3-0-1 in the league. The Cardinals, in first place with 10 points, missed out on an opportunity to sweep the series when St. Olaf rallied to forge a 4-4 tie on Friday. St. Mary's led 3-1 after one period in that game but couldn't hold on for the victory. Bob Kinne, Martin Gruse and Chad Cesarz all scored first-period goals to give St. Mary's an early advantage. The goal for Kinne was his fifth of the year. Connor Quinn's goal off a power play tied the game at 4-4 for St. Olaf. Gordon Wells also scored a power play goal for the Oles.
NCHA
Eighth-ranked St. Norbert completed a successful trip to Wisconsin with a 5-2 win over the second-ranked Pointers Saturday night. The Green Knights began the trip with a 4-0 win over Superior on Friday. The Pointers, the 2014 national runner-up, came into the game unbeaten but were held to a season-low two goals. They fell to 6-1-1 on the season. The Green Knights are now 7-1. Ross Pavek and Riley Christensen both scored in the opening period and Roman Uchyn added a goal in the second period. Blake Thompson gave St. Norbert a 4-0 lead. Noah Nelson scored the other goal for the Green Knights, who have won their last six games. Jacob Barber and Lawrence Cornellier both scored for the Pointers … The Milwaukee School of Engineering pulled off an upset of No. 13 River Falls Saturday. Brandon Unser and Cole Larson both scored goals for the raiders, who pushed their record to 3-3 on the year. MSOE trailed 1-0 in the opening period before rallying for their second win over a ranked team this season. Nick Kohn tallied 24 saves and owns a 1.71 GAA. This was the seventh meeting between the Raiders and Falcons and the first time MSOE has a won a game in the series. MSOE won three of its five games in November and won't play again until Dec. 8 when it travels to Stout … Lake Forest stunned Wisconsin-River Falls 3-2 in overtime Friday night behind Jimmy Cusan's goal 3:25 into the OT period. It was the first goal of the year for Cusan. The Foresters trailed 2-0 before John Gugent and Charlie Izaguirre both scored in the third period to tie the score and force the extra session. Billy Cooper started in goal for the Foresters and made 42 saves, one shy of his career high. Lake Forest is 2-4 on the season.
WIAC
Sixth-ranked Wisconsin-Eau Claire had mixed results over the weekend as it lost 2-1 to Concordia (Wis.) Friday before bouncing back with a 5-1 win over Lake Forest Saturday. Against the Foresters, the Blugolds took advantage of a big night by Adam Knochenmus, who scored twice in the victory. Knochenmus has tallied a team-best nine goals on the season. He also leads the team in points this year with 12. Garret Clemment scored a goal and also dished out an assist. Patrick Moore also tallied one goal and one assist. Jay Deo stopped 27 shots and improved to 3-0-1. The Blugolds are 5-1-2 on the year. Eau Claire suffered its first loss on Friday as it fell 2-1 to Concordia. Connor Hogg and Eli Riddle gave the Falcons an early 2-0 lead. Moore scored the lone goal for the Blugolds. Although the Blugolds lost, they continue to play well in penalty kill situations. They killed off all four of the Falcons' opportunities and own a 93.1 penalty kill percentage on the season. Tyler Green started in goal and made 21 saves as he pushed his record to 2-1-1 on the year … Wisconsin-Stout picked up a 5-2 win over Concordia (Minn.) Saturday behind a stellar performance from Tyler Cayemberg, who came through with the first hat trick of his collegiate career to pace the Blue Devils to their third win of the season. Two of his goals were scored on the power play. Riley Colvard and Danny Ray also scored goals for Stout, which improved to 3-2-2. Chase Hollander earned his first win of the year in goal, coming in for the injured Spencer Viele. He made 20 saves. Stout won't play again until Dec. 3 when it welcomes Eau Claire to town.