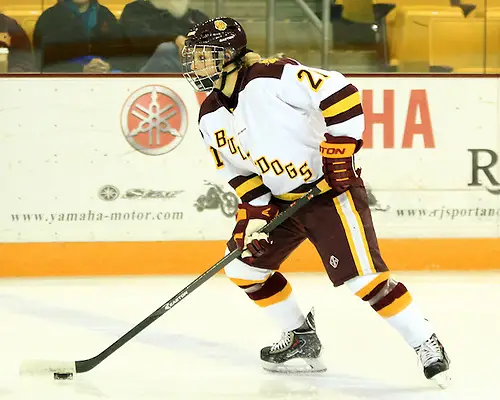 Candace: It was very interesting to see the polls this week Arlan, after the wild results this weekend. I wasn't surprised to see Minnesota-Duluth move into the top 10 after the Bulldogs beat Harvard. I confess I put them there, and voted for five WCHA teams in my poll. Of course, the games this weekend saw lots of confusing results beyond just Harvard's loss to the Bulldogs.
I thought North Dakota might finally take a step forward, but their frustrating trend of playing one good game and one poor game continued, and the Fighting Hawks split with Syracuse. I thought Boston University was finally on the road back, and instead the Terriers lost to a Cornell team that has struggled all season. I thought Rensselaer might make a statement, and instead the Engineers could only muster a tie and loss against New Hampshire, which has struggled all year. I thought Maine would at least manage a split; instead, the Black Bears got swept by Robert Morris.
Northeastern was unable to make a dent against its Boston rivals, losing to Boston College in convincing fashion Saturday after losing to Harvard and BC the week before.
Even Minnesota came out flat Saturday, managing only a 2-1 win over a Minnesota State team the Gophers had crushed Friday, 11-1.
Of course, I could also look at the glass as an optimist, and say that New Hampshire, Robert Morris, and in particular, Cornell, have overcome some of their early issues and are ready to push forward in the second half.
What did you think was the most surprising thing of the last week, and what did you learn from it?
Arlan: Can I call any of it that surprising? Not really. Maybe the degree to which some things became apparent was beyond what we'd have expected.
The distance the Gophers regressed in 24 hours was a bit startling. I get that the Mavericks played with a lot more determination than in the first game, but players see this week after week in the WCHA or any league that has two game-series. If you beat a team in the series opener, then that team is going to come out harder the second day.
North Dakota got caught taking the same nap, and frankly, this is becoming old news with UND. Every year since the Lamoureux sisters graduated, it manages to paint itself into a PairWise predicament at some point and is unable to pull a Houdini act and get back on the good side of the bubble. Now a team that has gone exactly .500 over its last six weeks of action closes with four games against teams ranked above it, Bemidji State and Wisconsin. Then its 2016 gets off to a brutal start with series in Duluth, Madison, and Minneapolis in the first eight games. Maybe life is more fun when you're dangling over the edge of a cliff.
As for those teams that are stuck around the middle or below, I could say I'm surprised that one team did or didn't win against another, but there are reasons why these teams' records are less than stellar. They all have apparent weaknesses, and it becomes a matter of which can exploit the other's weaknesses first. RPI has only scored more than three goals once, and that was versus an RIT team that ranks near the bottom defensively. Alexa Gruschow had a nice weekend, scoring four times, but she should have pointed out the location of the opposing net to some of her teammates, because none of them could find it.
So many of these teams look to me as though they are still trying to find their way. For years it has seemed like New Hampshire is trying to figure out its goaltending situation by throwing numbers at the problem. I once heard someone say that a team with four goalies probably doesn't have any. That's a bit harsh, but it is true that the Wildcats don't have any goalie that has stopped 90 percent of the shots. Without that, it is tough. Maybe freshman Kyra Smith will wind up being the answer, and if she is, then UNH's prospects will improve considerably.
In any case, I thought the most significant developments in the last week came out of games involving a couple of Boston teams, Northeastern and Harvard. I know the Huskies' loss to the Crimson came last week, but paired with not really being in the loss on home ice to BC, it shows that while Northeastern has come a good way, it still has some ground to cover to sit at the head table. Maybe we give the Huskies a bit of a pass because they didn't have Brittany Bugalski available for that loss to the Eagles, but Kendall Coyne and company could only manage one goal in two games. For a team that has been far better offensively than defensively thus far, that won't get it done.
So I confess that I've been guilty of yo-yoing when it comes to ranking Northeastern in recent weeks. It is down to a series at Vermont for the rest of 2015 and won't see a ranked team until February. Where do you see the Huskies settling when the oscillations complete?
Candace: Probably middle of the pack. Maybe around six or seven. I know it's super early to consider, but the Huskies are currently tied for seventh in the PairWise, and given that the CHA gets an auto bid, there's not a lot of room for Northeastern to make a push to make the NCAA tournament. Given how good Coyne is, I'd like to see her get at least one crack at the big show, but Northeastern just isn't deep enough. After Coyne's line (Coyne, Haley Scamurra, and Denisa Krížová), the team's scoring drops off substantially, and the really good teams, teams like BC, Harvard, Minnesota, and Wisconsin, are deep enough that they can shut down one line.
After winning eight in a row after losing to Lindenwood, Northeastern has now lost three of four. Those eight wins don't look quite as good in retrospect. Three were against Merrimack, one was against Maine, and one against Providence. The Huskies did crush Boston University, but this year it seems you never know which Terriers will show up, and the sweep of Mercyhurst was back when the Lakers were still getting their skates under them.
From a PairWise perspective, Northeastern doesn't have a lot of games that can help it move up. The Huskies play Dartmouth to kick off their second half; the Big Green are currently 16. The Huskies have one more game against BC, and then a game in the Beanpot against either BC or Harvard, and they play Boston University three more times in the second half.
Getting back to North Dakota, the Fighting Hawks are already on the bad side of the bubble you mentioned, sitting at nine, so there's not a lot of room for error in Grand Forks if North Dakota wants to make the NCAA tournament. NoDak already has a series loss to Bemidji back in October, so from both a PairWise perspective and NCAA tournament perspective, North Dakota needs a series win this weekend against the Beavers, or the climb back is going to get even harder, especially given that Wisconsin has owned the series against North Dakota for several years now, and if anything, the Badgers look even better this season.
Of course, we'll find out more about Wisconsin this weekend when the Badgers host Minnesota. The Gophers have been prone to lapses, and Wisconsin will definitely take advantage, but Minnesota has owned the rivalry with the Badgers for the last three years. Wisconsin hasn't beaten the Gophers since 2011, unless you count a shootout win in January 2012. I've felt for the last couple of years that Minnesota gets up for Wisconsin more than any other opponent. Would you agree? And do you see the Badgers suffering their first loss this weekend, or do they continue perfection?
Arlan: This has been an interesting rivalry throughout its history in that by and large, the better team wins. That may seem obvious that the better team would win, but the margin between the two has often been very fine, and with other rivalries in the conference, results have been far less predictable. The question is, which is the better team this year?
Heading into this weekend, it sure would appear to be Wisconsin, in that the Badgers haven't lost, and haven't really been in much difficulty along the way. The closest thing they had to an off game was only beating St. Cloud State by 2-0 with an empty-net goal, and given that the Huskies have played fairly well ever since, that likely wasn't a bad result. Wisconsin is better defensively, Ann-Renée Desbiens has been in a better groove than Amanda Leveille, and for the first time in years, the higher-scoring defensemen are wearing cardinal and white. Minnesota has the better power play, but the Badgers counter with a much better penalty kill, and neither team takes many penalties anyway. The top-ranked team is the top-ranked team for a reason, so most of the signs favor Wisconsin, especially when we consider that Minnesota looked ragged in its last outing and mixes in a clunky period with regularity.
But we thought Wisconsin looked better heading into the first series last season. The Badgers looked better heading into the Frozen Four. I'd agree that Minnesota gets up for Wisconsin, but if anything of late, the Badgers get up just as high or higher to play Minnesota. I think the most frustrating thing for the Badgers over the last six meetings dating back to the 2014 semifinal has been that they felt they played well in five of them and didn't get a win. So, there may be a mental hurdle that Wisconsin will have to overcome in the rivalry.
Beyond the psychological, the other issue for the Badgers is that they haven't had to face that much offense. The most productive player that they've seen thus far was Molly Illikainen of St. Cloud State, and Wisconsin is great at shutting down a single threat. As far as the most threatening line that Wisconsin has seen, it is probably Dartmouth's top line with Lindsey Allen and Laura Stacey. Minnesota-Duluth has a very nice top line with Michela Cava between Ashleigh Brykaliuk and Lara Stalder, but that unit wasn't together versus the Badgers, or the Gophers for that matter. So Minnesota's line with Kelly Pannek centering Cara Piazza and Kate Schipper is likely better than anything Wisconsin has faced, and that's not the Gophers' top line. While it is likely true that Wisconsin's lines are better than what Minnesota has played against, the Gophers did see North Dakota's line of Amy Menke, Meghan Dufault, and Becca Kohler, not that they did well against it.
I'd say I'm about 50/50 as to whether or not Wisconsin stays unbeaten through this series, but the odds of its record remaining perfect are considerably lower than that. Minnesota hasn't lost back-to-back games since March of 2011. Although the Gophers have had some glitches with consistency, their ceiling is very high, so I don't think Wisconsin will be able to totally shut them down for six periods. We could assume that home ice will give Wisconsin an edge, but it doesn't seem like home ice means anything when it comes to Wisconsin versus Minnesota. The Gophers have never lost in LaBahn Arena, so I doubt that they are intimidated by its confines.
The best I can give you as far as a prediction is that by this time next week, Boston College will be No. 1, Wisconsin will be at No. 2, and Minnesota will be No. 3. Do you have greater clarity on the outcome?
Candace: I'm not sure if BC will be number one, to be honest, not that I expect the Eagles to lose to Maine this weekend. I don't expect a sweep in Madison, but if Minnesota were to pull it off, the voters might overlook the Gophers' loss to North Dakota back in October and put them back at number one. Regarding this series, for now, I'll give the edge to Minnesota, as I think the Gophers may be in Wisconsin's head. Desbiens has been the top goaltender in the country this year, with a ridiculous .439 goals-against, but she's never beaten the Gophers in her career, and she has yet to face an offense ranked higher than 18 nationally out of 36 teams. If Minnesota gets up early, I think it will hurt Wisconsin's overall confidence.
Of course, the series in Madison isn't the only big conference series on the docket this weekend. We've already seen 1 versus 2 and 2a in Hockey East, which have gone to Boston College. This weekend in the ECAC, 1 versus 2 also plays out when Quinnipiac hosts Harvard. The Bobcats are in first by a single point, but the Crimson have a game in hand. The Bobcats are led by sophomore Taylar Cianfarano, who had a big weekend in the Nutmeg Classic, figuring in all three goals against Yale Saturday. The Bobcats were held to a single goal by Connecticut and Elaine Chuli on Friday. That could mean bad news for Quinnipiac, as Harvard is stronger as a team defensively, and Emerance Maschmeyer is at least Chuli's equal, if not better. Quinnipiac kept Chuli busy by firing 33 shots; I doubt the Bobcats will be able to get that many against Harvard.
The Crimson lost their second of the year on Friday against Minnesota-Duluth, 4-2, in a pretty wide-open game that saw both teams hit 30 shots; Duluth actually got 37, and won the game on two third-period goals. Harvard responded convincingly Saturday with a 4-1 win, with Maschmeyer making 30 saves and Harvard killing all five Duluth power-play chances.
You've been kind of down on Harvard so far this year; did this weekend's results add to that opinion, or make you think Duluth is coming around? What do you expect from Bobcats-Crimson?
Arlan: Regarding Chuli, I've been very impressed with her this season. She looks very focused and is tracking the puck well. I'm nowhere near being a goaltending expert, but her level of aggression seems appropriate, in that she challenges shooters without getting herself too far out of position. BC put 108 shots on her in two games and came away with four goals per game, and that's the most Chuli has yielded in any game. Clarkson has a good offense and had over 100 shots in that series and scored three goals in each game. Maschmeyer's abilities are well established, and rightly so, but I'd say that Chuli doesn't have to take a backseat to anyone this year. Of the goalies that I've watched play at least a little bit, Desbiens and Chuli have impressed me the most.
Another thing to consider is that Quinnipiac scored fairly early in that game versus Connecticut, and the Bobcats are one of those teams that is perfectly comfortable with winning a game by a 1-0 score. Some other top teams are always looking to build on that advantage, but Quinnipiac knows how to lock down defensively and hold a team to a handful of shots a period. It's not necessarily dazzling, but it is effective. Ironically, the Bobcats' offense that averages a shade over three goals per game has been more productive than Harvard's thus far, with the Crimson scoring just under three. I was in Duluth for Harvard's game on Friday versus UMD, and in that one the Crimson took advantage of a couple of five-on-three power plays and a Bulldogs' penalty kill that ranks near the bottom to score their only two goals. You're right that Harvard plays very good team defense, but statistically, Quinnipiac's scoring defense has been just a touch better. So it is possible that Harvard will struggle to score just like the Bobcats will.
Looking back to last season, the Crimson knocked Quinnipiac out of its first NCAA tournament by a 5-0 score, but prior to that, the teams had played three straight games that wound up as 2-1 wins for Harvard, with two of them going to overtime. So yes, the Bobcats struggle to score against Harvard, but it is usually true in the other direction as well. A couple factors working in Quinnipiac's favor are that it seems to have found its form quite well, and it will have some extra motivation with the NCAA loss on top of the other three.
So the shorter answer would be that I expect a low-scoring game, and Harvard is the favorite, but only very slightly.
Regarding Harvard outside of the Quinnipiac showdown, have I been that down on Harvard? I had the Crimson fifth in my poll a week ago when the voters as a whole had them at No. 8. I just said that they haven't been impressive to date, and outside of the win over Northeastern, I think that has been true. Obviously, Katey Stone and company have higher priorities than impressing the likes of me, and I get that. It took them a while last year to get all the kinks ironed out, and this year may be more of the same. I do think Harvard has a lot of upside and more potential than we've seen to date, particularly up front. They'll be the subject of my column this week, so I'll offer more of my thoughts on the Crimson at that time.
We can talk more about UMD later, but there are some other intriguing ECAC games coming up this weekend. Harvard has to worry about Princeton, a team that has been more of a stumbling block than Quinnipiac in most years, before it can look ahead to the Bobcats. Dartmouth figures to be a dangerous visitor for both of those hosts, as the Big Green are likely smarting from their series in Madison. Colgate and Cornell head to the North Country, Yale and Rensselaer look to be competing for the same turf, and Union might get its best shot at a win when it hosts Brown. Are we very far apart in how we see Harvard at Quinnipiac, and what else interests you in the week ahead in the ECAC?
Candace: Regarding Quinnipiac against Harvard, I sort of view it the same way I view Northeastern at Boston College. I expect the Bobcats will make it close, but fall short. Even when the Bobcats had stars Kelly Babstock and Chelsea Laden, Harvard was Kryptonite. The Bobcats are 1-9-2 against Harvard going back to the 2010-11 season, and that one win was in November 2010. Yes, Quinnipiac is tough defensively, but I think Harvard can shut down Quinnipiac's top line.
What else in the ECAC? I'm wondering what Colgate might do against a Clarkson team that has been inconsistent at times over the last month. I saw some of Colgate's games against Mercyhurst, and they looked very good with some moments of inconsistency, such as the last half of the second period of the first game, which ultimately cost the Raiders a win. I think Colgate could possibly trouble Clarkson.
Even if Clarkson survives Colgate, it looks like Cornell might be overcoming its start of the season issues and playing well. Marlene Boissonnault made 21 stops in the win against Boston University, a 4-2 decision, and Paula Voorheis made 16 the next night in a shutout of Vermont. More important for the Big Red, the offense clicked, getting four goals in each game. Yes, Boston University and Vermont are not Clarkson defensively, but momentum is a funny thing, and just that little bit of confidence could prove a huge boon. Cornell faces St. Lawrence on Friday, and that's a game that is winnable. The Saints have been very up and down, looking good at times and mediocre in other moments. Regardless of who wins, that should be a fun game to watch.
As for Princeton, I don't know that you can gather much from the Tigers' sweep of RIT this weekend; the latter has been positively dreadful so far this season. It's really shaping up to be a rebuilding year for RIT with the graduation of Ali Binnington, Anyway, yes, Princeton racked up a lot of goals against RIT, but RIT is one of the worst teams in the country offensively and defensively, giving up 3.67 goals a game while only scoring 1.67. I think Princeton will play Harvard tough, but fall short. I'm more intrigued to see how the Tigers do against Dartmouth. That is a big game for both teams in the ECAC standings. Dartmouth also faces a seemingly resurgent New Hampshire next Tuesday, and that's a game that has often proved a trap for the Big Green, and is one they can't afford to lose.
One other conference has a pretty important matchup this weekend, as first-place Mercyhurst hosts Robert Morris this weekend. Mercyhurst has a four-point lead on the Colonials in the CHA standings, as Robert Morris is third, trailing Syracuse by two points, but Robert Morris is also the only CHA team with an overall winning record. In recent years, the Colonials have bedeviled the Lakers. What are you expecting this weekend?
Arlan: Mercyhurst is hard to figure out. I thought that the Lakers were starting to get a handle on their goaltending situation, but the second game against Cornell was a regression on that front. Was there a hangover from that blowout loss to the Big Red, or was Mercyhurst tired at Colgate? I don't know, but I thought that the Raiders looked like the better team in that series. Colgate is always a hard team for me to evaluate, because it has a decent record, but it has let so many winnable games get away that it could have a much more impressive mark. Too many young players just make the wrong play at the wrong time, and it proves costly. Still, the Raiders look like they could become one of those scary teams that nobody wants to have to meet in the first round of the playoffs — provided they get there.
Anyway, back to Mercyhurst. It has a .500 record overall and has given up one more goal that it has scored. On the other hand, it is undefeated in the CHA and has scored more than twice as often as its opponents. Granted, those opponents are the bottom three teams in the league, but at this stage of the season, it can be tough to tell the cause from the effect.
The Lakers don't have anyone averaging more than a point per game, and we'd have to go back to the 2002-03 season to find the last time that was the case. Freshman Rachael Smith is on the verge of doing so, with 16 points in as many games, and Mercyhurst looks to have a decent amount of skill when I watch it play, but for some reason, it just isn't happening. Maybe the answer is that every team has good players these days, and the Lakers just don't have the great ones that they once did.
Robert Morris isn't drastically different. Brittany Howard is the only one above that point-a-game mark with 20 points through 16 games, but that gets her into the top 20 and ties in scoring average. For only being two wins better overall, there just seems to be a more positive feel to the Colonials' season. It is almost like Mercyhurst is still trying to shake off the disappoint of its run of NCAA tournaments ending last year. I guess the big difference between the two is that RMU knows what it is going to get from junior Jessica Dodds in net, while the young Mercyhurst goalies are still finding their way.
It sets up to be a series where we get some kind of split. Either the team that loses the first game comes back strong the next day, or nothing will be decided in the opener, and somebody will score the odd goal in the second game to win the series. Whatever happens, we could see something completely different once they meet again in February. Confidence could play a big factor in the season of both teams.
Elsewhere in the CHA, you mentioned RIT being dreadful. I get the impression that Scott McDonald has decided that the regular season doesn't play that key a role in the fate of his team. The Tigers seem to use it more as a preparation for the postseason than an endless string of must-win games. They'll likely lose most of their games to finish the season, and then the playoffs will start, and boom, they'll suddenly be a different team. I'm not saying they'll make it a CHA three-peat, but I doubt they'll be the team that we've seen since the sweep of Union that has been outscored more than two to one.
Syracuse still intrigues me in that the Orange haven't been bad, but they can't get on any kind of a roll, only once winning back-to-back games, and that was Providence and RIT. Like Mercyhurst, their goaltending hasn't been consistent enough to know what we're going to see from game to game.
The final spot in the USCHO.com Poll continues to befuddle me. UMD needs to get back to .500 before I'm willing to starting voting for the Bulldogs, and they close 2015 with four winnable games. This week, I put St. Lawrence in there, but it may as well be a coin flip. In fact, I may have had the Saints at No. 9 and I was tempted to drop North Dakota altogether. Do you think I should be putting a CHA team into the poll as a placeholder, given one of them will be in the tournament?
Candace: Be thankful you aren't a men's D-III poll voter, where every team but three that played last weekend lost at least one game. Granted, two of them lost to other teams in the top 14, but still.
As for putting a CHA team in as a placeholder, I'd say no. I'm of the opinion that you have to earn your ranking, though a few teams are making it very, very difficult right now. I understand your temptation to drop North Dakota; I was too, except I'm still giving the Fighting Hawks credit for playing a tough schedule and being the only team to defeat Minnesota. I couldn't decide in my 10 position whether to go with Colgate, which at least has a winning record, or Minnesota-Duluth, which has wins over North Dakota and Harvard, but a losing record. In the end, I went with the latter, breaking my usual rule about not voting for a team with a losing record. I could just as easily change it next week.
We seem to talk about parity every year, but really, except for the top three, I feel that parity is in overdrive right now. Take a team like Yale. The Bulldogs are 2-7-1 overall, but they've played a pretty brutal schedule, and have the only win over Quinnipiac by any team this year. The tie with Dartmouth looks better in retrospect, and the 7-1 loss to Boston University was probably just one of those things.
Speaking of Dartmouth, the Big Green are another example. They are 4-4-2 overall, and have a convincing loss to Maine, a loss to St. Lawrence, and a tie with Yale, yet they have a win over Harvard and a tie with Clarkson.
Syracuse is now 7-9-1, and has losses to Connecticut, Cornell, and Colgate, plus a tie with Lindenwood, yet owns a win over North Dakota and barely lost to Northeastern. Lindenwood owns a win over Northeastern, but is 3-11-2 overall. Penn State is 4-9-3, but one of its wins was over Boston University. Rensselaer is 4-8-2 and was swept by Robert Morris, in addition to its tie and loss to New Hampshire, yet has a win over Clarkson. Union hasn't won a game yet this year, yet has ties against Connecticut, Colgate, and Cornell. Maine is 6-11, yet has the win over Dartmouth. Merrimack, D-I's latest program, is 2-14, yet one of its wins was over Colgate, which had seven votes in this week's poll and was 10th last week.
It gets back to what you said earlier: is any of it surprising? I still think to a certain extent, the answer is yes, because I keep expecting a handful of teams to really settle down and make a push and separate from the pack, but really, it hasn't happened, save for a few teams.
Looking ahead, by the way, to the final weekend of the first half, we still have a few interesting series. Minnesota travels to face a St. Cloud team that is playing well now and will be eager to avenge the two beat-downs the Gophers handed out last month. Wisconsin travels to Grand Forks to face a North Dakota team that usually gets at least one win, though Wisconsin has generally owned North Dakota, even when the Lamoureux sisters were skating there.
After the holiday break, Yale will face Quinnipiac for the fourth time, Dartmouth faces Northeastern, Rensselaer faces Mercyhurst, and Yale will face Princeton, all on the first weekend. It would seem that the unpredictability is likely to continue, wouldn't you agree?
Arlan: I think that it is a credit to the sport. In spite of what one might read on various message boards, the players are dedicated to doing what it takes to improve, and more importantly, make their teams better. It doesn't necessarily translate to more wins, because when all 35 teams work hard, they can't all be rewarded with more victories.
And it's definitely not all parity, all the time. There are teams that have gotten shellacked along the way. What stands out to me is how teams react.
St. Cloud State lost four games early on to Minnesota and Wisconsin by a 25-0 composite score, and then lost to North Dakota 3-0 while only generating six shots. That was the third time in five games the Huskies had six or fewer shots for 60 minutes. Just when it looks like it may be another impotent year, it turns out there actually is an "O" in St. Cloud. SCSU came back and scored four times in tying UND the next day, and likely deserved better. The Huskies got swept in Bemidji, but those were two completive games. Currently, they've won six straight, and their seemingly nonexistent offense ranks smack in the middle. The Huskies are actually ahead of UMD in the standings heading into the teams' series in Duluth.
When the Friars started 0-7-0, I was convinced it was going to be another long season in Providence. However, they've rallied and won four of their last seven. Admittedly, there was a 9-1 whipping mixed in there — BC is always going to be a bad matchup for Providence, but the Friars got back in the win column the next time out, and they have a good shot at adding a couple more wins before 2015 ends.
That resilience, resolve, or whatever it is accounts at least partially for an increase in parity.
Another is that teams don't separate as easily as they once did. You mentioned that outside of the top three, the other teams haven't really separated in the standings. Most of the ranked teams don't separate that much in games, either. Consider these ranked teams and the highest scoring output they've had in a single game this season: Minnesota-Duluth, four; North Dakota, four; Northeastern, nine (OK, the Huskies don't support my point); Harvard, five; Bemidji State, four; Clarkson, six; Quinnipiac, six.
Another statistic that demonstrates this is scoring margin. The Badgers, Eagles, and Gophers have scoring margins above four; nobody else is above two.
You're correct that it is evolving to be three teams at the top, and then everyone else chasing after them, but I do think we'll see something similar to last year where Harvard ultimately made the jump to the top group and proved it belonged there. Maybe it won't be to the same degree that we saw last year, as a gap to the top three will likely remain, but I expect we'll find a more emphatic No. 4 seed than we have today.