It's December and time for Big Ten hockey. And Michigan State coach Tom Anastos is optimistic.
"We've not been able to create any puck luck this year," said Anastos, "so it's going to come in droves at some point. I don't know when."
The Spartans (4-7-2) finished November with a disappointing pair of home losses to North Dakota, 3-1 Friday and 4-1 Sunday, games during which Michigan State ran into the Fighting Hawks' tough line of Drake Caggiula, Nick Schmaltz and Brock Boeser, who were responsible for five of North Dakota's seven goals in the series. The Spartans didn't do themselves any favors, however, when the puck was on their own sticks.
"You can't make some of the mistakes that we made," said Anastos, "and expect to get away with it."
That could summarize just about any team's chances in 2015-16, in nearly every league. There have been 59 overtime ties in Division I men's ice hockey this season; parity is beginning to take on new meaning.
The Spartans have improved offensively this season, however, averaging three goals per game, tied for 19th nationally; last season, Michigan State finished 42nd in the nation with 2.37 goals per game.
That scoring has come in batches. Twelve goals in two games against New Hampshire followed four games in which six total were scored. Two goals against North Dakota after a weekend series against Michigan Tech that produced eight goals … and one loss and one tie.
In other words, puck luck — the kid of puck luck that the Boston College women's team has. Anastos' daughter, Andie, is a junior forward for the BC women, who are 17-0. After his team lost to North Dakota on Sunday, Anastos talked about watching his daughter's team play the day before.
"I was at home, and my wife and I and a couple of my kids, we were watching my daughter's team play. They had a faceoff to the left of the goalie and somebody shoots it and the player who went to the right of the goalie, the puck bounced right onto her stick and she's got four-by-six to slide it in.
"I didn't say a word and my wife looked at me and said, 'God, it would be nice if you guys could do that. For once. Just once,'" Anastos laughed. "The only way that you create puck luck is that you've got to keep working. That's the challenge right now, obviously. In this string since New Hampshire, we've played really good teams and different dynamics have played out. Some of it is just trying to grow your confidence."
Anastos said that heading into Big Ten play, he's making sure that his team knows that all of its goals for the season are ahead of it.
"The Big Ten is one of them and it starts this week so we have to get right into the right frame of mind," he said.
The Spartans begin Big Ten play this weekend on the road against Penn State and play another two at home against Wisconsin (Dec. 11-12) before the first half ends.
Theoretically, the two months of nonconference play for Big Ten teams should help prepare them all for league play and for what may come afterward, should any beyond the single autobid advance to the NCAA tournament.
For the Spartans, the early going showed them that they can score when they're focused and disciplined, but exposed some defensive issues they'll have to address against conference opponents.
For the Badgers (3-5-4), the start of 2015-16 has been much sunnier than the start of last season, when it took Wisconsin 10 games to register a win, nine before doing anything but losing.
Unlike the Spartans, the Badgers had a week off before heading into Big Ten play, something that coach Mike Eaves said was good for his young squad.
"I think with the age group of where we are with our age and the number of underclassmen, I think it was really beneficial for us to play top-end teams," said Eaves. "You really get exposed with what your strengths are and what your weaknesses are, and they're able to look at that on video and be able to go right back on the ice and hammer those things out."
Wisconsin is 1-2-1 in its last four games, all against ranked opponents. The Badgers fared better against North Dakota than the Spartans did, having split with the Fighting Hawks on the road Nov. 6-7.
Eaves said the Badgers conducted full practices during their bye week. "We went all six days. It was a really beneficial week," he said. "I think we'll see the benefits of what we did because we were able to watch practice, break it down, give it back to them and show them [that] we're now better in these areas now than we were a week ago. I think it was a good thing for this young group to be able to go back and really hammer out some detail work of how we can become better."
The Badgers open Big Ten play against the Wolverines in Ann Arbor, then return to Michigan the following week to take on the Spartans. Eaves said that playing the two teams with such contrasting styles back to back will continue to prepare the Badgers for the remaining B1G schedule.
"That will help us in terms of covering the spectrum of how teams play throughout hockey," he said. "That'll be a good thing for us."
Another team looking to find a better fate in league play than it did in nonconference play is Ohio State. The Buckeyes (3-9) play a single Big Ten series before the end of the first half of the season, this weekend's road games against Minnesota.
"Obviously, the record isn't where we want it," said Buckeyes coach Steve Rohlik, "but we lost a lot of one-goal games and tight games and our guys are learning."
While no one Big Ten team's goal differential is tighter than Michigan State's 39 goals for and 41 against, the Buckeyes are close, having been outscored by opponents this season 39-32. Last weekend, the Buckeyes dropped two games to Omaha, 3-1 and 6-4, but Ohio State scored in the third period each night to draw within one goal and the Mavericks scored empty-net goals in each contest.
"For 17 freshmen and sophomores," said Rohlik, "we're getting close. I like where we're at. We're not satisfied with the wins and losses, but I like where we're at."
After playing Penn State this weekend, Ohio State is off for 23 days, after which it heads to the Florida College Classic. The Buckeyes' first opponent in that tournament is Boston College. Providence and Cornell round out the field.
And the other guys?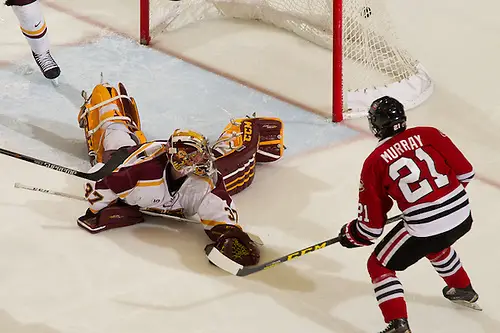 Heading into Big Ten play, Penn State (8-2-3) and Michigan (7-2-2) need to shore up their defenses. The Nittany Lions (4.15 goals per game) and the Wolverines (4.09) are fourth and fifth in the country offensively; Penn State is tied for 18th defensively (2.38), while Michigan (2.64) is 23rd.
Michigan's special teams, however, are special indeed. With the seventh-best power play and penalty kill in the country, Michigan enters the Big Ten season with the fifth-best combined special teams nationally. The Wolverines need to learn to play better five-on-five hockey, though.
Minnesota (4-7) rides a three-game losing streak into Big Ten play, having dropped two at home to St. Cloud State last weekend, 3-2 and 7-4. After the losses, coach Don Lucia pointed to the "uneven" play of the Gophers and said that undisciplined play hurt their chances. And that's the story of Minnesota so far — a lack of consistency, youth-induced.
Penn State begins Big Ten play by hosting the Spartans this weekend, then has a single game against Princeton on Dec. 11 before the Three Rivers Classic on Dec. 28 and 29.
Michigan hosts Wisconsin this weekend and Minnesota the following weekend. The Gophers host Ohio State this weekend and — obviously — travel to Ann Arbor Dec. 11-12.
Three stars of the week
All repeat offenders.
First star — Penn State junior goaltender Eamon McAdam: McAdam earned his first collegiate shutout when the Nittany Lions beat Vermont in Philadelphia on Sunday, making 30 saves in the effort. This is his second career weekly Big Ten award.
Second star — Michigan junior goaltender Steve Racine: Racine earned his second collegiate shutout in Friday's 7-0 win over Dartmouth, making 33 saves in the game. He's 3-1 in his last five starts with a .930 save percentage and 1.98 GAA in that span. Racine was injured early in Saturday's 1-1 tie against Dartmouth and his status is week-to-week. This is his fourth career weekly Big Ten award.
Third star — Minnesota sophomore forward Leon Bristedt: Bristedt had a hand in five of Minnesota's six goals against St. Cloud State, with a goal and an assist Friday and three assists Sunday. He's recorded at least a point in seven of his last eight games, with 12 points total in those contests. This is his second career weekly Big Ten award.
My ballot
1. Providence
2. Boston College
3. Quinnipiac
4. North Dakota
5. UMass-Lowell
6. Boston University
7. Minnesota-Duluth
8. Omaha
9. Denver
10. St. Cloud State
11. Harvard
12. Michigan
13. Merrimack
14. Yale
15. St. Lawrence
16. Bowling Green
17. Notre Dame
18. Cornell
19. Michigan Tech
20. Robert Morris