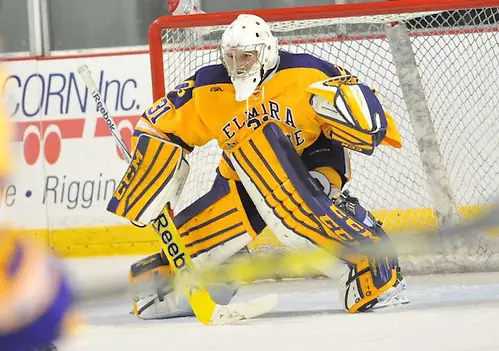 As winners of three in a row over nationally-ranked opponents Hobart, Amherst and Babson, Elmira is starting to play like their coach had hoped for coming out of the gate to start the season.
According to Soaring Eagles bench boss Aaron Saul, a team-first concept has been the key so far.
"We are finally healthy," said Saul. "It is good to have everyone back and some guys producing right away to give us more balance and take some pressure off some guys that have stepped up in their absence like Brian [Depp], Tommy [Sumi] and Carter [Shinkaruk]. Jarryd [ten Vaanholt] had a big weekend for us against Amherst and Babson and that was a good sign to see him get on the scoresheet. Our strength is up front and we need all those guys to be productive."
The start to the season has not been what the coaching staff was looking for in the highly competitive ECAC West, but the Soaring Eagles are now in the midst of a 10-game stretch where they will be facing highly-competitive nonconference teams that include an end-of-semester trip to Connecticut for games with Wesleyan and the defending national champions from Trinity, as well as a mid-January bus and ferry trip to play Salve Regina and Curry on Martha's Vineyard.
"Our league is so challenging and without the autobid, you need to schedule the very best in nonconference games if you have aspirations of playing in the national tournament come the end of the season," Saul said. "The wins this past weekend were very big for us and something that we need to build momentum off for sure. We have this weekend off, but then play Tuesday against Potsdam before traveling to Connecticut. The break will be good for us, but the guys definitely like playing the games better than the practices."
In addition to the healthier roster upfront, junior Sal Magliocco went down with an injury, elevating freshman goalie Sandro Aeschlimann to the starting role for the last six games. All the freshman did was stop 120 shots in the last three wins and prove to his coach and team that he is certainly ready to play at the college level.
"Sal was part of our injury bug early in the season," noted Saul. "We had wanted to get Sandro a start to get him adjusted to the college game, but Sal's injury meant he got thrown into the deep end against some major opponents right out of the gate. He really has shown good poise and played extremely well against quality teams. The games have been a strong confidence booster for Sandro and creates a nice problem for us with Sal back in having two goaltenders that we feel can play against anybody on our schedule."
The current three-game winning streak is a season high for Elmira and with just three games remaining in the semester and just one at home, the coach knows that the nonconference schedule could be a major setup to the stretch run against all conference opponents beginning in late January.
"We really wanted to get off to a good start in the conference this season where we struggled last season out of the gate," said Saul. "Well, that didn't happen again this year, so now we need to take advantage of having our full roster and playing the consistent kind of game we know this team can play against all comers. The games regardless of the opposition are all important. We had a great weekend, but we aren't resting on any laurels now. Every game is going to be a challenge and if we continue to get better, stay healthy and play like we have the past couple of weeks, we should see some pretty good results to finish the semester and pushing into the second half."
After next Tuesday's game against the Bears, Elmira faces 10 of its next 11 games on the road, including key weekend series with conference foes Manhattanville and Neumann to close out January.
This team isn't getting ahead of itself, though, as the focus is on next Tuesday and Potsdam.
"We wish we could just keep playing," said Saul. "With finals upcoming and three games in five nights, there is a lot to do before we get to the semester break, so we will take advantage of having the weekend and be ready to play our last home game for a while on Tuesday night."