There's a marquee matchup in the WCHA this weekend, even if the two coaches involved would rather downplay the significance of the series.
Minnesota State travels to No. 14 Bowling Green in a battle between two of the league's three favorites. Although they're unranked, the Mavericks are tied for first place in the league standings with the third favorite, No. 17 Michigan Tech, and the Falcons sit just two points behind them.
"With our [0-4] start, they're all important," Minnesota State coach Mike Hastings said of the series. "That's not coachspeak; that's just a fact. … We have enough of our own issues we need to get better at, so we're not focusing on who we're playing more than we're focusing on how we're playing."
Bowling Green coach Chris Bergeron said the Mavericks, the defending MacNaughton Cup champions and two-time Broadmoor Trophy winners, are "the standard" in the "new WCHA" and a team the Falcons have been chasing since joining the conference.
However, the short history between two teams say that the series should be a good one. They have split each of their three series as WCHA brethren, with Minnesota State holding a slim 16-15 edge in goals.
"It's a good litmus test for us to see where we are at the beginning of December, and I hope our guys look at it as such," Bergeron said in a video interview posted on the team's website. "We're not going to build it up to be a bigger weekend than any other weekend."
Both teams enter the weekend on hot streaks. The Mavericks are unbeaten in their last five games and are 8-2-2 (7-1-2 in WCHA play) since their rough start in nonconference play. The Falcons (6-2-2 WCHA) have won five straight, starting with a victory over Michigan Tech on Nov. 14 to get a road split in Houghton.
The Falcons swept Northern Michigan at home last weekend, getting a short-handed goal from Mitchell McLain with six seconds remaining in overtime on Saturday. Meanwhile, the Mavericks swept visiting Alaska-Anchorage, thanks, in part, to Teddy Blueger's five-point first period on Saturday. It was the first such period in a WCHA game since 1987.
"[Blueger's] been playing well," Hastings said of the senior center. "He's been reliable at both ends of the ice. He's comfortable in all situations and is an example-setter. He does things the right way."
Blueger was the WCHA's offensive player of the week for his performance, which moved him into third in the league scoring race with 10 of his 12 points in conference play. Mavericks freshman goaltender Jason Pawloski was rookie of the week, earning his first collegiate shutout on Friday and stopping 36 of 38 shots against the Seawolves. Pawloski, who has started the last five games for Minnesota State, is 5-0-2 to start his college career with a 1.73 GAA and a .902 save percentage.
All three award winners will be in the BGSU Ice Arena this weekend, as Falcons sophomore defenseman Mark Friedman was named defensive player of the week. He scored a goal in each game against Northern Michigan — the third and fourth of his collegiate career — and helped his team kill five penalties, including assisting on Saturday's game-winner.
The Falcons also are getting good goaltending with sophomore Chris Nell leading the WCHA in save percentage (.940) and GAA (1.55).
For Bowling Green, this weekend's games are the fifth and sixth of a six-game home stand. The Falcons are 5-0-2 at home this season and are on an 11-game unbeaten streak (9-0-2) dating to last season.
For Minnesota State, the games will be the team's 10th and 11th on the road, where they are 4-3-2.
"We want to continue to evolve as a team," Hastings said. "As you fix one area, you don't want to spring a leak in another."
Tech rolls into December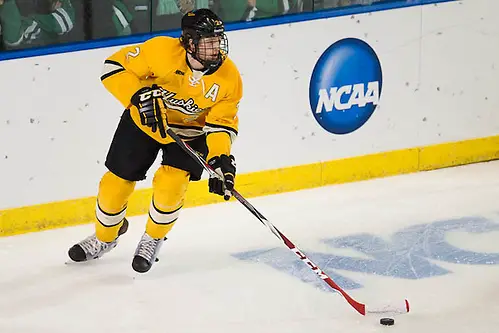 Although Michigan Tech started the season on somewhat shaky ground — splitting each of its first three series in October — the Huskies more than made up for it in November.
The Huskies lost just once last month — the 3-2 home loss to Bowling Green — going 6-1-1. They swept conference series at Alabama-Huntsville and Alaska, and also went to East Lansing, Mich., where they twice rallied to force overtime with Michigan State. They beat the Spartans in one of those games and settled for a tie in the other.
Last week in Alaska, the Huskies again relied on junior forward Tyler Heinonen, the WCHA's leading goal scorer, to help them sweep the Nanooks. Heinonen, who is on a five-game scoring streak, netted both game-winning goals for the Huskies. He has 14 points (9 goals, 5 assists) in 14 games, which ranks second on the league scoring chart.
"Come up here and get the four points and go home. That was our goal," Heinonen told the Fairbanks Daily News-Miner after the game.
The sweep helped the Huskies keep pace with Minnesota State for first place in the conference standings.
The Huskies are 6-2-1 away from Houghton. They've played just five games at home this season but return there this weekend to take on a struggling Alaska-Anchorage team that is winless in its last four games.
Ice chips
• Alabama-Huntsville stumbled against rivals Bemidji State at home, as the Beavers swept the Chargers in their Wednesday-Friday series. The Chargers are in the midst of a six-game losing streak, and they host Northern Michigan this weekend. The Chargers swept the Wildcats at home when the two met in Huntsville last season, winning by scores of 2-1 and 3-2 on Jan. 16-17.
• Alaska will try to snap a five-game winless streak this weekend when it hosts Lake Superior State. The Nanooks, who dropped a pair of games to Michigan Tech last weekend, were swept at home for the first time since Jan. 16-17 of last season when Alaska-Anchorage took two games in Fairbanks.
• Alaska-Anchorage stayed in the Midwest this week following its two losses at Minnesota State and will take on Michigan Tech this weekend. One highlight from the series against the Mavericks was the first career goal for senior defenseman Chris Williams. Saturday night's goal came on Williams' 96th career shot on goal.
• Bemidji State's sweep of Alabama-Huntsville last week was the Beavers' first of the season. The Beavers, who beat the Chargers by identical 4-1 scores, scored three third-period goals in each game to earn the wins. Coming into the weekend, the Beavers had scored only eight times in the third period.
• Ferris State had a 10-game winning streak against Lake Superior State come to an end on Saturday when the Bulldogs fell 3-2 in Sault Ste. Marie. The Bulldogs, who have neither swept nor been swept in a series this season, will host Bemidji State this weekend, meeting the Beavers for the first time since last year's first round of the WCHA playoffs.
• Lake Superior State and Ferris played a pair of one-goal games last weekend, with the Bulldogs taking a 1-0 win Friday before the Lakers won 3-2 on Saturday. It helped cap a solid month of November for sophomore goaltender Gordon Defiel, who had a league-high .956 save percentage and a 1.52 GAA.
• Northern Michigan's two losses against Bowling Green were the first two one-goal games for the Wildcats this season. Northern Michigan, which continues to lead the country with five ties, have played in six total overtime games (including Saturday's 4-3 loss to Bowling Green).
• The WCHA announced its November awards, with Michigan Tech junior forward Heinonen earning player of the month honors after scoring 10 points, including six goals, in eight games. Rookie of the month honors went to Ferris State forward Corey Mackin, who had seven points, including three goals, in eight games for the Bulldogs.
• This week's WCHA players of the week are Minnesota State senior forward Blueger (offensive), Bowling Green sophomore defenseman Friedman (defensive) and Minnesota State freshman goaltender Pawloski (rookie).