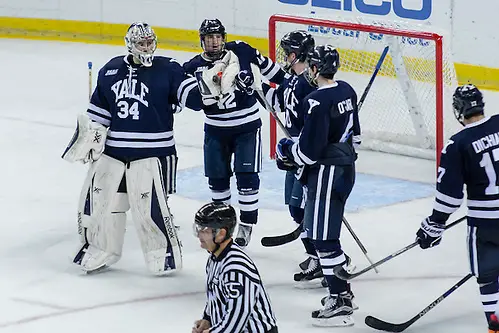 A three-game losing streak has taken some of the shine off of Yale's 5-1-2 start.
Two of those losses came against the only two unbeaten Division I teams in the country: Providence and Quinnipiac. The Bulldogs lost to Quinnipiac 3-0 last Friday and, outside of the 2013 national title game, haven't beaten the Bobcats since Feb. 18, 2011.
Still, the quality of the opponents doesn't hide that Yale has some things it needs to work on as the unofficial first half of the college hockey season draws to a close.
"We are close, but not where we need to be," Bulldogs coach Keith Allain said. "We have to be more efficient in our scoring opportunities; we had a number of good opportunities [Friday] that we didn't execute very well. I think we need to be quicker to pucks, we need to be stronger on our sticks, we need to do a better job getting the puck out of our zone. And special teams, our penalty kill was very good but our power play wasn't."
Finishing scoring chances was a problem for Yale last season as well. Newcomer Joe Snively looks like he'll be an impact player, but the Bulldogs need someone else to step up and finish off scoring chances.
Forwards Ryan Hitchcock and John Hayden have potential, while Mike Doherty, last year's leading goal scorer, hasn't played since Nov. 7 due to an injury.
"As coach puts it, we're about 80 or 90 percent of the way there but we're not doing that little bit extra to put the puck in the back of the net," Yale forward Frankie DiChiara told the New Haven Register. "The third period [Saturday against Princeton], we saw spurts of it. But a lot of time, the puck is sitting there and they're stronger on their sticks than we are. We can't have that. We've got to win those puck battles because you never know which one will tie the game."
With a strong defense led by Rob O'Gara and Ryan Obuchowski, along with Alex Lyon in goal, Yale should be a factor in the second half. The Bulldogs can also take solace in the fact that the last time they had a losing streak reach three games was 2013, the year they won the national championship.
Yale plays its final regular season game of 2015 Friday against Boston University, which beat the Bulldogs in overtime last year in the opening round of the NCAA tournament. It's unknown whether Yale will have Lyon for that game; the junior goalie was hurt during warmups Saturday and did not play against Princeton. A university spokesman said the team does not provide updates on injuries.
Bobcats breezing
While the Bulldogs hit a recent snag, Quinnipiac has shown little signs of slowing down. The Bobcats extended their unbeaten streak to 17 games with wins over Yale and Brown last weekend.
Senior goalie Michael Garteig has three straight shutouts and six on the season. The win over Yale on Friday was Garteig's 60th of his career, a program record.
"I've been lucky enough to play for some pretty awesome teams here at Quinnipiac," Garteig said. "Time and time again, I'll say it: It's a team effort. This [accomplishment] isn't mine; it's as a team.
The win milestone is even more impressive considering Garteig played in only five games as a freshman, failing to record a win. He's tied for second in the country in save percentage and minutes played, and tied for first in shutouts.
"He plays hard and we feed off him," Quinnipiac coach Rand Pecknold said of Garteig. "His battle level is phenomenal."
Garteig has been especially strong when the Bobcats are short-handed — Quinnipiac's penalty kill is ranked third in the country. It's not so much that the Bobcats take a lot of penalties, but they often can be untimely ones.
"We're going to make mistakes," Pecknold said. "We've just got to have our compete level at a high enough rate that we've got to bail people out."
Going Green for the holidays
Dartmouth held its annual Skate with the Big Green event on Sunday to help collect toys for the Children's Hospital at Dartmouth. On Monday, the team distributed the toys at the hospital, going from room to room and taking the opportunity to socialize and play games with the children. Check out more about the event and see photos here.
Around the league
• Cornell heads into its holiday break on a seven-game unbeaten streak, its best since 2012. At 8-1-2, the Big Red are only three wins shy of their win total from last year.
• Rensselaer's scoreless tie against Harvard on Saturday was the third to happen in league play this year, and the first scoreless tie for the Engineers since 1927 against Amherst College. The game also marked the return of senior goalie Jason Kasdorf, who hadn't played since getting hurt against Clarkson on Nov. 6.
• Princeton's sweep of Brown and Yale last weekend marked the first time the Tigers have won three straight league games since 2010-11. Princeton will be without senior forward Jonathan Liau for the rest of the season. Last year's leading scorer, Liau decided to leave the team for voluntary personal reasons, according to a team spokesperson. His departure was first reported by the website Eye on the Tigers.
• Union's Spencer Foo (player), Cornell's Alec McCrea, (rookie) and Garteig (goalie) were selected as the league's weekly award winners. Foo had two goals three assists in a 1-0-1 weekend for the Dutchmen, while McCrea had his first collegiate goal as part of a three-point game in Saturday's 5-2 win over Clarkson.
• Daniel Carr and Shayne Gostisbehere were two key members of Union's national title team in 2014. Now the two are making their mark in the NHL. After a brief stint with Philadelphia last season, Gostisbehere looks to have stuck with the Flyers for good. The defenseman is a mainstay on Philadelphia's top power-play unit and has eight points in 11 games. Carr made his NHL debut for Montreal on Saturday, scoring on his first shot of his first NHL shift.