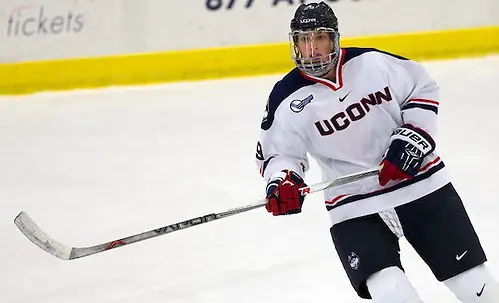 OK, so how many of you predicted Connecticut's sweep of Massachusetts-Lowell last weekend?
You in the back with your hand raised? Liar!
The River Hawks had been undefeated in Hockey East play, sitting atop the standings with their 6-0-3 league record, while UConn had sunk to the bottom, 1-7, mired in an eight-game overall losing streak.
It was a far cry from a year earlier when, in UConn's inaugural Hockey East season, the Huskies surprised almost everyone, posting a 7-11-4 league record, including wins over stalwarts like Boston College and Lowell.
"We lost four 24-year-old men and have replaced them with 18- and 19-year-old kids," UConn coach Mike Cavanaugh says. "So there's a learning curve. When you are younger, there are going to be some growing pains. Also, losing [senior and top returning scorer] Shawn Pauly for six games during that stretch was a killer for us.
"But with the exception of the Notre Dame game down in Brooklyn where they just blew us out of the building, the rest of the games have been pretty good games. We've been competitive and have played hard."
The Huskies did a lot better than that last weekend. Defying all expectations, they took the Saturday afternoon game at home 4-3 and then completed the sweep at the Tsongas Arena 2-1, with Pauly factoring in both goals.
They'll get a chance to keep that momentum going in a league game against Merrimack on Friday. One would think that the confidence spawned by sweeping Lowell will be a significant advantage.
"We'll see," Cavanaugh says. "Any time you win, any time you knock off a team that's at the top of the standings, it gives you confidence. Now what I don't want it to do is give us overconfidence. We played a very similar game against Boston University and beat them 5-2 at our place. Then maybe we were a little overconfident going into Notre Dame.
"We have to stay grounded and understand that if we don't compete hard, if we don't win battles, we don't win games. That's true for the majority of the teams in Hockey East.
"If the other team wins 75 percent of the faceoffs, they're usually the team carrying the play, I don't care who it is. So if you're not winning your battles, it's really hard. It doesn't matter how skilled you are. If you don't have the puck, skill means nothing, it's useless.
"So, if we don't play well against Merrimack and Merrimack knocks us off, then I don't know how important those wins [over Lowell] were."
Despite the sometimes-rocky start, UConn has featured several impact freshmen in the lineup. Max Letunov (6-11–17) and Tage Thompson (7-5–12) lead the scoring with defenseman Joseph Masonius (3-6–9) close behind.
"They've certainly had an impact as far as scoring and they've given us that pop," Cavanaugh says. "All three are very, very good on the power play. Last year, it was a real struggle for us to score goals."
In fact, UConn was the league's lowest scoring team and by a healthy margin, averaging only 1.83 goals per game. It similarly had the worst power play, converting only 10.5 percent of the time.
Now, that offense has climbed to an average of 2.47 goals per game. And in particular, Thompson has scored all seven of his goals on the man advantage, leaving him tied with Minnesota-Duluth's Austin Farley for tops in the country.
But …
"Five-on-five they have to improve," Cavanaugh says. "Their plus-minuses are not great. That's not indicative of them as hockey players. They're not guys that cheat the game. They're just young, they're learning still and it's a really good league.
"Next year, if I'm sitting here and Max is still having big negative numbers in his plus-minus, then I'll be concerned. But as freshmen, they're learning, they're young and sometimes it's physical [development].
"But on the power play when they're given time and space, they're pretty good hockey players. That's where they've given us the biggest infusion."
Arguably, some of those freshmen might have looked elsewhere had UConn taken its lumps last year, as happens to most new programs in Hockey East. Instead, the team's ability to compete right out of the chute proved attractive.
"The fact that we weren't doormats in the league made people think, jeez, they might have something there," Cavanaugh says. "That and the fact that we led Hockey East in attendance. [Recruits] could think, they're being supported by the fan base, they're winning some hockey games and knocking off some pretty good opponents.
"It's an exciting place. UConn is a brand name. It's got over 20 national championships spread over four sports here, so it's a school where athletics is highly regarded. When you step on campus, it's very evident when you see the buildings and the athletic facilities. You can tell right away that it's a school that takes athletics seriously and wants to be successful.
"Kids think that this is going to be an up-and-coming program they want to be a part of in the future."
Irish ready to strike?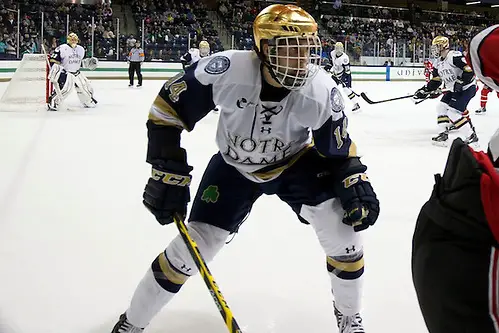 Notre Dame opened the season with lukewarm play, going .500 in nonconference action (3-3-2). But with a sweep over Massachusetts last weekend, the Irish stand 5-1-2 in Hockey East games, in striking range of the top.
"We've kind of bounced around a little bit," Notre Dame coach Jeff Jackson says. "I was really happy with our power play at one point. I was really happy with our PK at another point. It changes from week to week.
"We're doing a better job generating scoring chances five-on-five. We've definitely improved from last year as far as not giving up as many shots on goal and scoring chances.
"But the more important thing for me is that we are starting to generate chances from transition from defense. That traditionally has been our strength as a team. We're also trying to improve our possession time in the offensive zone. That's still a work in progress.
"So there have been really good moments and then some average ones. But for the most part I'm pretty pleased with our young guys. Our leadership group has done a really good job helping to integrate them in. We have a fair amount to improve, but I'm pretty happy with where we are at this moment."
No one player is dominating the scoring and positioning himself among the league leaders, but six players have totaled between 11 and 16 points.
"I thought going into this year that it was probably going to be scoring by committee, and that's what has happened up to this point," Jackson says. "We're getting production from all four lines right now. You've got to have some guys that score more consistently, but I'd rather have 10 guys score 10 goals than three guys score 20."
With only a single league loss, the Irish have positioned themselves to make a move in the second half on Providence and Boston College, both of whom have yet to suffer their first.
"That's all you really can do in the first half, because the majority of your league conference games are in the second half," Jackson says. "At least we've put ourselves in good position to try to finish in the top four.
"Our goal is to try and get back to the Boston Garden, to try to get back to the NCAA tournament. For that to happen, we still have four big nonconference games left, but it's really going to boil down to the 14 remaining league games."
UNH poised for a strong second half?
Like Notre Dame, New Hampshire has only a single league loss. But at 2-1-4, it's got a lot more ground to cover before it can be considered a contender.
Arguably, its sub-.500 nonconference record and some of the Hockey East ties can be considered squandered opportunities, none worse than frittering away a 6-1 lead over Massachusetts back in late October.
"We competed, competed hard, but found ways to give games away," UNH coach Dick Umile says. "We weren't playing the way we needed to play defensively at the end of the game to finish it."
Last weekend, that trend ended as the Wildcats took three of four points from archrival Maine, a team that had won four straight. They're now well positioned for a second-half push in the league standings that will begin on Jan. 8 against Lowell. (In addition to Dartmouth this weekend, UNH plays Maine twice and Vermont once after the holidays, but those are nonleague contests.)
"We're only going to get better," Umile says. "We'll be healthier going into Hockey East play in the second half."
Ideally, goaltender Daniel Tirone, whose save percentage of .888 is a far cry from last year's .924, will use his 50-save tie in the first game against Maine as a launching pad for a return to form.
"He'd be the first to tell you that he hasn't gotten off to the same start as last year," Umile says. "In fairness to him, some of the play in front of him hasn't been great, either. It's been a combination of some pucks bouncing off him and going in and some people being uncovered. We haven't done a good job, whether it's the defense or the forwards, of picking up people.
"This weekend was his best weekend. He's one of the hardest workers on our team. He competes hard. I think he feels good about himself and that's a positive for us."
Andrew Poturalski earned Hockey East player of the week honors days after being named the league's November player of the month. His 30 points, on 14 goals and 16 assists, leads the country.
"He's a terrific player," Umile says. "He's very, very smart. He's got great awareness out there. He can handle the puck extremely well. He can make other players better and he's got a tremendous shot. You give him an opportunity to score, he's pretty good at it.
"He's a terrific kid. He works hard and he's a good teammate."
Umile will be focusing on a few basics when the team enters the second half.
"Defensive play," he says. "Just playing off the puck defensively. We're getting better on our backchecks and not giving up odd-man rushes. We've got to make sure that we've got people playing well in their defensive zone.
"Our penalty kill's been getting better. Our power play is solid. Offensively, we can put the puck in the net. We've gotten a couple scorers going other than Poturalski, so that's a positive.
"We just need to play better defensive hockey."
A thin margin of error
Not that it's easy to simply blow teams away, but it does seem that Lowell has been operating on a thinner margin of error this year than Boston College and Providence, the other two teams it had shared an undefeated league record with until last weekend.
You can see it in the goal differentials. Even though the River Hawks have yet to lose a game by more than a single goal, their overall and league goal differentials are much tighter than the other two teams.
Or just look at the results. After a multitude of one-goal games, they went to Northern Ireland and twice needed extra-skater goals to force overtime, where they prevailed either in the five-minute session or shootout.
Last weekend, that thin margin of error did them in.
Perhaps it's just a matter of their style of play compared to the Friars and Eagles.
But if you're a River Hawks fan, you might just get used to biting your fingernails.
Injury sidelines Providence's Walman
Providence may have "won" a classic Pyrrhic victory on Saturday night, completing its sweep of Merrimack 4-0 but losing Jake Walman in the process.
The star defenseman, who leads the country in blueliner scoring as well as all Friars players with 11 goals and eight assists for 19 points, suffered a shoulder injury.
According to the Providence Journal, Walman will be out until after Christmas. Of course, "after Christmas" could mean he'll just miss Thursday night's game against Brown, or it could mean he'll miss a host of games thereafter.
And finally, not that it has anything to do with anything, but …
• I love, love, love the Red Sox offseason moves. I never felt you absolutely had to get an ace (as long as the rest of the rotation weren't a bunch of stiffs). Take a look at Kansas City. But getting one sure is nice. And what was an atrocious bullpen last year is shaping up, knock on wood, to be a significant force.
• My new novel, a hockey romance called "No Defense," won't be available for another 10 days or so, but keep an eye out for it. The electronic book will be the least expensive option by far, but drop me a line at [email protected] for information about personalized trade paperback copies. Here's what the book is about:
After giving up the worst goal of his NHL career and at the worst possible time — overtime of the Stanley Cup Championship Game 7 — Tyler McKenzie flees to Africa. But even a safari into the famed Serengeti can't wipe away the sting of his failure. He sees it everywhere he looks.

Except when he looks into the eyes of Angie Smolinski, an outspoken, bull-in-the-china-shop firecracker he finds far more interesting than any of the beauties back home.

They fall head over heels for each other until the firecracker explodes like a bomb.
• Jim Connelly will have the pre-holiday writing responsibilities, so let me thank all of you for reading and wish you a very Happy Holidays.