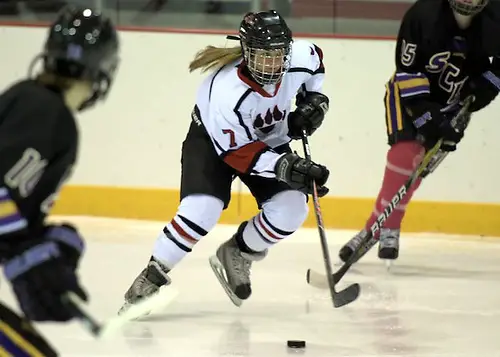 With Christmas right around the corner, I'd like to wish all of our readers the most joyous of holiday seasons.
As kids have their wish lists for Santa, well, so do we here at USCHO.com.
In terms of women's Division III hockey, here are 10 things I'm asking Santa for this season.
10 – More goals for Finlandia. Johnson and Wales, and St. Catherine. Just look at the stats. Instead of filling their stockings, help these teams start filling the nets.
9 – An undefeated season for Plattsburgh. The Cardinals are 12-0-0 at the break and it's not out of the realm of possibility that they don't lose again.
8 – Vendela Jonsson to get back on track. The freshman goalie from Endicott (and Sweden) started the year 4-0-0 with four shutouts, but hasn't won since and is now 4-2-2 with a .86 GAA and a .951 save percentage. She did get her fifth shutout at one point, though, in a 0-0 tie with Stevenson on Nov. 21
7 – Kristin McKenzie and Kelsey Russell to finish strong at Salem State. The best friends (see: Seniors McKenzie, Russell share sister-like bond at Salem State from last week) have been there for another for a number of years and let's see that continue.
6 – Lake Forest's Michelle Greeneway to score 30 goals. She's at 16 now and certainly has the talent and skills to pop 30. Let's see it happen.
5 – Buffalo State opponents to be leery on their own power play. Yeah, Erin Gehen already has five short-handed goals for Buff State.
4 – To see more players at the D-III level wind up in the NWHL and CWHL next season. Some of these girls are just as talented as their D-I counterparts, so why not keep playing professionally? The opportunity is certainly there.
3 – More imports enter the NCAA for 2016-17. Just look at Jonsson above. Getting these Europeans a chance to excel in the U.S. is a definite benefit and advantage for all involved.
2 – Changes for the betterment of the game in 2016-17. The Commonwealth Coast Conference has already been bandied about and that would be a positive change. More to come? We shall see.
1 – Parity at the NCAA tournament. While some may have Plattsburgh pegged to three-peat, it's not a given. Let's hope that the tournament is as exciting as the first half was and as the second half has the potential to be.