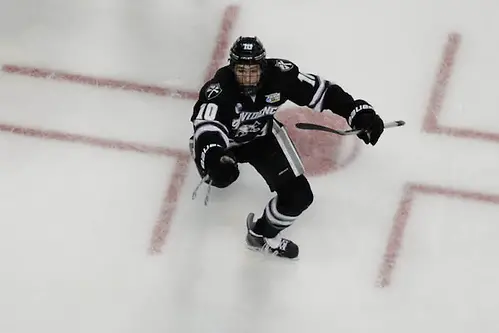 We have reached the exam break for most Hockey East teams, and pretty much every club is near, at or just past the halfway point in its regular season. It has been an interesting first half, with some solid individual and team performances and a few duds along the way to match.
In an attempt to quickly summarize the first half of the year, here are five observations that stand out to me thus far.
1. The defending national champions are solid at every position
Providence had one major question to answer to begin the season: How do you replace Jon Gillies? The all-world goaltender who never got enough national recognition when he was in the Providence uniform departed for a pro contract after capturing college hockey's ultimate prize last April.
But this Providence team reached the break without a single loss and a 12-0-3 record thanks in large part to Nick Ellis being able to more-than-ably fill the crease.
Along with that, Mark Jankowski is playing like the player many have waited for to break out. The senior class has provided unmatched leadership on the ice. And John Gilmour is solid on the blue line.
Then there is Jake Walman. The sophomore blueliner has already pumped in 11 goals but was injured in the second-to-last game before break and his timetable for return is unclear. The bright side is the timing of the injury. If it is short-term, there is the possibility he might not miss many games. But if it's a long-term injury, it could be a key piece missing from the Providence lineup.
Regardless, Providence is showing every sign of being in position come March and April to repeat as national champs.
2. Andrew Poturalski's play is grabbing attention at New Hampshire
It hasn't been an easy start to the season in Durham for the New Hampshire Wildcats but sophomore Andrew Poturalski has been nothing short of stunning in the first half.
A forgotten part of an outstanding Hockey East rookie class a season ago, Poturalski already has 32 points in 16 games as a sophomore. He and junior Tyler Kelleher are working well together night in and night out and are a glimmer of hope that UNH — sitting at 6-6-4 — will make a major run in the second half.
3. A healthy Thatcher Demko could revive pleasant memories in Tampa for Boston College
Thatcher Demko has always been well thought of at Boston College. He put up 16 wins as a freshman and 19 more a season ago. But Demko has never stood out in Hockey East or nationally until this year.
Demko, playing with two surgically repaired hip labra, is now at the top of his game. During a stretch in October and November, he posted six shutouts in a seven-game span and set BC on an 11-game winning streak.
He has since come back to Earth, and even allowed four goals to both Michigan State and Notre Dame before the break. But halfway through the season, it is easy to surmise that Boston College will be very much in the picture with the hopes of celebrate a second championship in the sunny city of Tampa.
4. A lot of teams have a significant amount of work ahead in the second half
For a few Hockey East teams, high expectations were hardly met in the first half.
We've already mentioned New Hampshire, but teams like Maine, Northeastern and Vermont all have seemingly painted themselves into a tough situation with early struggles.
Northeastern is probably in the worst place, having played 11 league games without a win (0-8-3). Barring being perfect in the second half, the Huskies likely will be fighting to get a first-round home series as opposed to a bye.
New Hampshire is probably in the best shape. The Wildcats may be seven points behind first-place UMass-Lowell but have games in hand on every team in front of them except Providence. So if you're looking for a team to make the biggest jump in the standings in the second half, don't look past the Wildcats.
5. Holiday tournaments could play a major role for Hockey East
Six Hockey East teams will play in a total of six holiday tournaments (Connecticut will play in two, while Boston College and Providence will both play in the Florida College Classic). Results in these games, along with some of the other nonleague games that will be played in late December and early January, could be pivotal when the NCAA field is selected in March.
With a 46-34-8 record, Hockey East ranks third among conferences in nonconference play behind ECAC Hockey and the NCHC. If Hockey East is going to raise the overall conference RPI, a key factor in determining the PairWise Rankings, games played between now and Jan. 5 are critical. Over that span, games played by Hockey East teams are exclusively nonconference.
Success over that span — regardless of the team — could mean five or six Hockey East teams in the NCAA tournament. Struggles over that stretch could mean three, two or — almost unthinkably — one.
Happy holiday!
Dave had the opportunity to share his well-wishes for all this holiday season, so let me take my opportunity to do the same.
Whatever holiday you might celebrate this time of year, enjoy it. Hopefully it will be filled with cheer and warmth for all of our loyal readers.
I look forward to covering this great league when 2016 rolls around.