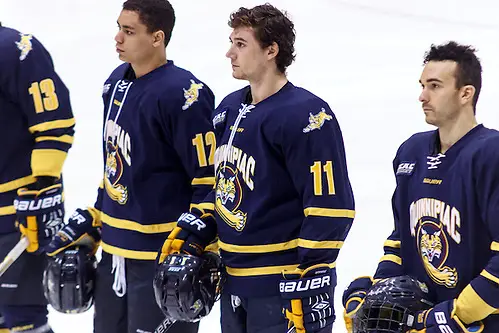 People who have followed this thread in the Fan Forum for the past few years know the PairWise Rankings as of Jan. 1 are a solid indicator of the teams that qualify for the NCAA tournament in March.
Thanks to the (now-defunct) Build Your Own Rankings Calculator, we now have 13 years of PairWise data to study. In that time, there have been 23 teams that qualified thanks to the automatic bid from their conference postseason championship and 185 that qualified by being ranked high enough (autobid or not) to make the NCAA tournament.
Of the 185 teams, 133 (71.9 percent) that qualified as of the Jan. 1 PairWise have made the eventual field. For teams ranked in the top eight, that percentage gets better.
• Teams ranked first through fourth in the Jan. 1 PairWise made the tournament 46 of 52 times (88 percent).
• Those ranked fifth through eighth made it 39 of 52 times (75 percent).
• For teams in spots nine through 12 in the Jan. 1 PairWise, 30 of 52 (58 percent) made the field.
In 2011, all of the top 12 teams in the Jan. 1 table qualified. Ohio State in 2012 is the only No. 1 PairWise team at the start of the new year to fall all the way out of the tournament.
If your team isn't in the top 25, take heart. In six of the last nine years, teams that were not in the top 25 of the PairWise (or RPI) on Jan. 1 earned at-large berths in the tournament. Three years ago, Wisconsin was ranked 42nd in the RPI (unranked by PairWise) and rose to the No. 14 overall seed. Four years ago, Union was ranked 25th and came all the way back to win the ECAC Hockey tournament, get a No. 1 regional seed and advance to the Frozen Four. Last year, St. Cloud State was 26th on Jan. 1 and became the lowest team to earn an at-large berth.
In the 13 years of data, 41 teams fell out of an NCAA tournament spot after being ranked in the top 12 of the New Year's PairWise. Colorado College (2004) and Dartmouth (2013) have the distinction of not only falling out of the tournament four times but of being No. 1 seeds on Jan. 1 that didn't make the tournament.
So let's look at this season. Because New Year's Day was on a Friday and there were games all weekend, we're using the PairWise including games on Jan. 3.
Statistically, all of the top four teams should already be in the NCAA field of 16, and a spot is likely for three of the next four and two of the 9-12 band. There's space for teams on the outside of the bubble to play their way into the field, and the best candidates rely on having a strong schedule down the stretch. For Wisconsin's Cinderella season in 2013, the Badgers played a whopping 12 regular season games against teams in the top 14 of the Jan. 1 PairWise. This sets up well for Boston College and Union, who both have eight games remaining against those quality opponents.
There would be some symbolism for Denver or Dartmouth to reverse earlier fortunes and play their way into the tournament for a change. However, these games aren't played on paper and the second half produces some interesting results.
1. Quinnipiac
2. Harvard
3. Omaha
4. St. Cloud State
5. North Dakota
6. Providence
7. Cornell
8. Michigan
9. St. Lawrence
10. Yale
11. Penn State
12t. Boston University
12t. Notre Dame
14. Massachusetts-Lowell
—- Cut line —-
15t. Rensselaer
15t. Boston College
17. Minnesota State*
18. Union
19. Minnesota
20. Denver
21. Dartmouth
22. Bowling Green
23. Holy Cross*
24. Robert Morris
25. Minnesota-Duluth
—- Teams above this line realistically alive for at-large berth —-
26t. Western Michigan
26t. Michigan Tech
28. Miami
29t. New Hampshire
29t. Alaska-Anchorage
31t. Clarkson
31t. Massachusetts
31t. Merrimack
34. Wisconsin
35. Ferris State
36. Northern Michigan
37. Vermont
38. Brown
39. Princeton
40t. Bentley
40t. Bemidji State
42. Air Force
—- Lowest any team has been ranked to earn a berth —-
43. Ohio State
44. Mercyhurst
45. Lake Superior
46t. Connecticut
46t. Colgate
48t. Rochester Institute of Technology
48t. Northeastern
50. Sacred Heart
51. Alaska
52t. Maine
52t. Arizona State
54t. Michigan State
54t. Army
56. Canisius
57. Colorado College
58. Alabama-Huntsville
59. American International
60. Niagara
The cut line is usually at 14, but it has moved between 13 and 15 depending on where teams that receive automatic bids are ranked. For this scenario, automatic bids are determined by PairWise Ranking, not conference standings.
Jayson Moy will be resuming his regular Bracketology soon, but until then, here's a look at how things shape up this week.
A few of the rules to help clarify things (also see USCHO's FAQ on the NCAA selection process):
1. All teams that qualify for at-large berths must have a .500 record or better (the so-called Wisconsin rule because the criteria was added the year after the Badgers made the 2008 tournament with a losing record) to receive an invitation to the tournament.
2. Host teams MUST be placed in the regional they are hosting.
3. No. 1 seeds are placed in the closest regional (except when noted below).
4. There are no intraconference games allowed in the first round (like Harvard-Yale) UNLESS there are five or more teams from that conference in the tournament. Given the history, the NCAA tries to avoid all intraconference first-round matchups if possible, regardless of how many teams from one conference there are.
5. The NCAA has a rule that any team that is not 400 miles from the regional location must fly to said regional. They have a Wernher von Braun approach to flights: "Once the planes go up, who cares where they come down?" In NCAA parlance, a flight is a flight (if anyone successfully negotiates this with an airline, please let me know!) For schools like Denver and Omaha, that means they can go to any regional.
6. Teams are banded 1-4, 5-8, 9-12 and 13-16. Teams can be placed anywhere within the band but cannot under any circumstance switch bands. If Harvard finishes eighth in the PairWise, it cannot be a No. 3 seed. However, the NCAA would prefer to follow the 1-16/8-9 serpentine pairing as much as possible.
7. All Bracketology pretends the season ends TODAY. It is not an estimation of where teams will end up. My Bracketology is also an approximation of what I think the committee would do — not necessarily what I would do.
8. There are no right answers. We are all guessing. We don't know exactly what the committee will do until Selection Sunday, which is March 20.
Northeast Regional — Worcester, Mass.: No. 1 Quinnipiac vs. Holy Cross, Michigan vs. St. Lawrence
East Regional — Albany, N.Y.: No. 2 Harvard vs. Minnesota State, Cornell vs. Penn State
Midwest Regional — Cincinnati: No. 3 Omaha vs. Notre Dame, Providence vs. Yale
West Regional — St. Paul, Minn.: No. 4 St. Cloud State vs. UMass-Lowell, North Dakota vs. Boston University