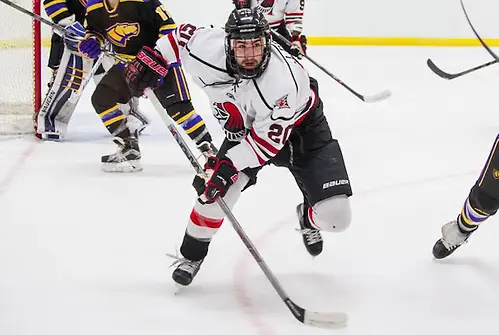 Joe Drapluk admits he was a little nervous when his first collegiate hockey season began at Wisconsin-River Falls.
But those nerves quickly vanished as Drapluk established himself as a key contributor for the Falcons, who currently sit atop the WIAC standings with a 2-0 mark. They are 8-4 overall.
Through 12 games, the freshman forward has scored five goals and dished out eight assists. He ranks first on the team in points.
"It's been awesome to play so well," Drapluk said. "I wasn't sure what to expect at first, but I wanted to come in right away and contribute. It's been great to actually do it."
Drapluk, a native of Florida, said the biggest adjustment for him coming out of junior hockey was the physicality of the game.
"The size difference was big and guys hit hard, but as a freshman, you are going up against guys who are two or three years older," Drapluk said. "It took time to get used to, but I've learned to adapt to it."
It's worth noting that all five of the Falcons' top scoring threats are underclassmen and there are only four seniors on the entire roster.
Kyle Gattelaro (six goals, six assists) is a sophomore, while Jeff Bergh (3-7-10), Mitch Kontny (4-5-9) and Taylor Burden (3-6-9) are juniors.
"A lot of younger guys have stepped up and we all play well together," Druplak said. "We push each other to be the best that we can be."
Drapluk added that he focused a lot on his offensive skills while playing junior hockey, but has made significant strides in his own end of the ice this year.
"I've worked hard on being good in the defensive zone and I've made a lot of improvements with it," Drapluk said. "It's helped me become a better player."
Drapluk said part of his success is a credit to his ability to capitalize on opportunities when they present themselves.
"I try to visualize plays before the game," Drapluk said. "It's all about reading and reacting. When I get opportunities, I try to make the most of them."
The Falcons are hoping to make the most of this season. They are hungry for a league championship and berth in the NCAA tournament.
"We have a pretty good team and the key for us is just being consistent every night," Drapluk said. "Our league is very competitive and we have to play at our best each night be successful."
NCAA field may expand
It's not official, but the NCAA tournament field is likely to expand to 12 teams at some point in the near future.
St. Scholastica athletic director Don Olson, who also serves as the chair of the Division III selection committee, said the idea is being discussed, but there are several steps that still need to be taken before it becomes a reality. He said the earliest the expansion would take place is the 2017-18 season.
Cardinals looking to bounce back
St, Mary's competed hard in its nonconference game against the Milwaukee School of Engineering Sunday, leading 3-2 after two periods, but the Cardinals gave up four goals in the third as they fell to the Raiders.
Jay Heinle scored twice in the game for St. Mary's, pushing his season total to 12, but the Cardinals couldn't avoid their third consecutive loss.
Shoring up the defense will be key for St. Mary's going forward. The Cardinals have allowed six goals twice in the last three games and will need to be at their best for a weekend MIAC series against reigning champion St. Thomas.
Phil Heinle is certainly good enough to lead the way for the Cardinals' defense. He is 5-4-2 on the season and has allowed 35 goals while making 288 saves.
If St. Mary's can get the job done on defense, the offense will take care of the rest. After all, the Cardinals have scored 61 goals this season. Heinle leads the way while Bob Kinne and Martin Gruse have tallied eight and seven goals, respectively.
Raiders on a roll
MSOE has won its last five games and appears primed for a run at an NCHA championship. The Raiders are 8-3 overall and 3-3 in the conference.
The Raiders took down St. Mary's 6-4 Saturday for their first win of 2016. Six players scored in the win, including brothers Matthew and Michael Romund.
It's the first time since February of 2013 that at least six players have scored in a game for the Raiders. The Romund brothers are the first siblings to score in the same game for MSOE since Josh and Jordan Keizer did it against Lake Forest in February of 2012.
Pointers ready to resume play
Defending WIAC league champion Wisconsin-Stevens Point returns to action this week when they host Hamline. It will be the Pointers' first game since Dec. 12 and they will be looking to extend their two-game win streak.
Stevens Point is 8-3-1 overall and 1-1 in the WIAC. The game against the Pipers kicks off a stretch of four consecutive nonconference games. It will be a rematch of last year's NCAA tournament game, which the Pointers won by a 4-2 score.
Joe Kalisz and Lawrence Cornellier have led the way for the Pointers offensively, scoring nine goals apiece. Kalisz has also dished out eight assists, while Cornellier has come through with three assists.
Stevens Point has scored 53 goals in all this season while allowing only 28. The Pointers do a great of sharing the puck as well, racking up 86 assists. A total of 11 players have scored two or more goals.