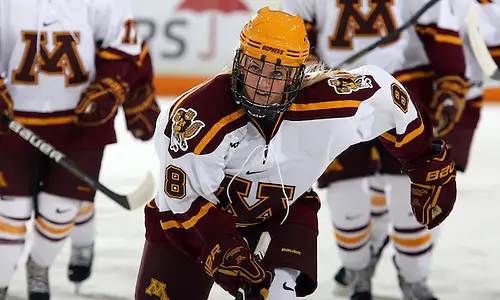 Minnesota's Amanda Kessel hasn't played a game since the 2014 Winter Olympics because of concussion issues, has resumed skating with the Gophers and could possibly play this season, according to the Grand Forks Herald.
Last July, Minnesota coach Brad Frost said that Kessel wouldn't be able to finish out her senior year because of persisting problems from a concussion that she sustained while playing for the U.S. National Team in December 2013. Kessel was not enrolled in school last year, but is currently enrolled in school at Minnesota and has one semester of eligibility remaining.
"At this point, there are so many unknowns in regards to [her playing]," Frost told the Herald. "This is a step in the progression with her rehab. Amanda was the best player in the world when she played here last. One of the things we wanted is to get her as healthy as possible."
Frost added that Kessel "had a great semester academically" with Minnesota in the fall.
During her junior season of 2012-13, Kessel tallied 101 points and won the Patty Kazmaier Award en route to Minnesota posting a perfect 41-0 record and winning its second straight national championship.
Kessel has 97 goals and 231 points in three seasons with Minnesota.