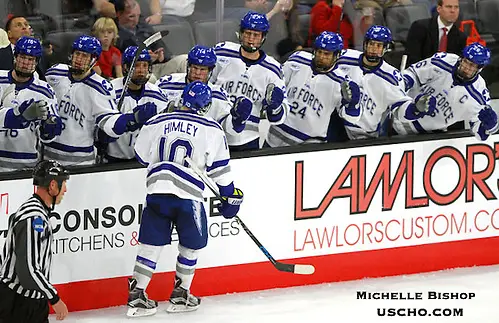 When jockeying for key position in games along the way, teams are forced to take into consideration potential first- or second-round playoff opponents. With a tight race, who they play, when they play them and where they play can have a huge impact in a league as competitive as Atlantic Hockey.
No team, however, carries weight on that impact quite like the Air Force Falcons.
Since joining Atlantic Hockey (and including this season), the Falcons are 81-33-18 at home in conference games, an astounding .682 winning percentage. In the postseason, they are 14-6, winning seven of nine series played at Cadet Ice Arena in Colorado Springs, Colo., including four of six sweeps in best-of-three formats. That type of success can set a team a mile apart from its opponents, both literally and figuratively.
"It's tough to win on the road at anyone's home rink in this league," Falcons coach Frank Serratore said, "but it's that much harder to win at 7,000 feet. Playing at this altitude is real; it's not a myth. We play at a higher altitude than anyone else, and it's noticeable for any team once they start playing at an elevated heart rate."
There's something to that challenge for teams coming west to play in Colorado. At its lowest elevation, Colorado Springs is still a full mile-plus above sea level, with its highest points sitting 2,000 feet above that. Even in its own state, a team like Denver gains over 1,000 feet when it goes to play at Air Force from the state's capital city.
Since the Falcons joined Atlantic Hockey in the fall of 2006, only three teams have been able to travel to Colorado in conference play and pick off two games on back-to-back nights. There have been four occasions in all, with three in the regular season and one in the playoffs.
Mercyhurst was the first to do it, sweeping Air Force on Feb. 2-3, 2007, before a two-year gap. Canisius broke the string by sweeping the Falcons on Jan. 16-17, 2009.
That led to a four-year period before it happened again. Canisius became the only team to do it twice with a sweep in the Atlantic Hockey first round in 2013.
But it was six years before anyone swept them during the regular season. Robert Morris took a four-point weekend home to Pennsylvania on Jan. 30-31, 2015.
As good as they are at home, however, the Falcons going east is a completely different challenge.
Since joining AHC, Air Force's record is 59-46-25 on the road in conference games, a .550 winning percentage. The Falcons have finished below .500 on the road twice, including last season at 4-7-3. They've won more than six road games only three times – their first three years in the league.
"It's a real challenge for us," said Serratore, "because each trip east is a four-time-zone swing. We lose two hours [going from the Mountain Time Zone to the Eastern Time Zone] every time we have a road game in our league. Then you factor in how hard it is in general to win in anyone's place. I would much rather be coming west, where we can gain two hours' rest every weekend [rather than going the other way]."
That's a unique challenge, even for a military academy preparing its cadets for a career spent in the air, and it highlights just how important home-ice advantage really is.
As the regular season heads through its final month and a half, playoff seeding always comes up as a favored topic of conversation among fans and friends. With the playoff structure and format, the team that finishes fifth receives a first-round bye but goes on the road to the fourth-place team in the quarterfinals. The sixth-place team plays a first-round series at home. Heading into this weekend, Air Force is among three teams (along with Mercyhurst and Sacred Heart) tied for fourth, with Bentley and Canisius tied for seventh place two points back.
That means there's plenty for them to talk about. It's a logjam playing hot potato with a potential trip to take on a team with a special brand of home-ice mastery. But it's also a logjam playing hot potato with a potential trip east for an Air Force team that played its first road playoff series last year — and was swept.
"Home ice [in the postseason] is so important," said Serratore. "Everyone's goal is to get into the NCAA tournament, and for our league, the way to get in is more often than not by winning the league tournament. So to get a top-four spot and be able to set yourself to not have to win on the road is huge."
Nothing beats a home-cooked meal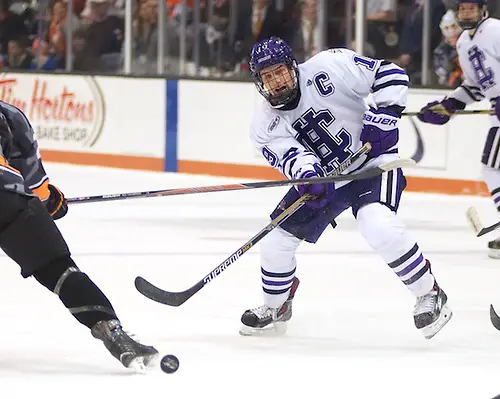 Despite Air Force's historical dominance, it is not the league's best at holding serve in its own rink this season. That honor belongs to Holy Cross, which is yet to be defeated at the Hart Center by an Atlantic Hockey team; the Crusaders are a perfect 6-0 heading into a huge weekend series with Robert Morris.
The Colonials, unsurprisingly, are second-best in the league this year with a 7-1-1 AHC mark at home. That's followed by Sacred Heart's 5-3, Air Force's 5-3-1 and Mercyhurst's 4-2.
Shockingly, Bentley is at the bottom of the league in home-ice advantage. The Falcons are 1-3-1 at home this year, trailing Army's 1-2-4 (but with a few games in hand) and Niagara's 2-5-1.
But what about going out for dinner?
Since there's a yin to every yang, it's worth looking at how many teams are over .500 on the road as well. Only three have won more than they've lost, led by Rochester Institute of Technology's unusual 5-0-1 road mark.
Behind the Tigers, Holy Cross is 4-3-1. Robert Morris is 3-2-2. Bentley, Mercyhurst and Air Force are exactly .500 with records of 4-4-1, 4-4 and 2-2-2, respectively.
The best cooks in the kitchen
National hockey fans may like to overlook the talent of Atlantic Hockey, but among the top 15 scorers nationally, the AHC is tied with Hockey East for most skaters in average points per game with four. ECAC Hockey has three, and the Big Ten and NCHC have two apiece. The WCHA did not have anyone in that ranking.
Of the four skaters in the top 15 nationally, two are from Robert Morris. Zac Lynch is fifth nationally with 1.55 points per game, including 17 goals, and Greg Gibson ranks 15th with 1.32 points per game. Directly in front of Gibson at 14th in the nation is Canisius' Shane Conacher with 1.36 points per game, and Bentley's Max French places 10th with 1.41 points per game.
Players of the week
Here's what we have from the league offices in Winthrop, Mass.:
Player of the week — Air Force's Erik Baskin: Stick taps, daps, dabs, a whip, and a nae nae for the Falcons sophomore, who recorded five points during a sweep of American International last weekend. In two games, the cadets outscored the Yellow Jackets 13-3. Baskin had five points, including four goals and an assist.
Defensive player of the week — RIT's Brad Shumway: Shumway didn't play on Friday, but his performance on Saturday was enough to earn him weekly honors. His goal helped the Tigers defeat Canisius 4-3, and he added an assist in the first period. It was Shumway's first goal in 67 games. To give you an idea, the last goal he scored was when we were doing the Harlem Shake.
Goalie of the week — Robert Morris' Terry Shafer: Shafer helped the Colonials to a weekend sweep of Bentley, picking up his sixth career shutout (a program record) along the way. He hit the floor for 75 saves. In honor of his 75 saves, we can now play Captain and Tennille's "Love Will Keep Us Together."
Rookie of the week — Canisius' Dylan McLaughlin: McLaughlin put up four points, including three assists, during the split with RIT. In Friday's 6-3 victory over the Tigers, he had a helper on each of the Golden Griffins' three first-period goals. That's some good TLC for the product born in 1995, who showed everyone that this is, indeed, how we do it.