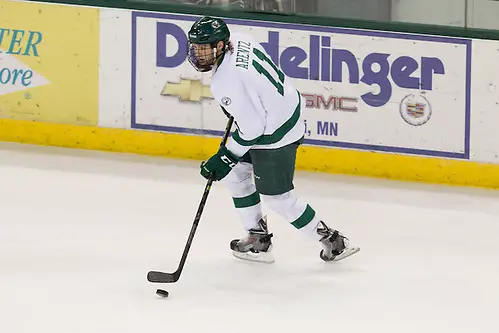 Bemidji State made it look easy.
Tom Serratore's squad left Bemidji, Minn., for Fairbanks, Alaska, on New Year's Eve. It took them 11 days and required stops in Minneapolis, Seattle and Anchorage, but they came back to the Lower 48 with three wins and a tie against Alaska and Alaska-Anchorage.
That's a lot of mileage for seven (of a possible eight) conference points. But the way the Beavers' season had been going in the 2015 portion, they'll certainly take it.
"We were one point [from being] out of the playoffs going into Alaska and we came out in fourth place," said BSU junior forward Nate Arentz, who won the WCHA's offensive player of the week award after a three-point weekend in Anchorage. "That's a lot of momentum going into 2016."
The Beavers had not had their ideal first half of the season. Although it started it with promise — knocking off then-No. 2 Minnesota-Duluth 3-2 at home in the season opener — Bemidji State had stumbled a 5-9-3 overall record heading into the trip to Alaska.
That ended as soon as the Beavers arrived in Fairbanks. The road trip started with a dramatic 6-5 overtime victory in Fairbanks on Jan. 2 — a game that Serratore said the Beavers should have lost. Bemidji State trailed 5-4 with 11 seconds left before it tied the game and went to overtime. It won with seven seconds left in the extra period.
"We've lost some games this year we should have won," Serratore. "I'd like to have maybe five games back. … But that game, we shouldn't have won and we did. So things have a way of circling back a little bit.
"I can't sit there and say, there's a reason for this or that, but winning that game the way we did, it was a huge boost for us, a huge shot in the arm."
After beating the Nanooks, the Beavers tied them 1-1 on Jan. 3 before heading to Anchorage, where they swept the Seawolves with 6-3 and 5-1 wins.
"It was a good week, 10 days," Serratore said. "Are there some things we might do differently if we do it again? Probably, but that win on [Jan. 2] really established the template for the 10 days."
Bemidji State's place in the conference standings was, to say the least, predictable going into the Alaska series — in eighth place with nine points.
For a team that has struggled at home in Bemidji (they're just 2-6-2 at the Sanford Center) the fact that the Beavers are, all of a sudden, in a home playoff position is somewhat of a shock: They're in fourth place with 18 league games played.
Granted, that gives most teams in the league two games in hand on the Beavers — and some teams have four games in hand on them — but things will even out for the Beavers after they finish their nonconference schedule this month. They host Arizona State at the Sanford Center this weekend. Then, after a WCHA series with Ferris State, they head to the North Star College Cup to defend their title.
Other teams move on up, too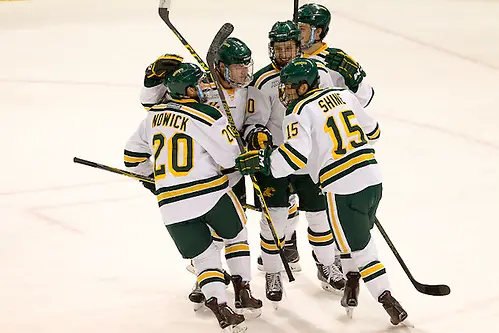 Although the Beavers were the only WCHA team to get a league sweep, there were a few other mid-table teams who gained some ground with key splits last weekend. Northern Michigan and Lake Superior State both moved up thanks to splits with the top two teams in the conference.
The Wildcats didn't exactly "upset" first-place Minnesota State last weekend — after all, they had taken two points from the Mavericks when the teams played in Marquette earlier this year. But Northern Michigan beat Minnesota State 3-1 on Friday night despite being outshot 42-20. They lost the next night by an identical score (and an even worse shots disadvantage), yet still gained ground on idle Ferris State, pulling into a tie for fifth place with the Bulldogs.
The Lakers also moved up in the standings, from eighth to seventh, thanks to Diego Cuglietta's overtime goal and Gordon Defiel's 25-save shutout on Saturday. The Lakers beat Bowling Green 1-0 at home, avoiding the sweep and helping them move past Alaska-Anchorage, with whom they were previously tied.
Last-place Alabama-Huntsville, meanwhile, didn't gain any ground but kept itself within striking distance of fellow cellar-dweller Alaska. The Chargers snapped an 11-game conference winless streak when they beat Alaska 3-1 on Saturday. Josh Kestner scored two goals and Cody Marooney added a third to keep UAH just four points back of the Nanooks rather than a more-insurmountable sixth.
Nell stays hot
Bowling Green sophomore Chris Nell was a tough-luck goaltender last week. He allowed just two goals in a series at Lake Superior State, stopping 55 shots, but came out with a 3-1 win and a 1-0 overtime loss.
"If it wasn't for a big-time performance by Chris Nell, I don't think that game goes to overtime," coach Chris Bergeron said in a video interview posted on the Bowling Green athletics website.
It was Nell's first action since leaving Bowling Green's Dec. 30 game against Western Michigan with an injury. He missed the Falcons' Jan. 2-3 series against Clarkson.
Nell leads the WCHA and ranks second in the country in both save percentage (.947) and GAA (1.37), helping a Bowling Green defense that has allowed three or fewer goals in 18 consecutive games, dating to Nov. 1. The Falcons lead the conference and rank fifth in the country in scoring defense, allowing 1.83 goals per game.
Bowling Green will step out of WCHA play and go to in-state rival Miami for a single game on Saturday. The Falcons have not won a game in Oxford, Ohio, since 2001. The second game of that home-and-home series will take place in Bowling Green on Feb. 12.
Ice chips
• Alaska-Anchorage dropped under .500 for the first time this year when it was swept at home by Bemidji State last weekend. The Seawolves will play their next four games and six of their next eight on the road, starting this weekend at Lake Superior State. The games will be played Saturday and Sunday, and then UAA will head to Bowling Green for a Thursday-Friday series before returning home.
• Alaska is continuing its two-week road swing as it takes the 1,000-mile trip from Huntsville, Ala., to Marquette, Mich. The Nanooks have secured points in each of their last three series, going 2-2-2, including last weekend's split against the Chargers. Senior center Tyler Morley has four goals and four assists in those eight games. He leads the WCHA with 21 points in 21 games.
• Idle last weekend following its third-place finish in the Mariucci Classic, Ferris State returns to action with a home series against Alabama-Huntsville. The Bulldogs are .500 almost everywhere: overall (9-9-4), league play (7-7-2) and at home (4-3-4). They are one game under (4-5) away from Big Rapids.
• Michigan Tech won the inaugural Desert Hockey Classic last week when they beat Connecticut and Yale to come home with the title. It was the Huskies' second consecutive weekend playing in a nonconference tournament, but things get a little more meaningful this weekend. The Huskies host WCHA leader Minnesota State for a big series in Houghton. Friday night's game will be Tech's first at home since Dec. 5 and just its fifth home game since Oct. 31.
• Minnesota State had its nine-game unbeaten streak snapped on Friday with a 3-1 loss at home to Northern Michigan. The Mavericks rebounded with a 3-1 win on Saturday and will travel to Michigan Tech this week for a key series. This will be the first and only regular season meeting between two of the league's preseason favorites. Minnesota State beat Tech five times last season.
• This week's WCHA players of the week are Bemidji State junior forward Nate Arentz (offensive), Michigan Tech senior goaltender Jamie Phillips (defensive) and Lake Superior State freshman forward Diego Cuglietta (rookie).