On Monday, Nov. 23, the Northeastern hockey team boarded a plane to Dublin. They did so having not won a game since Oct. 10 — the opening night of the season — and riding a 12-game winless skid.
More importantly, the Huskies boarded that plane without two of their best players, forwards Kevin Roy and Dalen Hedges.
About a week later, Northeastern returned having captured third place in the Friendship Four in Belfast, Northern Ireland. But they also returned with a new confidence and sense of character as a team ready to overcome the challenges associated with filling some major holes in the lineup.
"When you lose two key players to your lineup, you're asking players to step up and take on new roles," said Northeastern coach Jim Madigan. "You're asking kids who haven't played to play on the fourth line. You're asking your fourth line to play on your third line. And you're asking — and this is probably the biggest adjustment — guys who played on your third line to now play on your second line.
"It takes a while for your lineup to settle in when that happens."
That indeed was the case for Northeastern. After losing both Roy and Hedges against Notre Dame in November, Madigan's squad faced Providence, dropping both games handily.
But by the time the trip to Belfast rolled around the following week, his team was beginning to jell.
USCHO Live!: Hear Jim Madigan on the Jan. 12 edition of USCHO Live!
Against UMass-Lowell in the semifinals, Northeastern held the lead until the final minute, when the River Hawks scored with an extra attacker. Lowell followed with an overtime winner to advance to the final.
The next afternoon in the consolation game, however, Northeastern's offense came to life, scoring seven times in a 7-1 victory over Colgate.
Since that time, things have been looking up. Northeastern played Boston College tough the following weekend, earning a road tie and dropping a 4-3 decision. A 2-1 victory over Michigan State ended the first half but the team picked up in January like it never went on break.
The Huskies earned a 3-3 tie against one of the nation's toughest opponents, Quinnipiac, to begin the second half. And last weekend, Northeastern traveled to the North Country and swept No. 13 St. Lawrence.
"It's been a good start to the year," said Madigan. "We started playing better in Northern Ireland … and from that point on I think we've competed hard and played well."
One player that has been key to filling offensive holes for Northeastern has been Nolan Stevens. In his last eight games, he has notched six goals and added four assists. Two of those goals came last Saturday night in a 4-2 win at St. Lawrence.
"To see his evolution of a player from last year where he finished up strong over his past 10 games, to where he was in October to [where he is now] with nine goals and seven assists … he's played well, [he's] consistent and he's taken on a larger role offensively."
The bad news facing the Huskies is that they are at the bottom of Hockey East looking up. Northeastern played 11 league game before the break, going winless at 0-8-3. That leaves a long climb if the Huskies want to avoid playing a first-round series on the road in the Hockey East playoffs.
"I've told our kids let's not focus on our record," said Madigan. "We're not focusing on home ice. If that happens, it's great. We're focused on the process.
"I like where we're heading, but there's still a long way to go."
River Hawks are Boyle-ing hot
No goaltender likes having a bad game. Playing a position where every mistake is magnified, that statement is especially true when bad games happen on big stages.
That was the story of UMass-Lowell netminder Kevin Boyle. A transfer from Massachusetts, Boyle played well in his first season wearing River Hawks blue.
But a 5-3 loss to Boston University in last year's Hockey East title game was a tough one for Boyle, surrendering a couple of goals he certainly wanted back.
"We didn't really have to talk about the last game," said Lowell coach Norm Bazin. "He proved last year that he was a No. 1 goalie."
Fast forward to the present, and Boyle isn't simply a No. 1 goalie. He's one of the leading netminders in the nation with a 1.74 GAA (seventh in the nation), and a .939 save percentage (tied for sixth). He has played every minute for the River Hawks this season.
And on Friday, Boyle posted his fifth shutout in 20 starts this season.
To say that Boyle has improved on a season ago is an understatement.
"He's a tremendous kid and he's got an unreal work ethic," said Bazin. "His improvement has been the result of a constant willingness to improve and be coached."
The road for Boyle hasn't been an easy one. After two seasons at UMass, Boyle transferred to Lowell when John Micheletto took over for Don "Toot" Cahoon behind the UMass bench.
For a season, Boyle redshirted and watched goaltenders Doug Carr and Connor Hellebuyck lead the River Hawks to their second straight Hockey East title.
Last season, which would have been Hellebuyck's junior year, Boyle became the starter after Hellebuyck signed with Winnipeg. Not surprisingly, there were comparisons made between Boyle and Hellebuyck which Bazin termed as "unfair."
"Connor Hellebuyck had 12 shutouts and 12 losses in two years," said Bazin. "Sometimes people make the mistake of comparing any goaltender to Connor Hellebuyck and that's unfair. He's statistically the best goaltender to ever play college hockey.
"Kevin is his own man."
Something Bazin likes most about Boyle is his desire to continue to learn and improve every day. With Boyle now a senior, Bazin said the only day the goaltender won't continue to improve for Lowell is once the season is over.
"He wants to improve. That's his most endearing characteristic," Bazin said. "The learning curve is such in the hockey player that you only stop improving when you feel you know enough. He'll keep improving until his last game here this year."
St. Louis has his day (and night)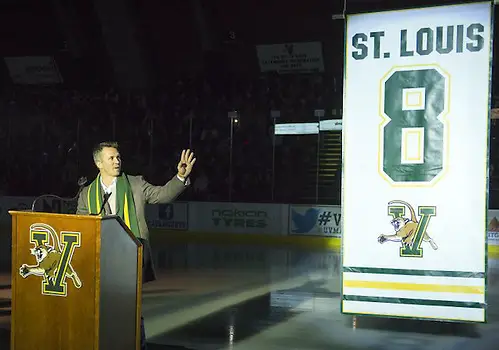 Hats off to the Vermont Catamounts, who last Friday retired the first number in the program's history.
Not surprising, it was the number of one of the most dominant players to ever play in Burlington, Martin St. Louis. His No. 8 was raised to the rafters of Gutterson Fieldhouse before the team's 1-0 victory over Dartmouth last Friday night.
"Vermont has always held a special place in my heart," St. Louis told the media after the ceremony. "The way the community embraced me, I always knew I had a lot of people pulling for me.
"UVM has always treated me with so much respect, and today was another one of those days. It was better than I ever could have thought it would be."
One of the highlights of the banner raising was senior forward Jonathan Turk, ala Ray Bourque, switching his player number from St. Louis' 8 to 88, allowing St. Louis' number to be permanently retired.
Even though St. Louis played in the ECAC before Vermont's switch to Hockey East, he wreaked havoc on plenty of Hockey East teams in nonconference play and now holds the highest honor in the UVM program.