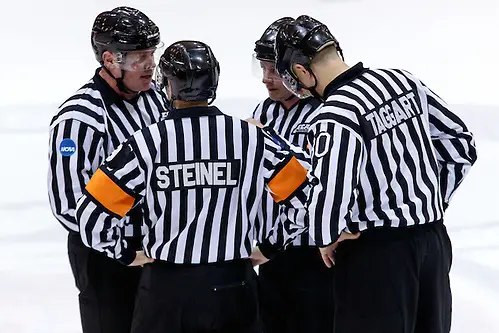 College hockey officials recently got a reminder to call penalties on defenders who don't immediately release an opponent on a dump-and-chase situation.
In a December conference call for national and conference supervisors of officials, it was mentioned that the standard of enforcement for that kind of interference may be slipping.
A four-page memo from Michigan State coach Tom Anastos, the chair of the NCAA ice hockey rules committee, and Steve Piotrowski, the secretary-rules editor went out earlier this month to clarify the rule on dump-and-chase contact.
The emphasis seems to be on penalizing the delayed contact with a player after he or she sends the puck deep into the zone.
The memo read, in part:
The committee's consensus is that defenders should be allowed to engage/bump/contact an attacking player "immediately" after the puck is released on a dump in, but players are expected to release the attacker and pursue the puck or retreat following this initial contact. The same standard would be applied regardless of whether or not the attacking player was knocked down. However, it ultimately was decided that the "immediacy" of the contact continues to be a determination made by the officials on a case-by-case basis.

Therefore, as a reminder, immediate contact may be made against the attacking player who dumps the puck past a defender. The defender is obligated to release immediately so as not to be guilty of interference. The standard is no longer two seconds or two strides after releasing the puck. It should be noted that allowing offensive players more freedom here must not be taken as license to create collisions at higher speed.
We'll see whether that results in more interference penalties in the final two-plus months of the season.
The midseason memo also addressed:
• When a whistle should blow and where a faceoff should take place when a puck is deliberately batted with the hand or a high stick into a goaltender.
• Helmet safety.
• Assessing a penalty when the offending player can't be identified.
• And procedures for teams leaving the ice after a period.
Check out the full explanations for those here.