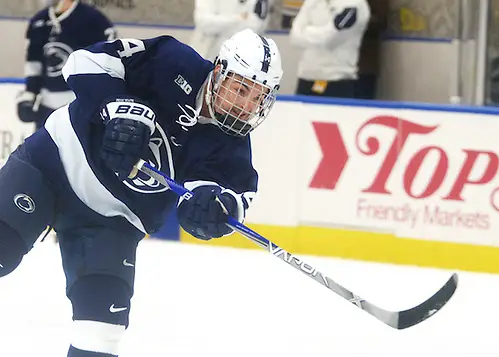 RALSTON, Neb. — Tanner Laczynski has needed two years in the USHL to feel confident enough in his development to move onto college hockey.
The 18-year-old Laczynski knows, though, the progression he had as a player isn't the same for everyone. It's one of the reasons why he and many others at the recent USHL Top Prospects Game had concerns about the Big Ten's college hockey age-restriction proposal, which would require freshmen to enroll in college within two years of their graduating class or they would forfeit a year of eligibility for each year they enroll after the deadline.
"It's different with every kid," said Laczynski, who plays for the USHL's Chicago Steel and has signed a letter of intent to Ohio State. "You could have a kid that comes into the USHL and has a lights-out year, but the colleges still think they're not ready. Listening to all the people I've talked to, they said it's not the first year in the USHL you develop, it's the second year that you develop the most. I feel like kids develop at different rates. Some guys take longer; some guys take a year or two."
Former NHL player and current TV analyst Eddie Olczyk has witnessed the variations of development. His own son Tommy Olczyk was one of those youth players who needed more time in the USHL before going onto college. Tommy played four years in the USHL and is now a 25-year-old senior playing at Penn State.
"They're kind of risking a lot, and I don't know what the reward is."
— John Vanbiesbrouck
Eddie Olczyk said he understood the Big Ten's reasoning for the proposal to even the playing field when the current system can have an 18-year-old playing against a 25-year-old. He just wasn't sure it what was best for the sport of hockey.
"I think there's all different philosophies for it; reasons why you would change and why wouldn't," said Olczyk, who was a guest speaker for the USHL. "It just depends on what college hockey wants. The important thing is this is going to have an effect on the lower levels without a doubt — USHL, North American league. If college gets younger, so will the USHL. They'll get younger players. It's a domino effect.
"I understand. Do you want 24- or 25-year-old kids with 18- or 19-year-old freshmen? That's what it comes down to. But as far as development in hockey, look, the longer kids can play the greatest game in the world and go to school, I'm all for it."
USHL commissioner and president Bob Fallen said he recently had a meeting with the Big Ten to discuss the proposal. He thought the conference had some fair points.
"A lot of what they said makes a lot of sense especially when you look at what was originally on the table, which was essentially elimination of any gap, which doesn't make sense, especially for college hockey," Fallen said. "I think it'll be interesting. I know there's going to be a lot of continued dialogue with it with the college coaches. We just said, 'Listen, we'll do whatever we need to do, but the bottom line is if you were to talk to college coaches in basketball and football, if they could, they would take our model.
"Am I in support of eliminating a kid's chance to develop in junior hockey? Absolutely not, for obvious reasons. I also see the merit in some argument that at some point the kids need to make a decision. I can understand what the Big Ten is trying to do. I can also understand why it hasn't gotten a lot of support from their peers in college hockey. I think what you're going to see is a little bit of a compromise where maybe the ages of incoming freshman will be impacted somewhat by the fact when the kids start to play junior hockey."
One of Fallen's concerns with the proposal was the possibility that the college graduation rate of men's hockey would decline. According to a report by the NCAA in October 2015, the Graduation Success Rate of men's hockey between freshman classes entering between 2005 and 2008 was at 87 percent, which was higher than 12 other men's sports.
"A lot of that has to do with the fact you have 19- and 20-year-old freshmen," Fallen said of the graduation rate. "These guys are more physically prepared, mentally prepared, emotionally prepared to be a student-athlete."
Muskegon Lumberjacks general manager and director of hockey operations John Vanbiesbrouck also voiced his issues with the proposal. He said he believed the development process would be altered.
"If that's what they think they need to do in order to find the best players, I don't think they're going to put them in a development process that is going to match their need and what's going to be successful for them," Vanbiesbrouck said. "Because the enterprise of the NHL would say that players shouldn't go into college, even though there are true freshmen at 18, shouldn't enter until they are 20. That's the NHL saying that. That's not me saying that. Why would they say that? Because they want men.
"I think the NCAA group has had some frustrations, and the frustrations a lot of times have to do with players coming in, playing two years and leaving them. That's nothing anybody else can do. They just become fantastic hockey players. It's a credit to everyone involved. It's a credit to the Big Ten. It's a credit to junior hockey. What the NHL, I believe, is trying to influence is just more of a how can we get more people involved in the greatest game and get them working longer to where they have more to choose from, there are more U.S. hockey players to choose from?
"I think the USHL, we only have 425 players in the league, if the Big Ten makes that decision, I don't think it'll have a great impact. I think it'll have some impact. But they're kind of risking a lot, and I don't know what the reward is."
Jason Lammers has coached in college and the USHL, and he also questioned the proposal. Before being hired by the USHL's Dubuque Fighting Saints before this season, he was on Division I coaching staffs at UMass-Lowell, Colorado College, Ohio State, Clarkson and Alaska.
"I think the Big Ten is reacting to some of the success that non-Big Ten teams have had," Lammers said. "I'm hopeful that doesn't pass. And I don't know the numbers, and I can't give you the names right now of the players who have been in that category that have gone to have great careers in college or even some of those Big Ten schools. I would hate to see those kids go by the wayside. I don't think that's fair.
"The other thing I think in the big, grand picture of things, as they enter school at 21 and graduate at 25 they have a leg up on getting hired outside of the hockey world because you're getting a college graduate at 25 or 26 versus a 22-year-old. If I'm running a business, I'm always going to hire the more mature person if my livelihood is on the line. So, I'm really hopeful that doesn't go through. I don't agree with it. It's disappointing, in my opinion."