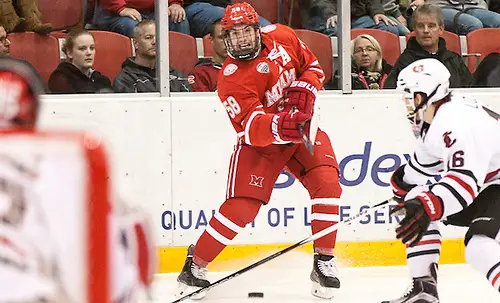 Each college hockey season, the NCHC seems to put every team through the grinder. For Miami, the experience has been more akin to that of a roller coaster.
After the conference launched at the start of the 2013-14 season, the RedHawks drew the shortest straw and finished the regular season in last place. Miami went 6-17-1 in league play that season and finished four points behind seventh-place Colorado College and 15 behind sixth-place Denver.
Last season went much better for the RedHawks. They finished one spot behind regular season champion North Dakota, but Miami's 44 points in NCHC play last season indicated a big leap for coach Enrico Blasi's group.
So far this time around, the relative highs of last season have led to another drop-off. Miami is 2-8-2-2 in league play and is already 22 points behind league leader St. Cloud State.
The NCHC is arguably more top-heavy now than it was last season, when six of the league's teams qualified for the NCAA tournament. Now, 10 points separate second-place North Dakota from third-place Denver.
That isn't to say, however, that the NCHC has stopped being cutthroat. As Blasi pointed out earlier this week, there still isn't an easy game to be won in league play.
"This isn't anything new," he said. "Just take a look at the last two years in our conference, and every game is pretty much a one-goal game. The mentality is the same: You've got to play every shift like it's your last. You've got to pay attention to detail. You've got to execute the game plan. And there's going to be times where you've got to play defense and sometimes you're not going to touch the puck.
"The mentality has to be that you're playing for each other and sacrificing for each other, and every play counts. Nothing new for us.
"The mindset is the mindset," Blasi continued. "A few years ago, we lost a lot of one-goal games. Last year, we won a lot of one-goal games, and we're kind of in-between right now."
A top-four finish and home ice in the first round of the NCHC playoffs is still attainable for Blasi's RedHawks, but a lot of elbow grease would be required to get the job done. Miami's 10 points puts it nine behind fourth-place Minnesota-Duluth.
This week, Miami hits the road to take on seventh-ranked Omaha. The Mavericks are a somewhat curious case: Despite their national ranking, UNO is in fifth place in the NCHC and 16 points behind St. Cloud.
Still, Blasi knows better than to allow his team to take lightly a UNO group that split a series with the RedHawks earlier this season in Oxford, Ohio.
"We know they have a tremendous amount of speed on offense and their D corps is very mobile and they have pretty good goaltending," Blasi said. "And their forwards are dynamic and can make plays all over the ice.
"You've got to play a good brand of hockey and you have to manage the puck well and play well away from the puck, and when you do have your opportunities, you have to make the most of them."
Murray encouraged by Broncos' recent uptick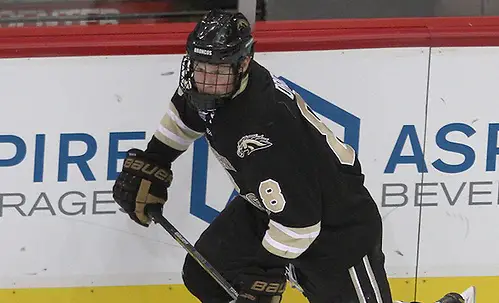 Like Miami, Western Michigan is in the less fashionable half of the NCHC standings and looking upward. What are also looking up, however, are the Broncos coach's hopes.
The Broncos have won four of their last seven games, including a victory in a three-on-three overtime last Saturday at No. 14 Denver. Western's last four games also include two losses — one each against DU and No. 15 Notre Dame, also on the road, on Jan. 8 — but that hasn't halted the Broncos' recent progress.
This weekend, Western is on the road again to take on fifth-ranked St. Cloud State. Broncos coach Andy Murray said that last weekend's series against Denver served partly as prep work for this week's set in Minnesota.
"I think playing Denver really helped us in terms of our St. Cloud preparation because they play similar styles," Murray said. "They [both] get up and down the ice so quick, they've got great skill and got defensemen who are very mobile and can move the puck.
"Obviously, we wanted to win both games in Denver, but what we're liking right now is the way that our team's playing. Over the last four or five games, we've played some solid team hockey."
Western will hope to keep up what has been good form on the road against the Huskies. The Broncos split a pair of games last January and, two seasons ago, they picked up a shootout win and outright win in St. Cloud.
Those three wins won't weigh on the Broncos' minds, however, as much as two losses to St. Cloud State earlier this season will. The then-No. 9 Huskies invaded Kalamazoo, Mich., in November and picked 5-2 and 11-1 victories at Lawson Ice Arena.
"With their talent, if you don't play hard, you know what can happen and it happened to us [earlier] this year, as we know," Murray said. "We got beat real bad on the scoreboard in our second game against them in our building, and we pay a lot of respect to St. Cloud for their skill and their ability to do that to anybody, and they did it to us.
"[It's] a little bit of a realization that you'd better play hard and compete. Otherwise, they can embarrass you."
Players of the week
Offensive player of the week — Jake Guentzel, Omaha: The junior forward had a hand in all five of UNO's goals last weekend during a split at North Dakota. Guentzel finished the series with a goal and four assists against the Fighting Hawks.
Defensive player of the week — Troy Stecher, North Dakota: Stecher played excellent two-way hockey for the Hawks last weekend. The junior picked up two goals and as many assists against Omaha while blocking three Mavericks shots.
Rookie of the week — Brock Boeser, North Dakota: The forward picked up two points in both of UND's games against Omaha. Boeser leads the NCHC's rookie scoring race with 25 points.
Goaltender of the week — Charlie Lindgren, St. Cloud State: Lindgren led the Huskies to a win and a tie away to in-state rival Minnesota-Duluth. The junior goalie stopped 66 of the 68 shots he faced while also helping SCSU kill all seven of UMD's power plays on the weekend.