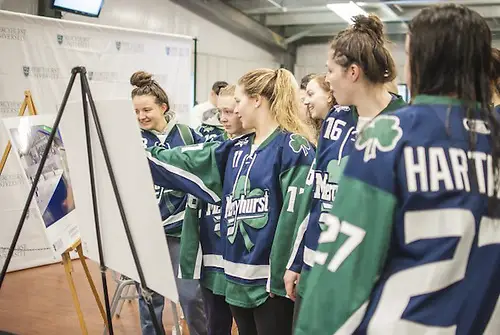 The Mercyhurst Ice Center will undergo a number of renovations, as planned by the school's administration, after an anonymous donation of $250,000 was accepted by the Lakers' men's and women's hockey programs during a press conference on Tuesday.
Phase I of the ice center project, which is underway, includes a redesign of the lobby, including a permanent ticketing station, trophy case, a second set of doors for climate control, new lighting, and fresh carpet and paint.
Phase II, thanks to the newest donation, will move forward at the conclusion of this year's hockey season. It will include elevating seating at the west end of the arena to provide fans with a better vantage point and construction of a new meeting room and locker room facilities for the Mercyhurst men's and women's programs. The upgrades will support recruiting efforts by men's coach Rick Gotkin and women's coach Mike Sisti and their respective staffs.