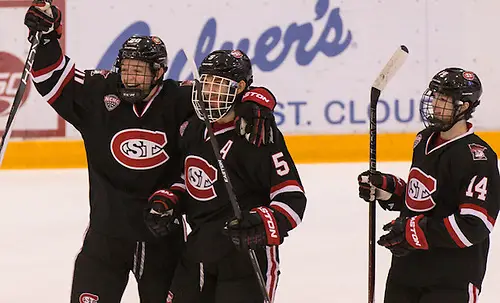 St. Cloud State played host to a scrappy Western Michigan team last weekend on the heels of a disappointing 1-1 tie against Minnesota-Duluth the weekend before. For a team with the second-ranked offense in the country that averages over four goals a game, scoring only one goal was a surprise.
The offense was back on track over the weekend in an impressive sweep, pacing the Huskies to 8-2 and 7-3 wins over the Broncos. The offense got balanced contributions; 11 different players scored St. Cloud's 15 goals, and only one skater, Patrick Newell, had a multi-goal game.
"That doesn't happen too often where you score goals like that," said St. Cloud coach Bob Motzko. "Obviously, both power-play units found some life, and it's happened a few times this year. The biggest thing is confidence.
"We're led by our four senior forwards, and then Ethan Prow, a defenseman. You put all five seniors who are all pushing 30 points in their season, and three are at 100 points and two are getting close to 100 points for their career, that's confidence, and it passes down into the other classes and other lines."
With the scores as lopsided as they were, it would have seemed from a casual glance that St. Cloud dominated both games, but Western Michigan had plenty of opportunities. Goalie Charlie Lindgren had to make 34 saves in Friday's win and 25 more in Saturday's game.
According to Motzko, Lindgren's play justifies his teammates' faith in him.
"We err on the side of offense, we always have, and when you do that, we're going to give some chances up, and our guys just have to put faith in Charlie because we need him," Motzko said. "We do take some risks from the offensive side. We do put ourselves in some tough spots once in a while and Charlie has to be there for us, and he's been there all season.
"When you break down the games, there are key moments in the game where Charlie's the guy behind the scene that's been a contributor in our wins, probably a major factor in many of them."
Five seniors lead the scoring for St. Cloud, with Kalle Kossila the top point-getter with 32, ninth overall in the country. Joey Benik and David Morley each have 29 points, Jimmy Murray has 27, and Prow has 25.
According to Motzko, his team has seen production like this from Kossila before, and it helps spur the play of others.
"He had 40 points his sophomore year, but then everything got put on hold for a year because he really battled through some injuries and then the two surgeries to correct it," Motzko said. "As the year has gone on, he's gotten back into the best shape he's been in two years. He is playing with confidence and he's been our most consistent offensive player. We put him in so many offensive situations, but then we have the other guys, Benik, Morley, and Murray, they kind of take turns at their chances at it."
In addition to having the second-best offense in the country, St. Cloud's defense is seventh-best, giving up just two goals a game. The Huskies have a defensive corps that contributes strongly to that effort, which is impressive considering three of the defensemen are freshmen and one is a sophomore.
"The surprise of our team, there's no question, has been our D corps, if I go back to the start of the year to today," said Motzko. "Charlie established himself as a goalie a year ago. We knew we had offense returning and we had a chance to be offensive, but we didn't anticipate three freshman defenseman to join that crew and play so consistently at a high level."
The Huskies are in first place in the NCHC, three points ahead of North Dakota. Two years ago, St. Cloud captured the inaugural Penrose Cup as NCHC regular season champion, but Motzko said that isn't currently a focus of his team.
"Nope. Honestly never talked about it," he said. "We don't have the standings up in our locker room, never have, never will. Our whole goal every year is to win our series against each team, and that puts us in a good spot at the end of the year. We have a much larger goal that we would like to attain. It's something we will talk about in late February if we are in the hunt for it."
This weekend, St. Cloud has its last nonconference games when it participates in the North Star College Cup, an in-state tournament that also features Minnesota, Bemidji State and Minnesota State.
"These are big hockey games, our last two nonconference hockey games," said Motzko. "All four teams are playing very well since Christmas. Mankato is in first place, the Gophers are in first place and Bemidji is playing its best hockey of the last month, so I just think it sets up for a great college hockey weekend in the state of Minnesota. We're anxious to get back down there; our freshmen and sophomores have never played in the Xcel Center."
Denver responds from bad tie to get impressive sweep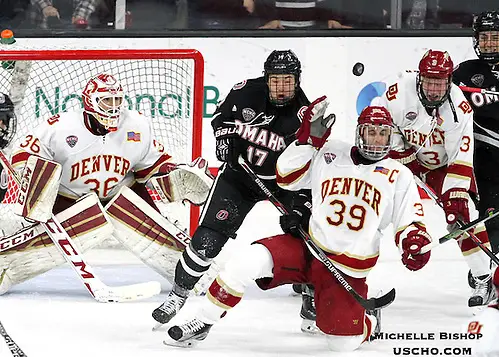 Two weeks ago at home, No. 13 Denver had a chance to get a critical NCHC sweep against conference foe Western Michigan. After eking out a win Friday, the Pioneers took a 2-0 lead midway through the third period of Saturday's game, only to give up the tying goal with 30 seconds left in regulation and Western Michigan's goalie pulled.
Denver then lost the extra conference point when Tanner Jaillet gave up a goal in the three-on-three overtime.
It was the second time in the second half that Denver had given up an extra-attacker goal in a Saturday game and settled for a tie. The Pioneers had let Notre Dame grab a tie two weeks before the Western series.
Just as they had after the Notre Dame series when they swept Omaha, the Pioneers responded to the adversity with an impressive sweep last weekend, taking a pair from Minnesota-Duluth and placing Denver solidly in third place and a home-ice slot for the playoffs in the ever-competitive jungle of the NCHC.
"I think we've toughened up as a team," Denver coach Jim Montgomery said of his squad's response to disappointments. "I think from our leadership on down, players are recognizing how to execute in big moments. In those big moments, the part that has improved the most is our communication of the players on the ice to each other.
"We've talked about it since we got back from Christmas break, that we controlled our own destiny, that we felt St. Cloud, North Dakota were too far ahead and they would have to collapse to come back to us, but we controlled our own destiny in being able to make a run at third place. We've put ourselves in position, but we know we have to continue to get better because of how hard it is to win games."
In Friday's game against Duluth, Denver fell behind 2-0 in the first five minutes. Montgomery pulled Jaillet, who had won the starting goalie position to start the second half, and inserted Evan Cowley, who responded by shutting down Duluth and enabling Denver to rally for a 3-2 win behind Cowley's 39 saves.
The next night, Cowley was again impressive, making 34 stops en route to a 2-1 win.
"Evan came in when we were down 2-0 and gave us great life, made probably about five big-time saves during the remaining two periods of the game, and then on Saturday night, he was just a rock," said Montgomery. "He was just square to pucks and attracting the puck better than I've ever seen him."
In addition to the play of its goaltenders, one key to Denver's second-half resurgence has been the play of forwards Danton Heinen and Trevor Moore, who were reunited on Denver's top line recently after playing on different lines for much of the first half.
The two had great chemistry playing together last season. This season, the duo are playing with freshman Dylan Gambrell, who leads the Pioneers in scoring with 24 points and is second in scoring in the NCHC among rookies, trailing North Dakota's Brock Boeser's 27 points.
"We've been trying to find chemistry on our lines all year," said Montgomery. "Danton and Trevor had played together in the first half, and for whatever reason things weren't clicking. Ever since they've gotten back for the second half, we decided we were going to go with it because we needed more offense and I think they've responded with better 200-foot hockey and work habits."
This weekend, Denver travels to Oxford, Ohio, to face surging Miami, which posted an impressive sweep of Omaha last week.
"We are going to have to manage the puck well and defend our net well," said Montgomery. "You look at Miami and how hard they come on the forecheck and how they pressure you in your own end, if you can't get the puck out of your own end Miami overwhelms you, and that just shows how well they are coached. Rico [Blasi] and the staff with a young team, that's a sign of really good coaching, is they play a lot better as the year goes on, and that's what they are doing."
NCHC players of the week
Offensive player of the week — Joey Benik, St. Cloud State: Benik led the Huskies to a sweep of Western Michigan, accounting for nearly half of St. Cloud's 15 goals on the weekend. On Friday in an 8-2 win, he scored the game's first goal in the first period and added three assists in the second period and another assist in the third, tying a career high with a five-point game while going plus-4 and being named the game's first star. On Saturday, he again scored the game's first goal with a power-play strike, then added an assist in St. Cloud's 7-3 win.
Defensive player of the week — Matthew Caito, Miami: Caito helped lead Miami to an impressive pair of victories at Omaha, the RedHawks' first road sweep of the season. On Friday, he scored the game-winning goal on a power play with 2:03 left in the game and assisted on the empty-net goal that sealed the win while going plus-1 and being named the game's first star. On Saturday, he assisted on a power-play goal during a six-goal second period and again went plus-1.
Rookie of the week — Rhett Gardner, North Dakota: Gardner, who had scored only five goals entering the weekend's series against Colorado College, nearly doubled that mark, scoring four goals while helping North Dakota earn a tie and win. On Friday in an overtime tie, he scored the game's opening goal in the first period and then scored an extra-attacker goal with 32 seconds left in the game to tie it. On Saturday, he again scored twice in North Dakota's 5-1 win, including an empty-net, short-handed strike to seal the win. He was plus-4 on the weekend and won 26 of 38 faceoffs.
Goaltender of the week — Evan Cowley, Denver: Cowley, inserted into the first game of Denver's series against Minnesota-Duluth with his team trailing 2-0, turned in an impressive weekend, stopping 73 of 74 Minnesota-Duluth shots over the next 114 minutes. On Friday, he stopped all 39 shots as Denver rallied to win 3-2 and was named the game's first star. On Saturday, he stopped 34 and again was named the first star. He posted a 0.53 GAA and .986 save percentage, and helped Denver kill all four Bulldogs' power-play chances.