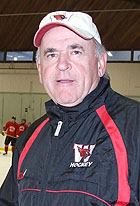 In the midst of his 31st season coaching at Wesleyan, Jim Langlois died unexpectedly on Jan. 24.
Langlois was 70.
A 1968 graduate of St. Lawrence where he lettered in hockey, Langlois coached the Wesleyan's women's team from 1980 to 1984 before joining the men's ranks in 1985. He also coached in the Middlesex (Conn.) Youth Hockey Program and at Choate Rosemary Hall in Wallingford, Conn.
He worked in the cement industry for 47 years and most recent was the executive director of the Connecticut Concrete Promotion Council.
Langlois was also an avid golfer and tied for third at the 19th Super Senior Championship at Heritage Village Country Club last August in Southbury, Conn.
Along with his wife, Dianne, Langlois is survived by his son and daughter-in-law, Bart and Kate Langlois, and their two children and several nieces and nephews.