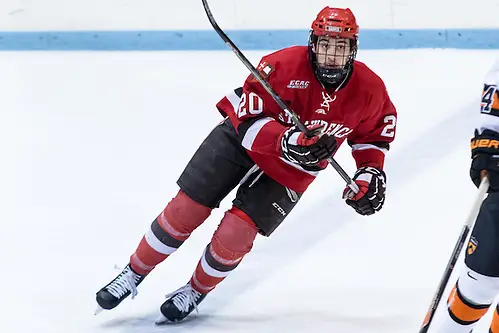 It's hard not to think about how far St. Lawrence sophomore forward Joe Sullivan has come — from a fringe recruit to the team's leading goal scorer in his second season.
But Saints coach Greg Carvel said Sullivan is so much more than that.
"He's a coach's dream," Carvel said.
Sullivan tries not to look at the stats. Carvel either. But it's hard not to notice what the Saints sophomore has done: He leads the team with nine goals and is tied for the lead in points with 17. He's scored once in each of the Saints' last games. Perhaps not coincidentally, St. Lawrence has won three of its last four.
"It doesn't really change my mentality because I can't let it change," Sullivan said. "You can't look past that stuff. Every day, every situation is the same. It's honestly taught me to have fun with the game. Have fun and work hard."
But Sullivan wasn't exactly in St. Lawrence's plans two years ago. Not initially, anyway. When Matt Carey left the school to sign a professional contract with the Chicago Blackhawks after his freshman year of 2013-14, Carvel's roster suddenly had a major hole to fill. What's worse, it was extremely late in the recruiting process and pickings were slim.
Sullivan, a Las Vegas native, wasn't heavily recruited. He was finishing his season with the USHL's Indiana Ice, which won the league championship that season. St. Lawrence was interested, and the prolonged USHL season gave coaches a chance to go watch him play. They presented an offer relatively quickly after that, and Sullivan agreed to join the Saints.
"He's a sophomore and he's the heart and soul of our team," Carvel said. "We're lucky we found him so late in the recruiting process. He's a heart-and-soul player, plays hard. When he gets chances, he converts them. … Joe's just the ultimate teammate, too."
St. Lawrence (13-11-2 overall, 7-6-1 in ECAC) entered the season with high expectations, projected to go No. 2 in ECAC Hockey standings. But bumps in the road have kept the Saints down behind the conference's top teams. For at least the second year in a row, Carvel's team came out of the Christmas break flat — losing five games in eight days to drag the Saints back down to just above .500.
It's a pattern that Carvel said three years ago would put him in a spin of panic and frustration. But now, four years into the job, he's learned to focus on the positives. And in the stretch of losses, there were plenty of positives.
"The margin of losing is so small, any team can win," Carvel said. "This was a recurring stretch; we've kind of seen it before. Maybe in years past I may have panicked a little bit. But I knew we weren't far off from a win or two. We're just starting to get back our confidence."
"It was particularly frustrating because we know how good we can be," Sullivan said. "We put ourselves in a pretty good situation to have a similar second half, and then we went and lost five in a row. The one to Clarkson, that hurt. … This is a big weekend is huge for us. We need to keep turning around our momentum."
The Saints fell into place last weekend with a two-game sweep of Colgate and Cornell. It's gotten St. Lawrence back on track, where Sullivan expects his team to be.
"We're playing at a really high confidence right now," Sullivan said. "We're desperate. We have to win every night just to get ourselves in a good position. We want home-ice advantage."
St. Lawrence ranks sixth in the ECAC standings, one point behind Dartmouth and one point in front of Cornell. The Saints will play Rensselaer and Union next weekend.
Around the ECAC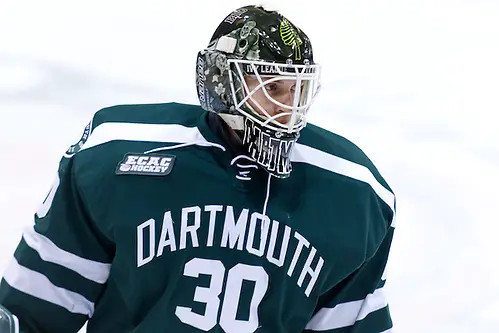 • Dartmouth goaltender Charles Grant earned ECAC goalie of the week honors last week, and followed it up with a 7-5 loss to No. 1 Quinnipiac, in which Grant made 37 saves. The Big Green senior made up for it with a 2-0 shutout of Princeton on Saturday. Grant has started every game since Dec. 11, and has gone 8-3 in that stretch. Dartmouth will travel to Yale on Friday.
• St. Lawrence goaltender Kyle Hayton was named ECAC goalie of the week for last weekend, making a season-high 45 saves in a 3-2 win over Colgate and 25 saves in a 2-1 overtime victory over Cornell. Carvel said his team's play is usually determined by his goaltender, something that he made clear during his team's recent struggles.
• Harvard was edged 3-2 against Boston College on Monday, despite leading 2-1 after the first period in the Beanpot semifinals. Harvard is 4-2 in its last six games, including victories over St. Lawrence, Colgate and Cornell. Jimmy Vesey leads the team with 16 goals and 16 assists.
• Cornell has fallen hard from grace. Since Jan. 9, the Big Red are 0-5-1 and have not scored more than two goals in each of their losses. Suddenly, the offense seems nonexistent. Cornell will face No. 1 Quinnipiac on Friday.