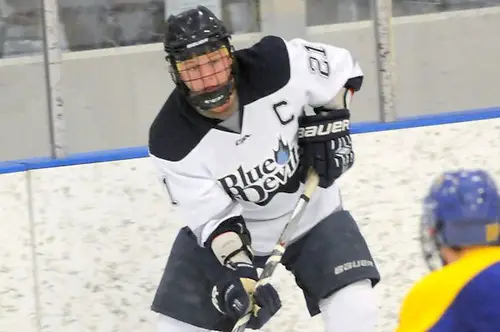 Jake Useldinger is having quite a season for Wisconsin-Stout.
The senior forward has almost as many goals (8) as he did in his first three years (9) for the Blue Devils and has already matched his assist total from a year ago when he tallied nine.
"I'm having a pretty good year on a personal level," Useldinger said. "But I'm not really worried about my stats. I'm more focused on doing what I can to help our team win."
Stout does have a winning record, sporting a 9-8-5 mark through 22 games. The Blue Devils are 1-3-1 in the always-rugged WIAC.
Useldinger said the competition in practice has been instrumental in the team's success.
"We have a lot of good players on the team and there is a lot more competition for playing time this year," Useldinger said. "I think it's helped us become a better team."
Hard work has made Useldinger a better player. He also tries to bring a lot of energy every time he steps on the ice.
"Having a good work ethic is the most important thing to me," Useldinger said. "I'm also a high-energy guy and I try to provide a spark to the team."
Useldinger played junior hockey with the NAHL's Coulee Region Chill before coming to Stout.
In high school in Minnesota, he was a three-time all-conference selection at East Grand Forks High and ended his career as the program's all-time leading scorer.
He played in 21 games as a freshman at Stout and saw action in 26 games a year later. Last season was a breakout year as he finished with 17 points, including seven goals.
Getting used to the speed of the game was the biggest adjustment when he first came to Stout.
"The game is definitely a lot faster," Useldinger said. "But the more I played, the more confident I became. It helped me become a much better player."
It also took time adapt to life in the WIAC.
"We have one of the best conferences in the country," Useldinger said. "You have to be ready to play every night. It's a very competitive conference."
Stout, on a two-game losing streak, is hoping to finish on a high note. It won't be easy, though. The regular-season schedule wraps up with two games against No. 12 Wisconsin-River Falls and one game against No. 5 Wisconsin-Stevens Point.
"We just have to go out and play hard and play with confidence," Useldinger said. "If we do that, we will give ourselves a chance to be successful."
Pipers back on track
Hamline remained in the mix for a MIAC playoff spot after sweeping Bethel over the weekend. The defending tournament champions topped the Royals 5-4 and 4-0 to improve to 8-9-4 overall and 5-6-1 in the conference. They are currently fifth in the MIAC.
Charlie Adams came through with a hat trick, pushing his league-leading total to 19 goals for the season. His 43 points is the best in NCAA Division III. Teammate Brandon Zurn ranks second in the country in points with 42. Zurn has tallied 16 goals and 26 assists.
John Sellie-Hanson took care of business on the defensive end of the ice, stopping 19 shots en route to his first shutout of the season. He has three shutouts in his career.
Hamline suffered through a six-game winless streak at one point this season, but has won four of its last six to catapult itself back into contention for a playoff berth.
Saints continue streak
St. Scholastica stretched its win streak to four games over the weekend with a pair of wins against Aurora in NCHA action. The Saints topped the Spartans 5-1 and 5-3 in the two games.
In the finale, St. Scholastica scored three goals in the final eight minutes of action to nail down the win.
Dylan Nowakowski helped pave the way as he scored twice and also dished out two assists. Keegan Bruce came through with four assists in Saturday's game.
Goaltender Peter Megariotis shined in the win as well. He made 12 saves to earn his first collegiate victory. He transferred to St. Scholastica a few weeks ago from Adrian.
Nowakowski leads the team in points (30) ranking second in goals scored (10) and first in assists (20), playing a key role in the success of the team. The Saints have scored 73 goals in all and are 13-4-2 overall and 11-3 in the conference.
Superior play against Stout
Wisconsin-Superior has won two of three and is 2-1 against Stout this season, including a 6-3 victory on Friday. The Yellow Jackets are 7-12-2 overall and 1-3 in the conference. They have scored 57 goals and allowed 68. Ian Ecklund leads Superior in points, having tallied nine goals and 17 assists.
Against Stout, the Yellow Jackets scored two goals in each period en route to the win. Jordan Neduzak scored his sixth goal of the year in the win, while Beau Browning came through with his first collegiate point as he dished out an assist. Anton Svensson tallied his 11th goal of the year.
Cory Simons earned the win in goal, making 29 saves. He is 4-2 on the season.
Best of the West
Adrian is in sole possession of the No. 1 ranking in the USCHO.com Division III Men's Poll this week, while fellow NCHA team St. Norbert checks in at No. 2. Stevens Point is fifth and Wisconsin-Eau Claire is ninth as the two WIAC powers remain in the top 10. River Falls is 12th, St. Scholastica is ranked 13th and Marian moves into the top 15, sitting at No. 14 this week.