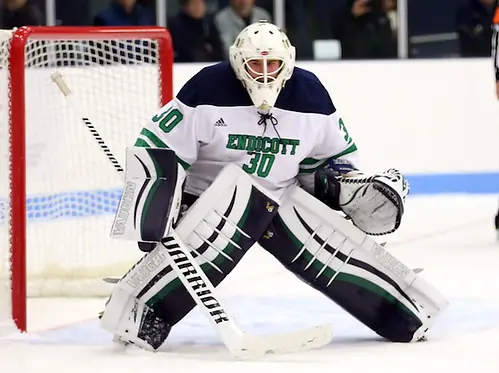 The ECAC Northeast announced its major award winners and all-conference teams recently.
Tyler Beasley from Nichols garnered Player of the Year after averaging over a point per game in 2015-16 and posting 13 goals and 30 points in 25 games.
In its first year as a varsity program, Endicott collected the three remaining major awards as R.J. Tolan was voted as Coach of the Year in leading the Gulls to the top of the league standings, while freshman Kevin Aldridge garnered both the Goaltender of the Year and Rookie of the Year.
Aldridge played every minute in net for Endicott this year, posting a 15-8-2 record with two shutouts, a 2.74 GAA and a .921 save percentage. In conference play, Aldridge compiled an 11-4-1 mark to lead the ECAC Northeast in wins in conference action and ended the 16-game league slate with a 2.55 GAA and .929 save percentage.
Tolan guided the Gulls to a 15-8-2 mark and 11-4-1 record in the ECAC Northeast.
2015-16 First Team All-ECAC Northeast
| Player's Name | Position | Class | School |
| --- | --- | --- | --- |
| Tyler Beasley | F | Sr. | Nichols |
| Ross Olsson | F | Fr. | Endicott |
| Frank Butler | F | Sr. | Nichols |
| Alex Pompeo | D | Sr. | Salve Regina |
| Carter Horwitz | D | Fr. | Endicott |
| Kevin Aldridge | G | Fr. | Endicott |
2015-16 Second Team All-ECAC Northeast
| Player's Name | Position | Class | School |
| --- | --- | --- | --- |
| Justin Selep | F | Jr. | Suffolk |
| Connor Bates | F | Jr. | Johnson and Wales |
| Evan Schultz | F | Jr. | Salve Regina |
| Mack Heisinger | D | Fr. | Curry |
| Jake Flynn | D | Jr. | Wentworth |
| Joey Ballmer | G | Jr. | Johnson and Wales |
2015-16 ECAC Northeast Honorable Mention
| Player's Name | Position | Class | School |
| --- | --- | --- | --- |
| Parker Wood | F | Fr. | Endicott |
| Evan Schmidbauer | F | So. | Salve Regina |
| Gerald Owen | F | Jr. | Becker |
| Steve Lecey | D | Sr. | Nichols |
| Tyler Heineman | D | Sr. | Suffolk |
| Joel Miller | G | Sr. | Wentworth |
2015-16 ECAC Northeast All-Rookie Team
| Player's Name | Position | School |
| --- | --- | --- |
| Ross Olsson | F | Endicott |
| Parker Wood | F | Endicott |
| Jonathan Ruiz | F | Johnson and Wales |
| Mack Heisinger | D | Curry |
| Carter Horwitz | D | Endicott |
| Kevin Aldridge | G | Endicott |