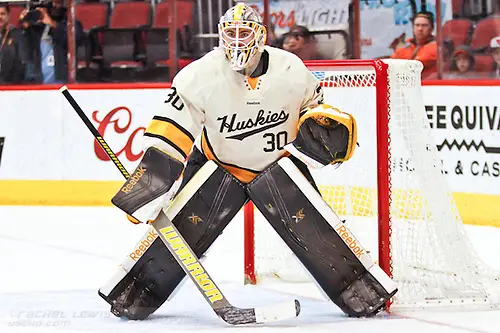 The WCHA announced its year-end award winners on Thursday and also unveiled three All-WCHA Teams and an All-Rookie Team.
Michigan Tech senior co-captain Alex Petan, who led the league in scoring during conference play, was named WCHA Player of Year and Scoring Champion. Minnesota State junior Casey Nelson was tabbed the Defensive Player of the Year, while Ferris State forward Corey Mackin — the coaches' preseason nod — earned Rookie of the Year honors.
Michigan Tech senior goaltender Jamie Phillips, a finalist for the Senior CLASS Award, was named Outstanding Student-Athlete of the Year. After leading the Huskies to a share of the league championship for the first time in 40 years, Michigan Tech bench boss Mel Pearson was recognized as Coach of the Year for the second time.
Minnesota State freshman Cole Huggins was also named Goaltending Champion, but was not named to an All-WCHA Team of the All-Rookie Team.
2015-16 First Team All-WCHA
| Player's Name | Position | Class | School |
| --- | --- | --- | --- |
| Alex Petan | F | Sr. | Michigan Tech |
| Teddy Blueger | F | Sr. | Minnesota State |
| Tyler Morley | F | Sr. | Alaska |
| Casey Nelson | D | Jr. | Minnesota State |
| Mark Friedman | D | So. | Bowling Green |
| Chris Nell | G | So. | Bowling Green |
2015-16 Second Team All-WCHA
| Player's Name | Position | Class | School |
| --- | --- | --- | --- |
| Gerald Mayhew | F | Jr. | Ferris State |
| Darren Nowick | F | Sr. | Northern Michigan |
| Dominik Shine | F | Jr. | Northern Michigan |
| Matt Roy | D | So. | Michigan Tech |
| Sean Walker | D | Jr. | Bowling Green |
| Jamie Phillips | G | Sr. | Michigan Tech |
2015-16 Third Team All-WCHA
| Player's Name | Position | Class | School |
| --- | --- | --- | --- |
| Mark Cooper | F | Sr. | Bowling Green |
| Bryce Gervais | F | Sr. | Minnesota State |
| Malcolm Gould | F | Sr. | Michigan Tech |
| Tyler Heinonen | F | Jr. | Michigan Tech |
| Brandon Anselmini | D | Sr. | Ferris State |
| Shane Hanna | D | Jr. | Michigan Tech |
| Gordon Defiel | G | So. | Lake Superior State |
2015-16 WCHA All-Rookie Team
| Player's Name | Position | School |
| --- | --- | --- |
| Corey Mackin | F | Ferris State |
| Max Coatta | F | Minnesota State |
| Jake Lucchini | F | Michigan Tech |
| Wyatt Ege | D | Alaska-Anchorage |
| Daniel Brickley | D | Minnesota State |
| Atte Tolvanen | G | Northern Michigan |