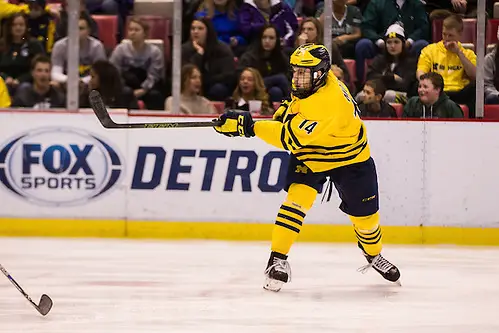 Not much has changed in Week 2 of Hobey Watch as our top five candidates remain the same, in the same order. There was some change in order of the others receiving votes category. More on that later.
Six USCHO writers, one covering each of the Division I men's conferences, picked their top five players nationally, with a first-place vote counting for five points, a second-place vote providing four points, and so on.
Our panel includes current and former Hobey voters.
We'll update this weekly as the candidates' stock rises and falls. This week, three of the five were idle due to their teams earning playoff byes, thanks in part to their contributions throughout the season.
1. Kyle Connor, Michigan
Connor picked up three more assists last weekend and continues to lead the nation in points (57).
2. Jimmy Vesey, Harvard
Vesey and the Crimson were off last week, having earned a bye in the first round of the ECAC Hockey tournament.
3. Tyler Motte, Michigan
Connor's linemate had a pair of assists last week and remains the national leader in goals with 29.
4. Alex Lyon, Yale
Lyon also was off last week thanks to a bye in the ECAC tournament.
5. Thatcher Demko, Boston College
Boston College was idle, earning a bye in the first round of the Hockey East tournament.
Others receiving votes: Kevin Boyle, UMass-Lowell; JT Compher, Michigan; Kalle Kossila, St. Cloud State; Greg Gibson, Robert Morris; Ethan Prow, St. Cloud State; Andrew Poturalski, New Hampshire; Michael Garteig, Quinnipiac; Zac Lynch, Robert Morris.
These were the same as last week, in a slightly different order. Boyle and Gibson moved up while Garteig dropped slightly.
And finally, an update on the real Hobey voting: Ballots from the 60 Division I head coaches were due on March 4, and the results announcing the 10 nominees will be released on March 17.
Voting by the selection committee happens on March 28 and 29, with the Hobey Hat Trick announced on March 31.
The winner will be announced on April 8 at a ceremony at the Tampa Theatre during the Frozen Four.