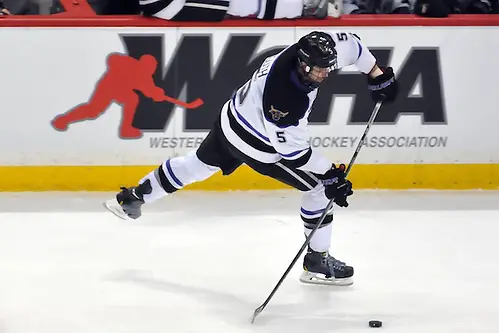 If the field for the WCHA Final Five looks familiar, well, it is.
Michigan Tech, Minnesota State, Bowling Green and Ferris State will be playing in the league's championship weekend in Grand Rapids, Mich., the same foursome that was in St. Paul last year. Two years ago, Minnesota State, Bowling Green and Ferris State were in Grand Rapids.
WCHA playoffs
See the tournament bracket and get links to schedules and stories at WCHA Playoff Central.
There may have been parity throughout the regular season, but the usual suspects rose to the top again at the end — even if two of them, Minnesota State and Bowling Green, needed to win a Game 3 at home on Sunday night.
"I look at the four that survived the first round of the WCHA playoffs, and it's been earned," Minnesota State coach Mike Hastings said during this week's Final Five coaches' conference call. "Nothing comes easy in this league.
"And I'll echo some of [Michigan Tech coach Mel Pearson's] quotes on the idea of: I'll put our league up against any league in the country. Battle-tested. If you win a game, you earned it. If you sweep somebody on a weekend, you definitely earned it. Nothing's really given to you."
The Mavericks, who are playing in their fourth straight Final Five going back to the last season of the old WCHA, return as the two-time defending Broadmoor Trophy champions.
"Whoever's left standing after this weekend is going to have earned it," Hastings said.
Whoever's left standing may be the only conference team that moves on to the NCAA tournament. Minnesota State, Bowling Green and Ferris State need the automatic bid that comes with the tournament championship. Michigan Tech could sneak in with one win this weekend, although the Huskies would rather control their own fate and not have to do any scoreboard-watching.
"It's unfortunate because I think this league is as good as any right now," Pearson said. "It's unfortunate that we maybe stubbed our foot a little bit outside of conference. Any one of these four teams this weekend would represent our league well in the NCAA tournament."
Both Michigan Tech and Minnesota State made it to the national tournament a year ago. It was the third year in a row for the Mavericks. Bowling Green narrowly missed out on the tournament and is still seeking its first Final Five victory.
"We need our group to approach this weekend like we've been there before," Falcons coach Chris Bergeron said. "We want to make sure the results aren't the same that we've had the past couple years once we've gotten to this point. We're trying to lean on our older people, to get on the bus Thursday morning with the mindset that we're going there with a championship to win. We didn't get it done in the regular season, and the playoffs are another opportunity."
Tech and Minnesota State shared the regular season championship, and Bowling Green finished two points behind them. Ferris State was seven points behind the Falcons in fourth, although it split its two series with the Huskies, its semifinal opponent on Friday night.
"We've had home ice, we've won the MacNaughton Cup [in 2014]," Bulldogs associate head coach Drew Famulak said. "The only thing we haven't done is win the Broadmoor [Trophy]."
The Mavericks and Falcons, who square off on Friday afternoon, went 1-1-2 against each other this season.
"I'm hoping we're as close to Minnesota State as a program as the record and the results indicate," Bergeron said, "because they're the model in our league, as far as I'm concerned. All they've done is win in three years. And that's not just games but championships."
Expecting a crowd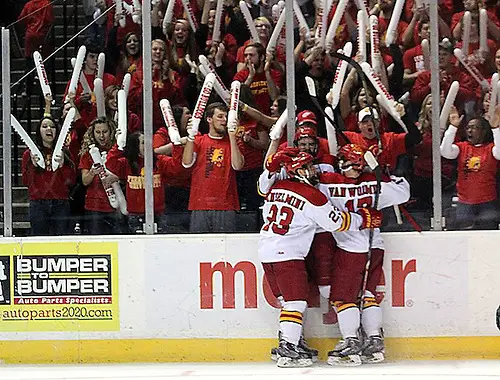 In college hockey's post-realignment era, attendance woes have been a big issue at the conference tournaments.
The Final Five is back to Grand Rapids, where, two years ago, games were played in front of crowds of 2,700, 4,494 and 3,968 — a far cry from the 18,000 strong that often filled the Xcel Energy Center in St. Paul, Minn., over the previous 13 seasons.
Van Andel Arena seats nearly 11,000 for hockey, but WCHA commissioner Bill Robertson said the hope is to fill the building's lower bowl with up to 5,000 people each session.
"I'm excited about that potential," he said.
Friday's semifinals are a one-session event with the two Michigan schools, Ferris State and Michigan Tech, playing in the prime-time game.
Ferris State is just 50 miles away, and is expected to bring a good following, as it did in two years ago when the largest crowd of the weekend was for the Bulldogs' game against Alaska-Anchorage.
"Two years ago the crowd was tremendous," Ferris State's Famulak said.
Pearson is also expecting a partisan crowd — and not one that will be friendly to the MacNaughton Cup co-champs.
"We're going be the visiting team, even though we're the No. 1 seed," he said. "It's right out their back door. We're going to walk into a little bit of a hostile environment."
Petan named Hobey finalist
The newly-minted WCHA player of the year is also a Hobey Baker Award finalist.
Michigan Tech forward Alex Petan was named to the 10-player shortlist on Wednesday.
The senior forward has 18 goals and 15 assists for 33 points in 36 games.
"He's an elite player in college hockey," Famulak said of Petan, who is undrafted and will undoubtedly be a hot commodity for NHL teams whenever Tech's season ends. "He's going to be a dynamic professional.
No player from Michigan Tech has ever won the award, but the Huskies' Tanner Kero was a finalist last season.
Ice chips
• The WCHA has kept the well-branded Final Five name for the event, even though it is a four-team, three-game tournament. To pay homage to the name, the league will recognize an honorary fifth team this weekend: the Grand Rapids Sled Wings, a team of players of all ages who have physical disabilities. The Sled Wings are sponsored by the Grand Rapids Griffins Youth Foundation in partnership with Mary Free Bed Rehabilitation Hospital. They will be honored during Saturday's championship game.
• All four teams in the Final Five have junior captains: Minnesota State defenseman Carter Foguth, Bowling Green defenseman Sean Walker, Ferris State forward Kyle Schempp and Michigan Tech defenseman Cliff Watson. Watson shares the "C" with senior forward Petan.
• The last two Final Five MVPs will be on the ice on Friday. Minnesota State forward Brad McClure won the award last season, and Mavericks goalie Cole Huggins took it in 2014.
• WCHA players of the week from the first round of the playoffs were Ferris State forward Gerald Mayhew (offensive), Lake Superior State goaltender Gordon Defiel (defensive) and Ferris State goaltender Darren Smith (rookie).